Medanta launches Eye Donation Bank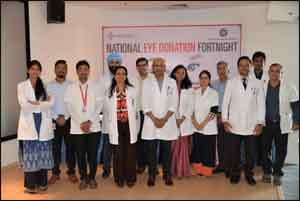 Gurugram: Joining the crusade against blindness, Medanta- The Medicity launched Medanta's Eye Donation Bank. The initiative will help bring light in people's lives who are unable to undergo an operation due to lack of enough eye tissues. The eye bank will be headed by Dr. Sudipto Pakrasi, Chairman, Ophthalmology, Medanta – The Medicity. The eye bank will create mass awareness and bridge the gap between the demand and supply of corneas.
Medanta also announced a fortnight eye donation campaign to brighten the lives of those who are in need and create awareness of this noble cause amongst people across age groups. People can pledge and register themselves for eye donation at (ABC please explain the registration process.) Approximately XYZ blind population of our country is waiting for corneal transplantation and about XYZ, new cases are being reported every year. One eye donation can give sight to two corneal blind persons.
Speaking on the launch, Dr. Naresh Trehan, Managing Director & Chairman, Medanta – The Medicity, said, "Eye vision is an essential need for all. The loss of vision has a dramatic impact on a person's life and on his/ her family along with the community. We are determined to help more people in need and give them a whole new way of living a colorful life. We have been implementing sustainable blindness prevention and sight restoration treatment with the help of our efficient team of doctors. Eye Donation Bank is just another step ahead to revitalize the lives of people."
Further on the launch, Dr. Sudipto Pakrasi, Chairman, Ophthalmology, Medanta- The Medicity, said, "Through this initiative, we would like to be on the forefront in combating blindness amongst the patients and give them a ray of hope for living a better life. There are millions of people who are blind because of problems affecting the cornea. They can regain vision by eye transplant but the rate of eye donations are far less than the need. Also, the cost of eye transplantation in addition to unavailability for eyes makes it impossible to avail medical treatment for underprivileged. Therefore, we are creating awareness amongst the masses and encourage them to pledge for their eye donation."