Three arrested for assaulting medical officer in Odisha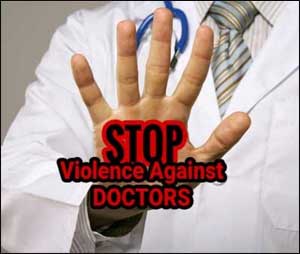 Berhampur: Three relatives of a woman patient were arrested for allegedly assaulting a medical officer of a Community Health Centre (CHC) at Khallikote in Odisha's Ganjam district, police said.
The incident happened night when the accused persons assaulted the medical officer for allegedly referring the pregnant woman from Pathara village to the MKCG Medical College and Hospital here, they said.
Efforts are on to nab some other persons, including the woman patients husband, they said.
Police took the action against them on the basis of an FIR lodged by the medical officer.
Protesting the incident, the staff of the CHC had staged a dharna in the hospital and demanded immediate arrest of the accused persons. Normalcy was restored after local tehsildar Sarat Mohapatra visited the CHC and held talks with the agitating employees.
Chief district medical officer (CDMO) Saroj Mishra said there was no negligence on the part of the concerned doctor in the treatment of the patient. The patient was referred to the medical college as her condition was serious, he said adding that the patient was shifted to the MKCG medical college hospital after the incident.
The woman delivered a son in the hospital in the early hours and the condition of both mother and baby was good, doctors said.