Medical Representative demands Rs 1 Crore from female doctor, arrested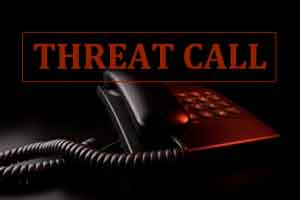 Hyderabad: Doctors, in their normal course of practice, encounter thousands of medical representatives who come in touch with them to inform them about the latest products as well technological advancements in the medical field. However, one such encounter with a medical representative turned out to be difficult for a Hyderabad woman doctor who then began receiving threat calls from the MR for Rs 1 crore ransom
As per media reports that the medical representative, now identified as Mohammed Azhar Mehdi was facing a financial crisis  and decided to extort money from medical practitioner whom he come into contact in the course of his job as MR. He then hatched a plot to web the
doctor
who runs a clinic in Dayara Market in Musheerabad whom he knew and came into contact with a number of times.
The accused used a second-hand mobile phone and a SIM card to trap the doctor. He started making the
threat calls
after managing her phone number during his visit to the doctor. During the threatening phone calls, the perpetrator instructed the doctor not to inform to the police and threatened her to harm her family. The doctor finally filed a case against him.
The police traced the phone calls to reach him. The Task Force central team arrested the convict for the illicit act.  The Task Force officials said
Telangana Today
, "The man later started calling her up demanding Rs 1 crore. Following a complaint, we nabbed the man."
He was booked under sections 385 (putting a person in fear of injury in order to commit extortion) and 507 (criminal intimidation by an anonymous communication) of the Indian Penal Code (IPC). He was handed to the police for the further investigation
about the case adding that the police arrested a man, resident of Kalendra colony in New Malakpet, who was alleged for threatening a female doctor and demanding Rupees 1 crore.