Moringa oleifera leaf extract may lower blood pressure in high BP patients: study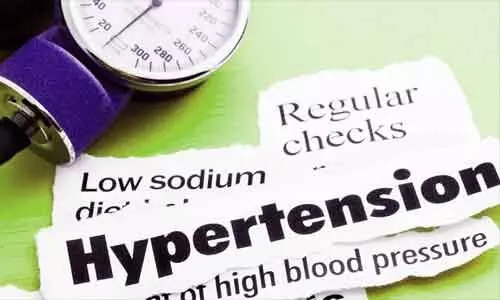 Researchers have found that there is evidence that Moringa oleifera leaf aqueous extract is beneficial in high blood pressure (high BP) in both experimental animals and clinical studies.The Study has appeared in the journal Biomedicine & Pharmacotherapy.

High blood pressure is a major risk factor for future cardiovascular events such as myocardial infarction and stroke, which is often accompanied by the augmented constriction of resistance arteries and arterioles.
Moringa oleifera is a large tree native to North India known by a variety of names, such as drumstick tree, horseradish tree or ben oil tree.
Moringa oleifera has been praised for its health benefits for thousands of years.Its leaves are used as vegetables and for traditional herbal medicine.
Direk Aekthammarat et. al. attached to the Department of Basic Medical Science, Faculty of Medicine Vajira Hospital, Thailand have reported that moringa olifera extract (MOE) lowers arterial blood pressure through inducing relaxation of small resistance artery mainly via activating the eNOS-NO-sGC pathway.
Previous evidence has already identified the promoting of nitric oxide (NO) production in endothelial cells using natural products as a potential strategy to prevent and treat hypertension.
Moringa oleifera Lam (Moringaceae) is a tropical plant widely used as food and in traditional medicines. Though recent reports have validated that oral administration of aqueous extract of Moringa leaves (MOE) to rats was effective prevention against the oxidative stress-related hypertension, by alleviating endothelial dysfunction and hyperactive vasoconstriction and MOE has exhibited excellent endothelium-dependent relaxation in the hypertensive resistance artery but, the effect of MOE on endothelial NO production about the blood pressure (BP) reduction remains unclear.
Researchers carried out the study in male Wistar rats (6 weeks old). An aqueous extract of M. oleifera leaves (MOE) was prepared. In vivo blood pressure measurement in anesthetized rats was done after applying the MOE.
The highlighted facts obtained from the study are –
The blood pressure-lowering effect of MOE is associated with the relaxation of the small resistance artery.
•The blood pressure-lowering and vasorelaxant effects induced by MOE are partially dependent on the (eNOS) function.
•MOE induces endothelium-dependent relaxation through the eNOS/sGC pathway.
•MOE increases NO production in human pulmonary artery endothelial cells.
•The vascular effect of MOE is also unrelated to prostacyclin synthesis.
Authors believed that the vasodilation and blood pressure lowering effects of MOE arise from the increased NO production by endothelial NOS. It is usually difficult to inject traditional medicine with complicated components into the human body. Therefore these leaf extracts can be a relatively safe alternative approach for hypertensives.
"Whether MOE has effects on other endothelial cells and its efficacy in humans require more studies." authors wrote.
Primary source: Biomedicine & Pharmacotherapy
For a detailed reading click on the link: https://doi.org/10.1016/j.biopha.2020.110605
Source : Biomedicine & Pharmacotherapy