Doxycycline - Comparative Review with Other Commonly Used Antibiotics In Clinical Practice in India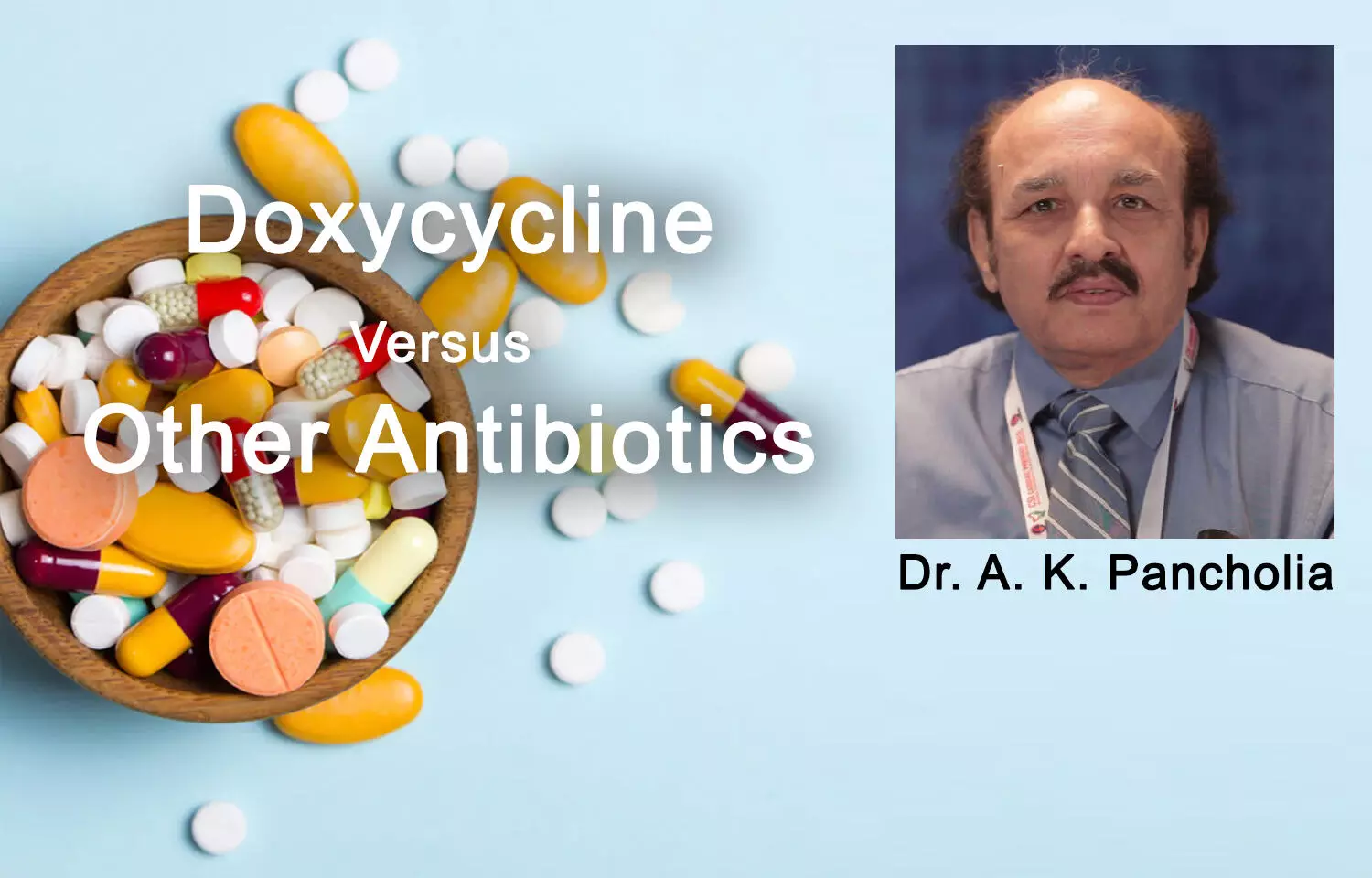 Doxycycline is a water-soluble tetracycline antibiotic, possesses bactericidal and bacteriostatic activity against a wide spectrum of gram-positive & negative bacteria encountered in daily practice. Its clinical applications include use in the management and treatment of acne, skin infections, sexually transmitted infections, pelvic inflammatory disease, and prophylaxis and treatment of malaria.[1] Doxycycline has a highly effective and comprehensive microbiological profile with exceptional bioavailability. It is cited as a cost-effective and yet underappreciated antimicrobial agent.[2] A comparative review of Doxycycline, the most popular tetracycline available among the commonly used antibiotics in India, could bring out valuable perspectives for clinicians in the Indian practice settings.

Doxycycline: Non-Antimicrobial Effects Potentially Tackle Systemic Response to Infection
In addition to its broad-spectrum antimicrobial activity, doxycycline has well-established anti-inflammatory, immunomodulatory and antiviral properties. It inhibits inflammatory mediators like Interleukin-6, Interleukin 8 & Tumor Necrosis factor-alpha. It also modulates neutrophil migration to attenuate exaggerated inflammatory responses[3] These pleiotropic benefits may be clinically relevant as inflammation underlying infection states often overlap; viral and bacterial confounding clinical presentations are frequently encountered in clinical practice.
Doxycycline: High Microbial Susceptibility Across Common Infective Clinical Specimens
In a study published by Subramanian Swaminathan et al, demonstrated that Doxycycline has a high susceptibility of about 90-100% against most bacterial pathogens across blood, pus, urine, and sputum samples. These included Staphylococcus spp. and Methicillin Susceptible Staphylococcus aureus (MSSA), which were found sensitive (96-100%) to doxycycline across all the clinical specimens tested. Good susceptibility was also reported against the most challenging gram-positive bacteria Methicillin-Resistant Staphylococcus aureus (MRSA). MRSA strains from all the samples were almost 100% susceptible to doxycycline.[4]
Doxycycline: Microbial Coverage Indian Data
An Indian study has reported high susceptibility for Doxycycline against a vast spectrum of pathogens; Staphylococcus spp, MSSA, MRSA, Streptococcus spp., Enterococcus, Streptococcus pneumonia, Escherichia Coli, Klebsiella pneumonia, Acinetobacter baumannii ranging from 48.5-100%
Susceptibility of Doxycycline versus Commonly Used Antibiotics
Compared to Azithromycin:
Results of an antimicrobial susceptibility Indian study comparing Doxycycline to Azithromycin indicated that
Doxycycline had almost 1.5 to 2 times higher susceptibility against all bacterial isolates studied across different clinical specimens – blood, urine, pus, and sputum.
For ten commonly encountered bacterial isolates studied, the susceptibility of doxycycline in blood, urine, pus, and sputum was 93.4%, 56.4%, 73.6%, and 69.1% versus. 32.1%, 26.1%, 42.2%, and 49.3% for azithromycin across the same clinical specimens, respectively
Compared to Amoxicillin:
In the same study, Doxycycline had significantly greater susceptibility than amoxicillin against all bacterial isolates across different specimens – blood, urine, pus, and sputum.
The susceptibility was found to be almost four times higher with doxycycline in comparison to amoxicillin in blood, pus, and sputum
Across the bacterial isolates included the susceptibility of doxycycline in blood, urine, pus, and sputum was 93.4%, 56.4%, 73.6%, and 69.1% versus 21.3%, 45.1%, 12.9%, and 13.4% for amoxicillin, respectively.
Compared to Cefuroxime:
In comparison to cefuroxime, it was noted that,
Doxycycline had consistently two times higher susceptibility than Cefuroxime for all bacterial isolates across the clinical specimen of blood, urine, pus, and specimen studied.
Across the bacterial isolates included the susceptibility of doxycycline in blood, urine, pus and sputum was 93.4%, 56.4%, 73.6% and 69.1% versus 39.2%, 27.8%, 37.9% and 31.3% for cefuroxime, respectively.
Compared to Cephalexin & Other Cephalosporins:
In a study published by Chodosh et al, compared the long-term clinical and recurrence outcomes with multiple antimicrobial agents used for the treatment of bacterial infections associated with chronic bronchitis and asthma. The results of this study concluded that early rebound infections and infection-free periods were longer with doxycycline in comparison with cephalexin and cefaclor[5]
Take-Home Message
The pharmacological advantage of doxycycline over other members of the tetracycline family is better oral absorption & and a prolonged serum half-life. In comparison to other routinely used antibiotics, excellent absorption, and tissue distribution makes it particularly useful for severely ill patients[6]. Besides, its unique anti-inflammatory, immunomodulatory and antiviral properties make its overall therapeutic potential clinically relevant in real-world practice settings.
Doxycycline is an asset to developing countries like India as it is a cost-effective antimicrobial agent4. In the 'Access Group Antibiotics List' released by World Health Organisation (WHO), Doxycycline is included on the "ACCESS" category with ATC Code (J01AA02). Its inclusion in this basket implies that it belongs to the group of antibiotics that have activity against a "wide range of commonly encountered susceptible pathogens while also showing lower resistance potential" than antibiotics in the other groups.[7] This is indeed a great testimony in itself to Doxycycline.
Today, doxycycline can be summarised as an agent with diverse anti-microbial and non-antimicrobial activities, a wide array of clinical uses, and durable acceptance from global authorities. In the light of promising recent Indian susceptibility data4, doxycycline remains a valuable choice for consideration and often, of specific value over other commonly used antimicrobial agents.
The above article has been published by Medical Dialogues under the MD Brand Connect Initiative. For more details on Doxycycline, click HERE
References
Adapted from:
[1] Patel RS, Parmar M. Doxycycline Hyclate. 2020 Dec 2. In: StatPearls [Internet]. Treasure Island (FL): StatPearls Publishing; 2021 Jan–. PMID: 32310348.
[2] Cross R, Ling C, Day NP, McGready R, Paris DH. Revisiting doxycycline in pregnancy and early childhood--time to rebuild its reputation? Expert Opin Drug Saf. 2016;15(3):367-82. DOI: 10.1517/14740338.2016.1133584. Epub 2016 Jan 25. PMID: 26680308; PMCID: PMC4898140.
[3] Ismail Anwar , Eman Kamal El-dien Anwer & Mohamed AbdAllah (2020) Doxycycline: a new treatment option for COVID-19, Alexandria Journal of Medicine, 56:1, 130-131, DOI: 10.1080/20905068.2020.1790957
[4] Swaminathan S et al, Susceptibility Pattern of Doxycycline in Comparison to Azithromycin, Cefuroxime, and Amoxicillin against Common Isolates: A Retrospective Study Based on Diagnostic Laboratory Data, JAPI 2020;68:59-63
[5] Chodosh S, Tuck J, Pizzuto D. Comparative trials of doxycycline versus amoxicillin, cephalexin, and enoxacin in bacterial infections in chronic bronchitis and asthma. Scand J Infect Dis Suppl. 1988;53:22-8. PMID: 3047855.
[6] Natasha E. Holmes, Safety and Efficacy Review of Doxycycline, Clinical Medicine: Therapeutics 2009:1 471–482
[7] WHO releases the 2019 AWaRe Classification Antibiotics https://www.who.int/medicines/news/2019/WHO_releases2019AWaRe_classification_antibiotics/en/