Medico Brawl over Pathology report: 3 Surgery Resident Doctors suspended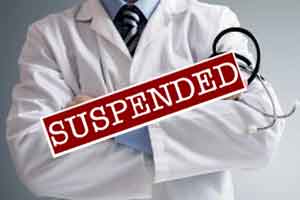 Ahmedabad: Three General Surgery resident doctors of BJ Medical College Hospital were recently suspended after they got into a spat with the medicos and technicians of the Pathology Department over alleged discrepancies in a pathology report of a patient. The altercation reportedly turned violent leading to fight and vandalisation of the hospital property.
Agitated over the suspension and expulsion from the hostel of the three doctors, the medicos of the General Surgery Department staged a protest outside the administrative office of the city-based civil hospital.
This came following a scuffle that erupted between the doctors attached to Surgery and Pathology Departments on December 3 (Tuesday) around at 6 in the morning when the doctor from the surgery department allegedly highlighted some flaws in a pathology report of a patient. The row soon turned serious and violent ending up in a fight including the counter window on the pathology lab allegedly being smashed.
Soon after, superintendent of the hospital intervened and tried to resolve the matter. However, no conclusion was reached rather HOD, Pathology Department moved an application with the police against the doctors.
As per the police officials, the issue is being probed and no action has been taken against anyone yet.
Also Read: 3 Doctors arrested for trespassing, vandalising hostel property of Thiruvananthapuram Medical College
On the other hand, the hospital has constituted an internal investigation committee to investigate the matter in detail.
"There was an altercation between resident doctors of two departments which led to a fight and a window being smashed. We have recovered some CCTV footage and will reconvene on Thursday morning to decide further on the matter, " Dr Gunvant Rathod, HoD of Surgery told Ahmedabad Mirror.
Meanwhile, a police official told TOI that if the doctors fail to strike a compromise, cops will gather evidence and take steps against the guilty found.