Medico Crowned Femina Miss India 2017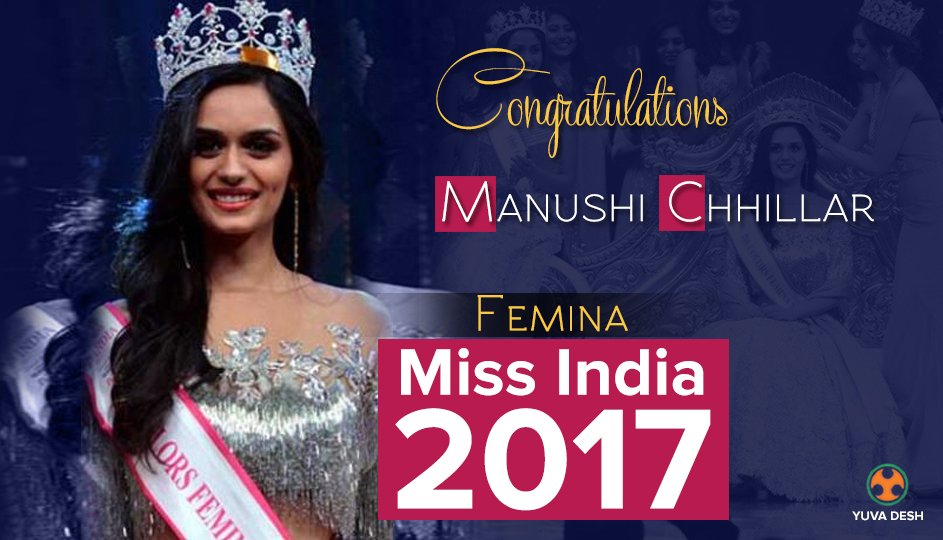 New Delhi: Manushi Chhillar, the 20 year old, with the dimpled girl next door look, hailing from a family of
doctors
and a medical student herself has been recently crowned the Femina Miss India World 2017 title. The event that took place on June 25 at Yash Studios Mumbai made her the most sought after face among  30 aspirants competing for the coveted position at the beauty pageant.
Born to doctor parents, Maushi is a currently a medical student at Bhagat Phool Singh Government Medical College for Women in Sonepat, Haryana. The multi-talented girl aspires to be a gynecologist and even as a medical student has taken up a mission to educate women on menstrual hygiene, through her initiative- Project Shakti.
"The poor menstrual management in our country and across the world has always bothered me as a person...That's one cause that I will take forward with me," Manushi told IANS, while she spoke about the social responsibility that would now fall on her shoulders, having won the Miss India crown.
"I feel it is a very basic factor that is inculcated in every woman. I started a project called Project Shakti and through that I educated women about menstrual hygiene as that's one cause I really feel for."
A woman of multi faceted interests and talents Ms. Chhillar  likes to dance, sing, write poetry and paint .
Her parents, her sounding board for all her major achievements brought her up on   the philosophical thought - "The sky is the limit. We are limitless and so are our dreams, we must never doubt ourselves."
Having been brought up in a state with the worst sex ratio, Manushi considers herself blessed.
"I was blessed because I never had to sit my parents down and tell them what I wanted to do. They were observant. They always knew what I wanted. Since childhood, they used to say that 'Sky is the limit, have the courage to pursue your dreams'. It just happened to me, I never felt in any way that I couldn't do it... So, that worked out well with me," she said.
Her latest achievement, in line with the modeling world, is indeed new to her family.
"I come from a family where people believe in education and they don't really step out into any big entertainment related industry or beauty peagants. I am the first one from my family and friends to step into the world," said the young beauty, who belongs to a family of doctors.
"Even I am pursuing medicine myself and my sister is an advocate. My younger brother is still studying in school," said Manushi, who is open to Bollywood too, if an opportunity arises.
Inspired by Reita Faria, the first Indian to participate in the Miss World beauty pageant and win it, Manushi has her eyes set on the title as well.
When asked whether she proposes to continue with her medicine like Ms. Faria who went back to her first passion 'education' after winning the title, she says that she does plan to complete her education. However, for the moment she has stars in her eyes and wants to be their on the red carpet representing her country at the Miss World Extravaganza.