MMC asks 21 doctors not to use their PG degrees from Seychelles University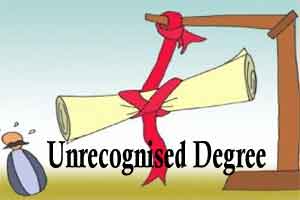 Mumbai: Maharashtra Medical Council has written to 21 doctors, asking them to no longer display their so-called postgraduate qualifications obtained from University of Seychelles American Institute of Medicine (USAIM), as the degree is not recognised by Medical Council of India.

Speaking to Medical Dialogues, Dr Kishore Taori, President, Maharashtra Medical Council informed," We have asked 21 doctors to omit a so-called postgraduate degree from USAIM as a part of their qualifications as the degree is dubious in nature. All the doctors have M.B.B.S degrees from recognised Medical colleges in India, and had enrolled into a so-called PG course from this institute,which is unrecognised by the council. All the doctors have agreed to cooperate."

The dubious nature of the degrees comes from a fact that the institute provides postgraduate degrees in a matter of months, a process which takes around three years in India. One of the courses an "Mch (Orthopedics)" had a course duration of one year ( as opposed to the MCh in India having a duration of three years). This course entailed some hands-on training sessions for around three-days duration followed by a online exam. Not only this, the degree arrived in a matter of 5-6 months despite the duration being one year.

As reported by TOI, most doctors who had enrolled in the courses of USAIM are now feeling cheated. The course fee went around Rs 5 lakhs.

The incident has also drawn a red flag towards Aditya Birla Memorial Hospital, where the examinations for the said course were held and one Dr Jadhav who was invigilating the examinations. MMC has suspended the license of the said doctor for his allegedly liaising between USAIM, and aspirants from Maharashtra as reported by TOI.