MP botched up cataract surgeries: Affected eyes of 2 patients removed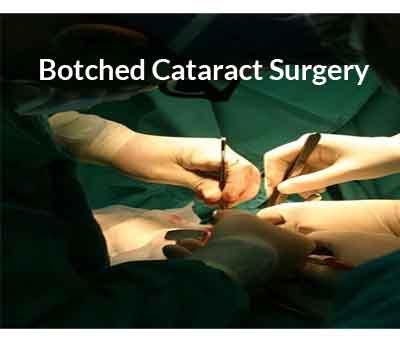 Indore: An affected eye each of two victims of botched up cataract surgeries in Madhya Pradesh's Indore had to be removed to stop the spread of infection, a senior medical official said on Monday. Thirteen patients had developed complications after undergoing surgeries as part of the National Programme for Control of Blindness at the private Indore Netra Chikitsalay on August 5 and 8.
The case of these two patients, identified as Munni Bai Raghuvanshi (60) and Radha Yadav (45), had surfaced on Sunday. Talking to PTI on Monday, Chief Medical and Health Officer (CMHO) Praveen Jadia said, "After the operation, the bacterial infection in the affected eye of both the patients had increased. As a result, doctors had to remove the affected eye of both the patients on August 13 and August 14." "It could have been life-threatening for them if the infection had reached the brain. Currently, there is no bacterial infection and their wounds are healing. Later, prosthetic eye will be placed in the empty socket through cosmetic surgery," he added.
Eight of 13 victims are being treated at the Choithram Hospital here, while the Madhya Pradesh government decided to send three serious patients to Shankar Netralaya, Chennai. Ashwini Verma, Choitharam Hospital managing trustee, said, "Both the women have been called again after 10 days.
According to our hospital doctors, prosthetic eye surgery would be carried out for a normal look." Meanwhile, NGO Jan Swasthya Abhiyan Madhya Pradesh has questioned the functioning of Indore Netra Chikitsalaya. NGO functionary Amulya Nidhi said, "The bacterial infection in the eye of these two women had spread after the operation on August 5. Despite this, new patients underwent eye surgery in violation of medical protocol." "As a result, on August 8, 11 other patients lost their vision in one eye due to the infection," she alleged.
Indore Netra Chikitsalaya's senior doctor Sudhir Mahashabde, however, claimed, "We followed all medical protocols during the cataract operations. As soon as we came to know about bacterial infection in older patients, we stopped new surgeries." Meanwhile, Ajay Yadav, the brother of victim Radha Yadav, said pus had formed in the eye and there was no vision. Yadav said, "The hospital's doctors asked us directly whether we wanted to save the patient's eye or her life?" Shubham Raghuvanshi, the grandson of Munni Bai Raghuvanshi, said, "My grandmother had unbearable pain in her affected eye after the operation. She was not able to see anything from this eye. After doctors' opinion, we were left with no other option but to get the eye removed." On Sunday, noted Chennai-based eye surgeon Dr Rajiv Raman had said the infection was caused due to pseudomonas bacteria.
Read Also: Botched Cataract: 11 people lose eyesight, MP CM offers financial assistance of Rs 50,000