MP Resident Doctors get a new year's present- Stipend Increase notification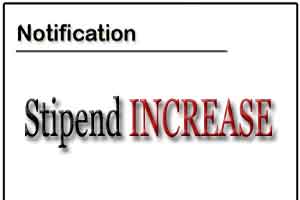 Resident Doctors working in Madhya Pradesh government hospitals have received a new year's present in the form of notification from the government directing stipend/salaries increases from the 1st of January,2016.
This comes after resident doctors united in the month of September under the banner of MP Central Junior Doctors Association and went on a "
Asahayog Andolan
" demanding a
stipend increase
among other demands. The government had promised a stipend hike, but due to
delay
in coming of the issue in the Cabinet meeting, the implementation had been delayed.
Finally the Health ministry has passed an order to the effect, which will be effective from 1st of January, 2016.
Here is the order copy for the perusal of concerned doctors