Mumbai: Nair Hospital Doctor slapped, assaulted by kin after patient's death; 4 booked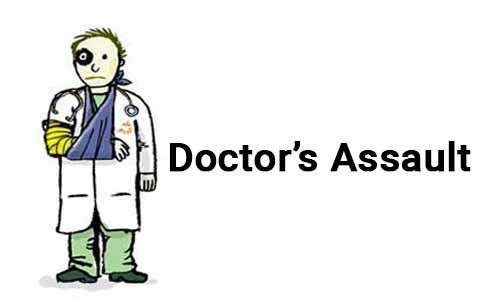 Mumbai
: A junior doctor of BYL Nair hospital, Mumbai was allegedly assaulted by the kins of a deceased patient after he conveyed the news of the patient's death to them. A case has been registered against 4 of the family members by the Agripada police.
As per the complaint filed by the doctor, a 34- year old female patient was admitted to the hospital on December 25. She suffering from fever and stomachache and after some time she developed some neurological and renal complications.
He further said that the family members were updated about the critical condition of the patient. The patient's condition deteriorated and later she died. When he informed the relatives waiting outside the ward about her death, they hurled abuses and afterwards, one of them allegedly manhandled and slapped him.
Read also: NO STOP to Violence: Now AIIMS Delhi Doctor assaulted for treating High Risk Patient on Priority
Following the incident, a police complaint was lodged immediately. Senior inspector Agawane informed
TOI
, "After the patient passed away, the accused slapped the doctor and manhandled him." They will be arrested after the woman's last rites are performed.
"The family members alleged that the patient was not given proper treatment. We have not made any arrest, as the patient's family members are completing her final rites. We have registered a case in this regard," Savalaram Agawane, senior police inspector, Agripada police station informed
Hindustan times
.
"We have counselled the doctor and spoke to Maharashtra Association of Resident Doctors members. Unfortunately, it's a behavioural problem and doctors often find them at the receiving end which can't be tolerated and that's why we lodged a police complaint immediately," Dr Ramesh Bharmal, dean BYL Nair hospital further informed.
As the frequency of the violence against doctors is increasing, the Indian Medical Association is also taking the steps to provide justice to the doctors. Medical dialogues have recently reported that with no records with the government, on how many instances of violence against doctors take place, the Indian Medical Association, Maharashtra State branch has now taken the issue in its own hands by announcing a separate registry to record such incidents. The complaint will be recorded in a web application which has been designed especially for this purpose.
Read also: Maharashtra: Doctor victims of violence can now record their cases, get help with IMA registry