Nadda assures all assistance to Bihar for improving health scenario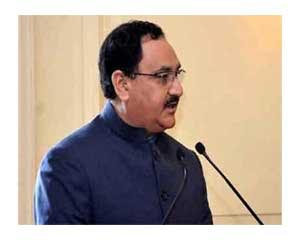 Patna: Union Health Minister JP Nadda assured all assistance to Bihar for improving medical and healthcare facilities, saying paucity of funds would not be allowed to become any hurdle in providing quality treatment to the people of the state.
Mr Nadda while speaking at a function organised to mark the inauguration of the hospital for treatment of tropical disease here, said that Centre was prepared to provide all possible assistance to Bihar government in its endeavour to improve health care facilities in the state.
Under the present regime, a lot of efforts were being made in Bihar to improve quality of treatment in government hospitals, he added.
Union Minister said that services of retired doctors would also be utilised to tone up the treatment facilities in government hospitals particularly premier institutes like All India Institute of Medical Sciences (AIIMS) in Patna.
Sincere efforts were being made to solved the problem of shortage of faculties in Patna AIIMS, he said adding that it would soon get the services of 91 faculties.