Nadda calls for holistic approach in treating patients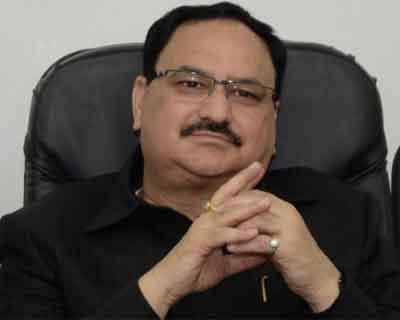 Raipur: Underlining the shift in focus from the disease-centric treatment, Union Health and Family Welfare Minister J P Nadda said the National Health Policy announced last year proposed holistic preventive and promotive healthcare.
Nadda appealed that doctors should focus on treating patients along with curing a disease.
"During treatment, we (doctors) are (mainly) involved in curing the disease. Many a times we forget to treat the patient while treating only the disease. I appeal to you that you should treat patients along with disease," Nadda said in his address as the chief guest at the 2nd convocation ceremony of the Pt Deendayal Upadhyay Memorial Health Sciences and Ayush University of Chhattisgarh (DUMHSAYC) here.
He said doctors should understand the people suffering from an ailment along with their problems.
"People consider doctors on par with God and doctors should understand this. People devote their body to doctors in full faith for treatment and therefore doctors should understand the patients and provide their services to mankind in a passive manner," the health minister said.
He said though acquiring primary, middle and higher education was a right but getting professional education was not a right but a "privilege" given by the society.
"Lakhs of students appear for professional courses and only few thousands get chance to be selected for professional courses," Nadda said.
He said the expenditure incurred per student in a newly established medical college is around Rs 3 crore of which Rs 1.25 crore is paid by Centre and Rs 1.75 crore by the state government concerned.
"Hence every student passing out from here should take a resolution as to how he or she will repay this privilege back to the society," he added.
He said a holistic approach has been adopted towards health services in terms of policies and programmes since Prime Minister Narendra Modi assumed office.
"Under the PM's leadership, India has been successful in putting Yoga in the forefront in the world. Presently, researches are underway to cure cancer, diabetes and other disease through Yoga," the health minister said.
He said under the 2017 new Health policy, there has been a shift in focus from disease-centric treatment to "moving ahead on the path of holistic preventive and promotive healthcare".
He also listed out several schemes of Health ministry and its achievements.
"Under Prime Minister Dialysis scheme, 400 dialysis centres were started across the country where free services are being provided to BPL patients," the minister said, adding that around 1.40 crore patients have availed benefits of free dialysis in the past 8-9 months under this scheme.
On the occasion, Nadda, state Governor Balramji Das Tandon, and Chief Minister Raman Singh awarded 38 gold medals to 26 meritorious students and degrees to 182 students of the varsity who have pursued courses in medical, dental, Ayurved, Homoeopathy, nursing and physiotherapy streams for the period from 2014 to 2016.
Nadda also dedicated the new building for the university at Naya Raipur.