NEET ordinance: Medical Fraternity Divided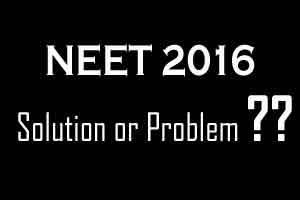 New Delhi: The confusion with the NEET seemed evident with the medical fraternity itself showing mixed responses to the Cabinet's ordinance on the issue. With the announcement of the ordinance IMA came out instantly in support of the ordinance, while DMA openly opposed it.
It is reported that the Delhi Medical Association under the leadership of Dr Rakesh Gupta (President, DMA)  has written a letter to the President of India, urging him not to sign the NEET ordinance.
Indian Medical Association (IMA) welcomed the Centres decision to keep the state boards out of the ambit of common medical entrance exam, NEET, for one year but the Delhi unit of the doctors body "strongly opposed" the move saying, corruption prevails in state-run medical colleges.
"IMA supports the Centres ordinance to keep state boards out of the ambit of common medical entrance exams for one year on the ground that there is no inequality in terms of curriculum or language barrier for students appearing both for state and central exams," Secretary General of IMA, Dr K K Aggarwal said.
He, however, clarified that states can have their own views on the issue.
Meanwhile, Delhi Medical Association (DMA), which is the state branch of IMA, opposed the ordinance alleging that corruption is prevalent in some government medical colleges, and the states should not be allowed to continue with their separate entrance tests for MBBS and BDS courses.
"We strongly oppose the ordinance as there are some state government colleges where corruption is prevalent, like it was in Madhya Pradesh.
"We want Supreme Courts order on single entrance test NEET for admissions to the medical programmes across the country to be implemented to check alleged irregularities in the enrollment process," said Ashwani Goyal, State Secretary of DMA.
Under pressure from several states, the Centre gave its nod for promulgation of an ordinance to keep state boards out of the ambit of uniform medical entrance examination, NEET, for this year.
The next phase of the examinations is scheduled for July 24. About 6.5 lakh students had taken the medical entrance test in the first phase of NEET held on May 1.
Once the ordinance is issued, students of state government boards will not have to sit for NEET on July 24.
They, however, will have to become part of the uniform entrance exam from next academic session, government sources said.
Read Also : 
NEET ISSUE: President seeks legal advice, asks Govt for clarification