Nepal Cancer Hospital Thanks PM Modi for Gifting Teletherapy Machine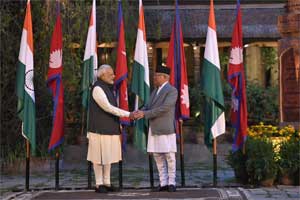 Kathmandu: India gifting a Bhabhatron radioactive teletherapy machine to Nepal's leading cancer hospital would be hugely beneficial to thousands of cancer patients waiting for treatment in the Himalayan nation, a top hospital official has said.
Prime Minister Narendra Modi, who was on a state visit to Nepal, announced on Friday that the Indian government would gift Bhabhatron Radioactive Cobalt-60 teletherapy machine to Bhaktapur Cancer Hospital in Kathmandu.
"Bhabhatron Cobalt therapy is the medical use of gamma rays from the radioisotope cobalt-60 to treat cancer," said Ishwor Shrestha, director at Bhaktapur Cancer Hospital.
"The hospital was in need of radiotherapy machine for treatment of cancer. There is only one Cobalt-60 radiotherapy machine in the hospital and additional gift would help provide timely treatment to cancer patients," he was quoted as saying by The Himalayan Times.
Thanking Indian Prime Minister Modi, Shrestha said the number of patients at the hospital had been increasing, but they had to wait for months to receive treatment.
There are nearly 200 patients at the hospital waiting for the last three months to receive treatment.
He said the hospital had earlier requested the Indian embassy to provide the machine. The machine costs Rs 1,200,000, the report said.
Bhabhatron telecobalt machines were developed by scientists at the Bhabha Atomic Research Centre to meet the demand for affordable cancer treatment machines. Compared to imported telecobalt machines, the indigenous machines are cheaper and have superior features, according to BARC scientists.