Bisprolol safer than carvedilol in Hemodialysis patients for lowering HF, stroke risk: Study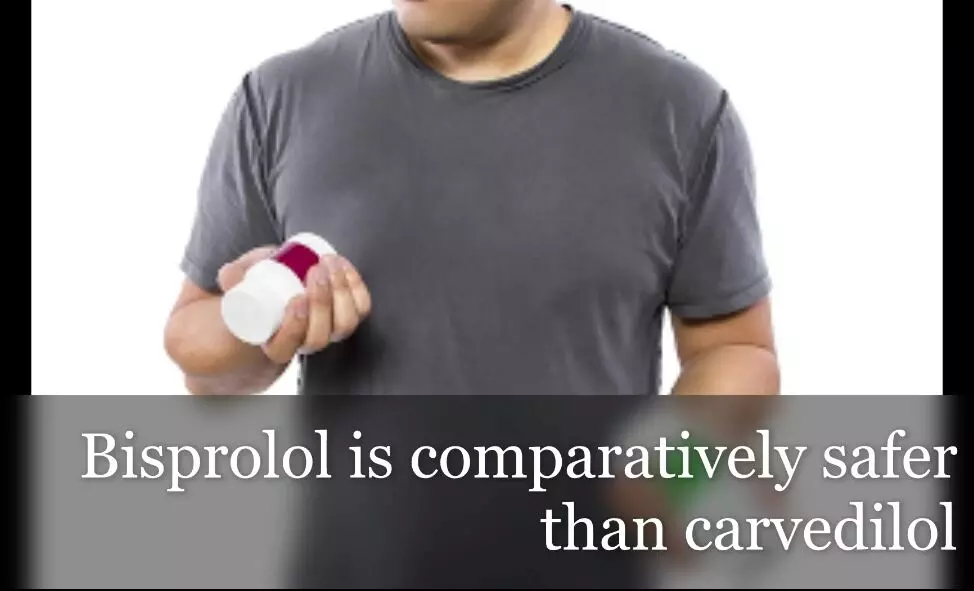 Persons with end-stage kidney disease (ESKD) undergoing dialysis are at high risk of developing and dying from cardiovascular (CV) disease, for which they often receive β-blockers (BBs) despite scarce interventional evidence on their benefit in them.
A recent study suggests that compared with carvedilol, bisoprolol initiation by Hemodialysis (HD) patients was associated with a lower 2-year risk of death and MACEs, mainly attributed to lower heart failure and ischemic stroke risk. The research findings were published in the Clinical Kidney Journal on January 4, 2021.
The BB class is heterogeneous concerning pharmacodynamics and pharmacokinetics. Ping-Hsun Wu, MD, of Kaohsiung Medical University Hospital, and colleagues wrote, "In many health systems, bisoprolol and carvedilol are the two most commonly used BBs. Bisoprolol may offer advantages over carvedilol because of its β1 selectivity and moderate dialyzability with less intradialytic hypotension potential. The objective of this study was to evaluate the risk for all-cause mortality and CV events associated with bisoprolol compared with carvedilol in HD patients".
Researchers conducted a cohort study of 9305 HD patients who initiated bisoprolol and 11 171 HD patients who initiated carvedilol treatment between 2004 and 2011. They assigned the subjects in one of the following groups:
• High-dose bisoprolol (≥10 mg/day),
• Low-dose bisoprolol (≥1.25–<10 mg/day),
• High-dose carvedilol (≥50 mg/day) and
• Low-dose carvedilol (≥6.25–<50 mg/day).
The major outcome assessed was the risk of all-cause mortality and major adverse cardiovascular events (MACEs) between carvedilol and bisoprolol users during a 2-year follow-up.
Key findings of the study:
♦ They found that bisoprolol initiators were younger, had shorter dialysis vintage, were women, had common comorbidities of hypertension and hyperlipidemia and were receiving statins and antiplatelets, but they had less heart failure and digoxin prescriptions than carvedilol initiators.
♦ They recorded 1555 deaths and 5167 MACEs events.
♦ Upon the multivariable-adjusted Cox model, they found that bisoprolol initiation was associated with lower all-cause mortality (hazard ratio [HR] 0.66) compared with carvedilol initiation.
♦ They also found that bisprolol initiation is associated with the low risk of MACEs (HR = 0.85), heart failure (HR = 0.83) and ischemic stroke (HR = 0.84). However, they noted no differences in the risk of acute myocardial infarction (HR 1.03).
The authors concluded, "Our study showed that relative to carvedilol, bisoprolol initiation in patients undergoing HD was associated with a lower risk of death and MACEs. While our findings may inform clinical decisions regarding the choice of BBs in this high-risk population. In the absence of trial evidence, this study may inform the choice of BB therapy in this high-CV-risk population with a void of evidence".
For further information:
DOI: https://doi.org/10.1093/ckj/sfaa248
Source : Clinical Kidney Journal