A rare case of cranial nerve palsy in a COVID positive patient-Reported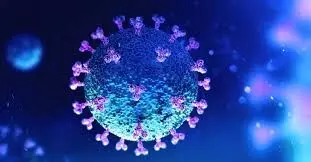 Sarah Belghmaidi and colleagues from the Ophthalmology Department at the Mohammed VI University Hospital Center, Marrakesh Medical and Pharmacy Faculty, Caddy Ayad University, Marrakesh, Morocco reported a rare occurrence of an incomplete palsy of the third cranial nerve in a patient affected with the SARS-CoV-2 virus infection.

The case study was published in the American Journal of Case Reports.

Coronavirus disease (COVID 19) is caused by severe acute respiratory syndrome coronavirus 2 (SARS-CoV-2) and is the causative agent of a serious disease that is of great global public health concern. Ophthalmological manifestations of COVID-19 are rare compared with the typical clinical features, which include fever, dry cough, shortness of breath, myalgia, and fatigue, which are seen in most COVID-19 pneumonia patients. Therefore, palsy of the third cranial nerve is also very rare in patients with confirmed 2019 novel coronavirus disease (COVID-19). As a result, the authors described the following case of a patient with an incomplete palsy of the left third cranial nerve sparing the pupils in the context of SARS-CoV-2 virus infection.
The authors studied a 24-year-old women who reported with confirmed COVID-19. The patient presented with acute onset of diplopia and strabismus of the left eye that occurred 3 days after the start of general symptoms. She had no previous medical history. A detailed ophthalmic and neurological examination was carried out only to suspect an acute painless incomplete palsy of the third cranial nerve.
No neurological impairment was found, and the oculo-cerebral magnetic resonance angiography was unremarkable. Blood tests revealed mild normocytic regenerative anemia. Based on the findings in the reports, the patient received chloroquine (500 mg 2 times per day for 10 days) with azithromycin (500 mg once a day the first day, then 250 mg every day for 6 days), vitamin C (1 g 2 times a day for 10 days) and Zinc (90 mg 2 times a day for 10 days), according to the Moroccan recommendations.
Post medication, a quick improvement of exotropia, and diplopia was observed, and complete recovery was obtained by the sixth day of treatment. Besides, no adverse effects of the treatment were noted.
The researchers explained that unilateral oculomotor nerve palsy can be caused by several disorders, including cerebral aneurysms, vascular disorders, tumors, or diabetes mellitus. However, no clinical, laboratory, or imaging examinations revealed any signs of an underlying structural cause of the oculomotor nerve injury, indicating that COVID-19 infection might have caused the transient oculomotor nerve palsy in this case.
Expression of ACE2 receptors in nerve cells explains the neurological damage linked to COVID-19, which suggests the neurotropic nature of the virus. These neurological lesions are multiple and can be secondary to neuronal damage without inflammation or caused by the direct action of the virus on the nerves, described the authors.
Hence, the authors concluded that "Unilateral palsy of the third cranial nerve can be a revealing pattern of COVID-19 in adults. It can occur in patients with mild symptoms, and without other central nervous system involvement. Radiological findings can be very poor, and complete recovery can be obtained within a few days of acute onset".
Source : American Journal of Case Reports