Mid-Day Nap improves cognition, learning and memory finds Study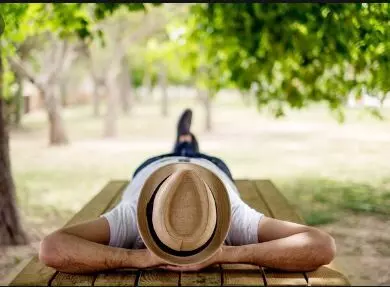 A 90-minute afternoon nap proved to be beneficial in restoring the hippocampal function along with an ease in learning capabilities, according to a recently published study in the journal Sleep.
Hippocampus is a complex brain structure embedded deep into temporal lobe. It has a major role in learning and memory.
In today's hectic world, young adults do not receive adequate nocturnal sleep. Additionally, there is growing evidence that multi-night sleep restriction can impair cognitive performance.
Mid-afternoon naps have been shown to benefit alertness, sustained attention, and declarative memory as well as the learning of new material, both following sleep restriction and even when participants receive sufficient nocturnal sleep.Though Daytime naps have been associated with beneficial effects on learning, memory, and executive function, mechanisms underlying these improvements are less well understood.
Previously researchers have opined that Memory encoding following sleep may occur as a result of (1) improvement inattentiveness to the learned material, (2) active systems consolidation, resulting from the transfer of labile memories in the hippocampus to the neocortex for long-term storage, thus freeing up hippocampal encoding capacity for new learning, or (3) synaptic downscaling whereby synaptic connections potentiated during wakefulness are downscaled to avoid saturation and to increase the signal-to-noise ratio for salient information.
To understand this further, a study by Ju Lynn Ong, from the Centre for Sleep and Cognition, Singapore, was undertaken to examine the benefits underlying enhanced encoding following a daytime nap using fMRI and polysomnography measures.
The study design consisted of Forty healthy young adults who slept normally the previous night encoded-word pair lists in an MRI scanner at 13:00 and 16:30. Between sessions, participants either stayed awake and watched a documentary (Wake Group; N = 20) or had a 90-minute nap opportunity (Nap Group; N = 20) monitored by polysomnography. Approximately 40 minutes after completing each encoding session, memory for learned words was assessed using cued-recall.
On analysis, the following facts were highlighted.
A significant Session × Group interaction effect (p < 0.001) was observed in which memory was significantly improved in the Nap but not in the Wake group (p < 0.001).
There was also a Session × Run × Group interaction effect in the left hippocampus (p = 0.001), whereby activation during word pair encoding increased only following the nap.
Both performance improvement (rs = 0.46, p = 0.04) and nap-related increase in hippocampal activation (rs = 0.46, p = 0.04) were correlated with nap spindle count (12–15 Hz) but not with slow oscillation power (p's ≥ 0.18).
"A daytime nap following a normal night of sleep benefits encoding and could restore hippocampal capacity compared with an equivalent waking period. This enhancement was correlated with spindle counts, but not to SO power during the nap period." concluded the team.
For the full article click on the link: 10.1093/sleep/zsaa058
Primary source: Sleep
Source : Sleep