Propranolol and essential tremors: A critical review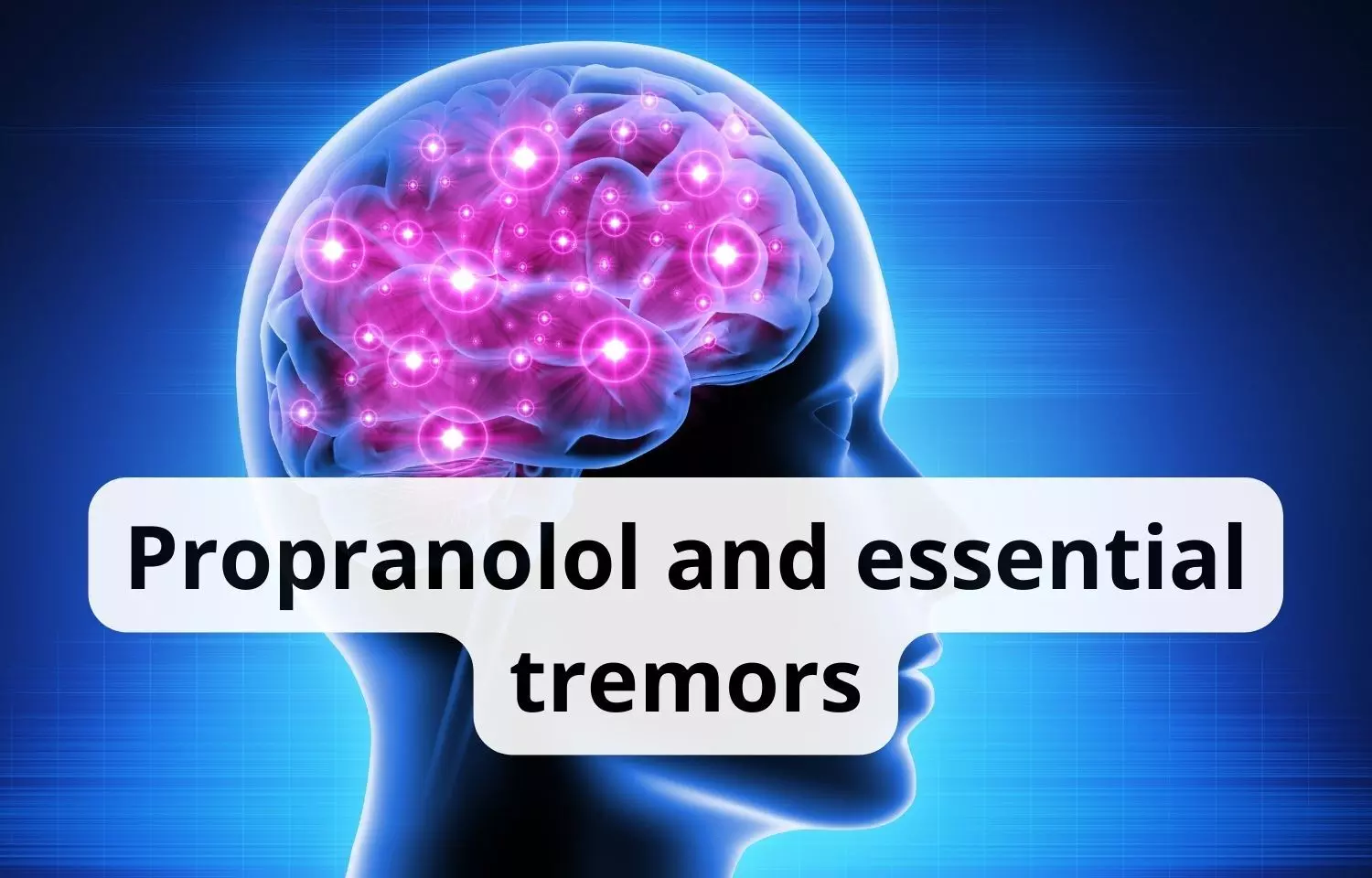 Essential tremor is a chronic, progressive movement condition that affects adults, with a prevalence ranging from 0.4% of the general population to 5% of those over the age of 65. (1) The frequency of essential tremor appears to be increasing rapidly in the elderly population, with 21.7% of patients suffering from essential tremor being 95 years and older. (2)

Essential tremor could be a disease of both increased morbidity and mortality. It has been documented that more than 90% of essential tremor patients who seek medical care report disability, and severely affected end-stage patients are unable to feed or dress themselves. The presence of motor signs as well as non-motor manifestations include cognitive deficits and dementia, adds the disease burden. (2)
Essential tremor's definition has evolved, and physicians' diagnostic criteria differ greatly. The Task Force on Tremor, a unit of the International Parkinson and Movement Disorder Society, produced an updated consensus statement on tremor categorization in 2018; thereby essential tremor was classified as an isolated tremor syndrome characterized by bilateral upper limb action tremor lasting at least 3 years, with or without a tremor in other parts of the body. (3)
Regarded to be among the most common neurological diseases today, prior research has highlighted that based on anatomical distribution, essential tremor most typically affects the upper limbs (95 percent of patients); whereas lower limbs (30 percent), head (25-34 percent), sound (12-15 percent), tongue (7 percent), and face are less commonly affected (5 percent). (1)
More alarming is the fact that a positive family history of essential tremor has been identified in 30% to 80% of all essential tremors patients, implying a major genetic component to the disease's origin. (4)
Impact of essential tremors on quality of life -Patients may have difficulty doing fundamental daily tasks as their tremors are generally progressive, lowering their quality of life significantly (2). Patients may also experience intention tremors and rest tremors.
Studies reveal that more than 90% of patients report severe disability and are even unable to dress themselves. Between 15% and 25% of patients are compelled to retire early, and 60% of them refuse job promotions because of uncontrollable shakiness. Cognitive malfunctioning like dementia, depression, and personality traits have also been linked to essential tremors. It has been documented that patients with essential tremors have a 45% increased risk of premature mortality. (2)
Etiology of essential tremors-
Essential tremors are regarded to be neuro-degenerative. (2)
While the exact origin of essential tremors is uncertain, current research suggests that the loss or malfunctioning of Purkinje neurons in the cerebellum may play a role in the etiology of essential tremor. (1) Electrophysiological approaches, show aberrant oscillations in the cortical-ponsal-cerebellar-thalamic-cortical loop. It is yet unknown why this network is implicated in tremors; nevertheless, it is considered to be related to anomalies in gamma-aminobutyric acid transmission in brain tissues of essential tremors patients. (1)
Pharmacotherapy in essential tremors:
Where do we stand?
Despite a growing interest in the disease and its cure among the medical fraternity, the treatment remains symptomatic. Findings in clinical trials focused on propranolol in essential tremors have consistently revealed that the response to drug therapy is mixed; 50% of patients report tremor reduction while the rest show no response at all. (2) Such mixed results put physicians in a very challenging position when managing essential tremors.
The primary treatment approach to essential tremors is currently based on drug therapy. Based on the amount of clinical evidence and risk-benefit ratio, essential tremors medications can be categorized as first-line or second and third-line therapy. (4)
According to the US Food and Drug Administration (FDA) and the European Medicines Agency's guidelines, propranolol and primidone are two first-line medicines for the treatment of primary tremors. (1)
Among the 2 drugs, only propranolol has been authorized by the FDA in the United States for essential tremors.
How propranolol acts in essential tremors -Decoding its mechanism of action-
Propranolol is a nonselective antagonist of the -adrenergic receptor with no additional autonomic nervous system effects. Though the exact mechanism of propranolol's anti-tremor actions is yet to be determined, it is established that Propranolol acts through antagonism of peripheral beta-adrenergic receptors in muscles, thus reducing the frequency and intensity of tremors. (2,4)
Study testimonials:
The impact of propranolol on tremors was initially demonstrated in 1965, and multiple controlled trials have subsequently validated the medication's effectiveness in essential tremors. (4)
1. A systematic review aimed to address the safety and efficacy of propranolol in treating subgroups of essential tremors. The researchers concluded that in the treatment of essential tremors with propranolol, a 50%–70% response was observed. When compared with a placebo, the average tremor is reduced by approximately 50%. (1)
2. Another study concluded that among the 2 first-line drugs, propranolol was associated with a lower number of intolerable side effects than primidone. (3)
3. A major Indian study by Pal et.al, highlighted that when deciding to begin medical therapy, there are two options:(5)
❖ As-needed or intermittent therapy- This is suggested when the patient is upset mostly in social situations or before a major social event. 30 minutes to 1 hour before a social engagement or anxiety-provoking event, half to two tablets of propranolol (20 mg) might be given to reduce tremors.
❖ As long-term suppressive therapy- Treatment should begin with 10 mg once a day and be progressively titrated to 20 mg twice daily. Elderly people may require a lesser dosage (e.g, 10 mg twice daily).
The team highlighted that improvement occurs in approximately 50%–60% of the patients, and the greatest improvement being for hand tremors.
4. Combining propranolol and primidone is an effective option when monotherapy fails to treat limb tremors. The American Academy of Neurology suggests that these two medicines might be administered together. It has been demonstrated that an additional beneficial effect may be achieved without an increase in adverse effects. (5)
Drug dosage -The daily dosage of propranolol in essential tremors ranges from 60 to 800 milligrams per day, with an average of 182.5 milligrams per day. There is no clear evidence that dosages of more than 320 mg/day are beneficial. (1)
Long-acting propranolol is also available, and comparative studies have revealed that it has similar safety and effectiveness characteristics. (1)
Propranolol is to be used with caution in certain pre-existing medical conditions; with restricted usage of this drug, especially in aged populations with various medical issues and polypharmacy. (3)
Cardiogenic shock or unstable congestive heart failure, sinus bradycardia, first-degree atrioventricular block, asthma, and a known intolerance to propranolol are all absolute contraindications.
In patients with stable congestive heart failure and left ventricular systolic dysfunction, this medicine should be administered with caution. Propranolol with Calcium channel blockers, in particular, should be avoided. (4) Classified by the US FDA as pregnancy risk category C, this drug should be avoided during pregnancy.
Key -pointers-
● Essential tremor is a common movement disease with a poorly known pathophysiology.
● The rising incidence of essential tremors coupled with the limited first-line therapies has made optimal pharmacological management of essential tremors a dilemma among physicians.
● Propranolol is an FDA-approved first-line drug for essential tremors.
● Accumulating studies and ongoing trials now highlight the efficacy of this drug in essential tremors.
Concluding note -Essential tremor is a prevalent tremor condition, affecting daily tasks such as writing and eating.
Despite its high prevalence, our inadequate grasp of essential tremor's pathogenesis makes developing effective therapies difficult. Thorough knowledge on the pathophysiology of the disease is the need of the hour. With this, it is equally important to keep ourselves updated on the recent advances in drug therapy for essential tremor.
β- blockers most commonly propranolol, is the drugs of choice for the treatment essential tremor. Future research in this field will hopefully come up with new therapies and explore this drug to its fullest potential.
Propranolol has level A recommendation and depending on the concurrent medical conditions, the drug is recommended as the first line therapy of essential tremor (5).
References
1. Zhang M, Li W, Hu L, et al. Oral propranolol for treatment of the subgroups of essential tremor: a systematic review and meta-analysis protocol. BMJ Open 2020;10:e032096. doi:10.1136/bmjopen-2019-032096
2. Louis ED(2012)Treatment of essential tremor:are there issues we are overlooking?Front.Neur. 2:91.DOI: 10.3389/fneur.2011.00091
3. Shah C, Jackson GR, Sarwar AI, Mandava P, Jamal F. Treatment Patterns in Essential Tremor:A Retrospective Analysis. Tremor and Other Hyperkinetic Movements. 2022; 12(1):10, pp. 1–8. DOI: https://doi.org/10.5334/tohm.682
4. Hedera et al. Pharmacotherapy of Essential Tremor. Journal of Central Nervous System Disease 2013:5 43–55 DOI: 10.4137/JCNSNSD.S6561.
5. Pal PK. Guidelines for the management of essential tremors. Ann Indian Acad Neurol 2011;14:25-8. Dr Kamal Kant Kohli-MBBS, DTCD- a chest specialist with more than 30 years of practice and a flair for writing clinical articles, Dr Kamal Kant Kohli joined Medical Dialogues as a Chief Editor of Medical News. Besides writing articles, as an editor, he proofreads and verifies all the medical content published on Medical Dialogues including those coming from journals, studies,medical conferences,guidelines etc. Before Joining Medical Dialogues, he has served at important positions in the medical industry in India including as the Hony. Secretary of the Delhi Medical Association as well as the chairman of Anti-Quackery Committee in Delhi and worked with other Medical Councils in India. Email: editorial@medicaldialogues.in. Contact no. 011-43720751