New Delhi: Safdarjung, Lady Hardinge, RML get their twitter accounts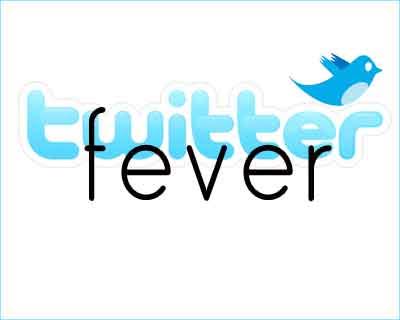 NEW DELHI: The digital age seems to be dawning on the Capital's government hospitals as well. Three of Central government run hospitals -Safdarjung Hospital, Lady Hardinge Medical College and Dr Ram Manohar Lohia Hospital have take initiatives in the same by opening their twitter accounts. All the three hospitals started their twitter accounts on 21st June, 2016 on the International Yoga Day.
The purpose of the social media account has been cited to primarily inform the people about the news activities as well as upcoming programmes and workshops, etc at the respective hospitals/
For instance, the medical superintendent of Dr Ram Manohar Lohia hospital told Hindu, "The dharamshala, which will provide lodging space to the families of patients, will be inaugurated soon. We would be starting a few new courses. The Twitter account will help us in disseminating information about these things directly to the public."
Over the past few weeks, the hospital has posted 16 tweets using its @RMLDelhi account and got 16 likes and 67 followers. The tweets were about Yoga Day celebration at the hospital, newspaper clippings and the inauguration of the AMRIT — the affordable medicine and implants store.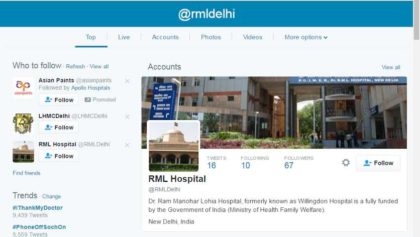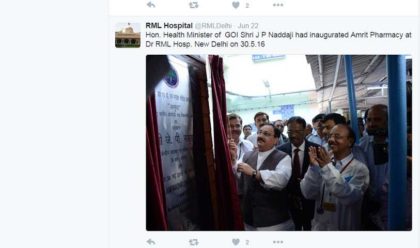 Besides their pre-planned updates about hospital activities an programmes, Safdarjung hospital plans to update its monthly patient data on Twitter to make the functioning more transparent.
About their initiative towards Digital India , medical superintendent of Safdarjung hospital, Dr AK Rai said," We might update unusual cases or interesting cases which come to the hospital for the knowledge of the public at large. The hospital will also take note of any complaints from patients that they receive on their twitter feed."
The twitter address for safdarjung is @SJHDelhi, till the date, the  Safdarjung hospital  has 24 tweets, 46 followers and 7 likes. The tweets were about the history of the hospital and newspaper clippings where doctors of the hospital have been quoted.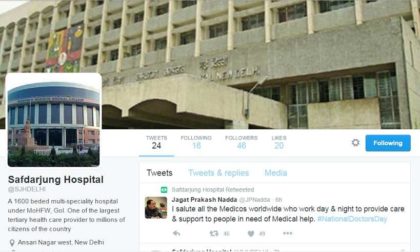 The twitter handle of Lady Hardinge Medical College is @ LHMCDelhi, and till now has 19 tweets and 36 followers on the twitter account. Moreover, The hospital has also set-up a Facebook account which says, "This is the official FB page for Lady Hardinge Medical College and Hospitals, created by MoHFW as part of social media outreach of the health ministry."