30 percent or 50 percent reservation for Inservice doctors: HC asks MP state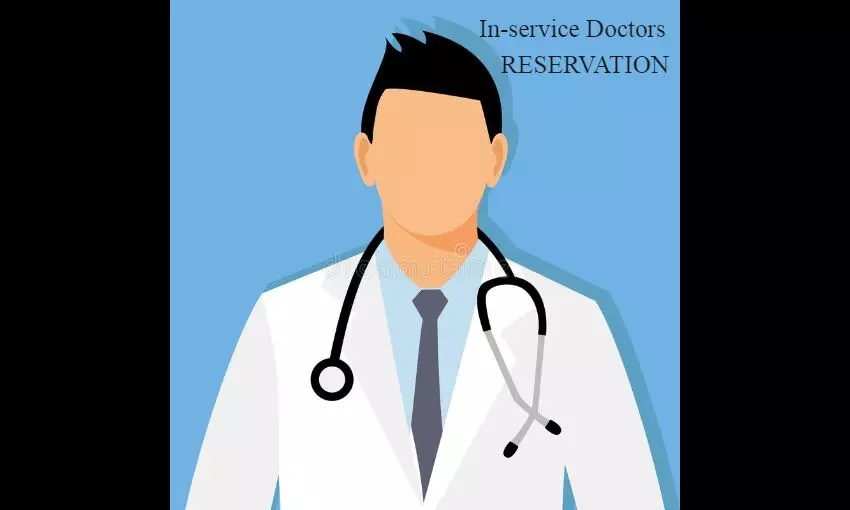 Bhopal: Issuing notice in a plea concerning the benefits given to the in-service doctors, the principal bench of Madhya Pradesh High Court has recently sought the response of the Directorate of Medical Education and principal secretary of Health services.

The petitioners, who are employed in the government hospitals of the state, have questioned the 30 percent reservation for the in-service doctors instead of the State policy of providing 50 percent reservation for them, reports FPJ.
Those doctors who provide their service in the rural and hilly areas are considered to be the in-service doctors. However, asserting that they have served in the rural areas for more than 3 years, the petitioner doctors have pointed out that benefits are provided to doctors who work in the urban areas as well.
Until 2016-17, additional marks and reservation benefits were given to the in-service doctors who had served for more than 3 years in rural and other notified areas. However, in 2017-18 the Government stopped providing such benefits and clarified that the benefits would be given to those doctors who have worked for 3 years in difficult and remote areas situated in 89 notified tribal development blocks.
The matter of reservation and other benefits for in-service doctors has been under consideration of the judicial system for quite some time. Medical Dialogues had earlier reported that in Tamil Nadu as well, the 50 percent reservation provided to in-service doctors for admission to postgraduate and super specialty courses had been challenged several times.
Also Read: 50 Percent In-Service Reservation For PG Medical, SS Courses: Supreme Court reserves order

As per the latest media report by the Free PressJournal, the counsel for the petitioner doctors, Advocate Aditya Sanghi, referred to the Government notification dated February 28, 2019, which clearly stated that in service doctors should be provided with a 50% reservation.

Reliance has been placed upon the Supreme Court judgment in the case of Tamil Nadu Medical Officers Association vs Others as well, where the top court had held that 50% seats should be reserved for in-service doctors in Tamil Nadu and the similar way should be adopted by Madhya Pradesh as well.
"Supreme Court had clearly instructed that in-service doctors should be given benefits," contended the counsel appearing for the doctor.
Recently, the 50% reservation granted to the in-service doctors for admission to post-graduate degree and diploma courses in Tamil Nadu Government medical colleges and government quota seats in self-financing medical colleges has been challenged before the Madras High Court.
Arguing that such benefits makes discrimination between the in-service and non-service doctors, the petitioners have urged before the Madras HC to quash the clause that provides such benefits to in-service doctors.
Also Read: HC issues notice on 50 percent reservation for Inservice doctors in Tamil Nadu
Source : with inputs