Admissions 2020: ACPUGMEC releases important instruction for MBBS, BDS, BAMS, BHMS candidates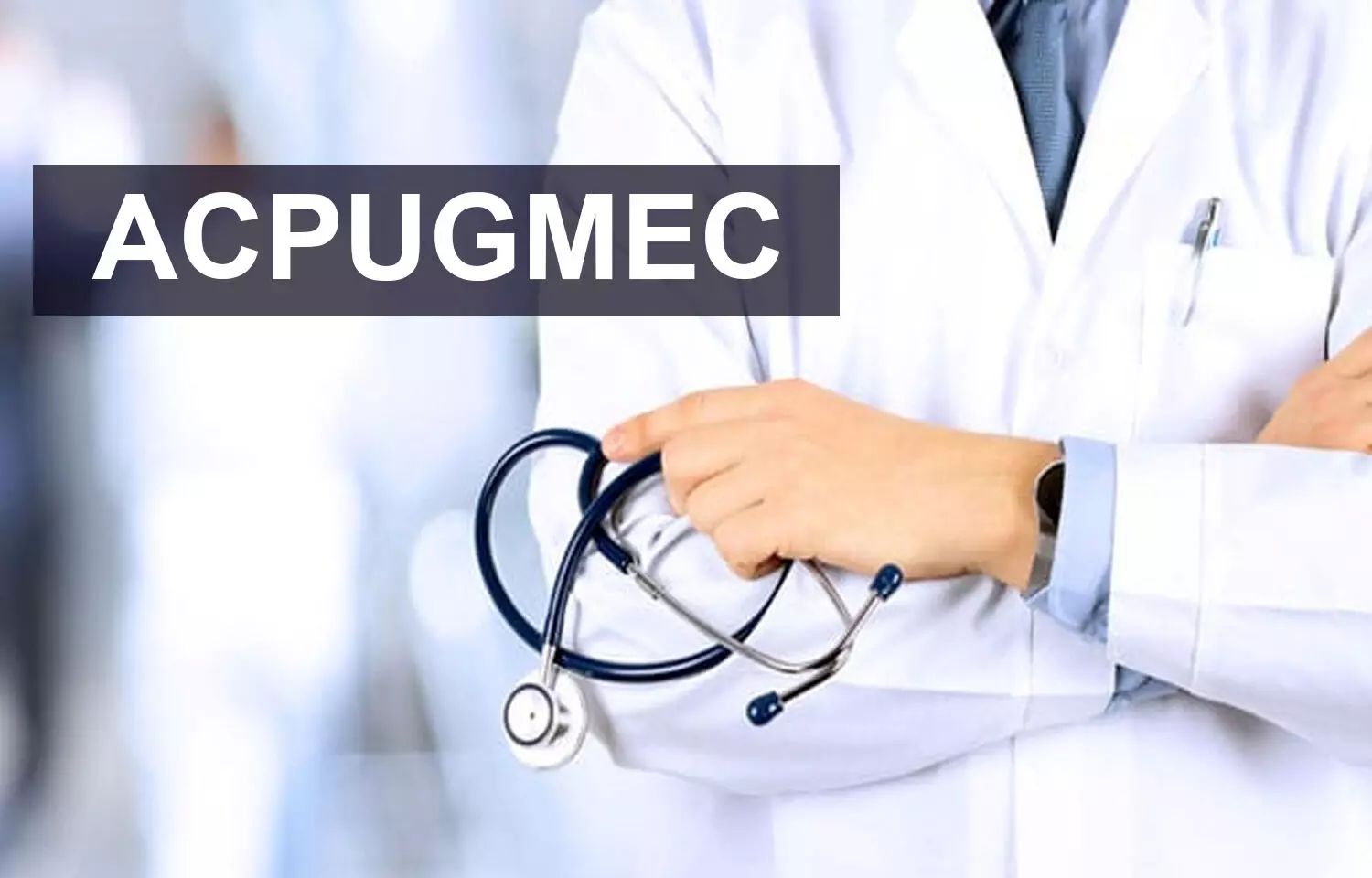 Ahmedabad: Through a recent notification, the Admission Committee for Professional Undergraduate Medical Education Courses (ACPUGMEC) has released important instruction with respect to NEET Counselling 2020 for MBBS, BDS, BAMS and BHMS candidates.
For all the eligible candidates and included in the Merit List of ACPUGMEC, for admission of Government Seats, Management Seats and NRI Seats of Medical and Dental Under-Graduate courses and Government seats of Ayurvedic and Homeopathy Under-Graduate Courses in Government and Self-Financed Colleges for the academic year 2020-21, below attached is the instruction recently released by the state counselling authority:
ACPUGMEC will be able to allocate seats in the first round to the medical, dental, ayurvedic and homeopathy colleges which are approved by the council. So the college which has not been recognized till date will be included in the next round and will be allotted to the students when the recognition comes.

In each round, students are asked to fill out a college of their choice.

(Whether it is currently recognized or not, the student should make a choice filling).

Only after the recognition, the seats of the college will be allotted which should be noted by every student and guardian.
schedule for 1st round of online choice filling and allotment is as follows:

No.

Details

Date and time

From

To

1

1st Round

Choice Filling

23/11/2020

at 10.00 am

25/11/2020

at 05.00 pm

2

Display of Choices filled by candidates

25/11/2020 up to

12.00 midnight

3

Display of Seat

Allotment

26/11/2020 at 12.00 noon

4

Payment of Fees via Online Banking and at

designated branches of HDFC Bank

26/11/2020

At 01:00 pm

04/12/2020

at 3.30 pm

5

Reporting & Original

Document Submission at Help Center

27/11/2020

09:00 am

05/12/2020

04:00 pm
Help Center working hours: 9.30 am to 3.30 pm (on working days only)
Procedure for admission confirmation-Round 1

Declaration of result of seat allotment and printing of allotment letter

• After choice filling ACPUGMEC will declare result as per the merit number and choices filled by the candidate.
• Candidate can download his allotment letter and fees challan from his account after login with the help of User ID & Password.

Payment of Fees
• Candidate can pay the tuition fees of allotted college either by online payment mode through official website of ACPUGMEC or by cash/ Demand Draft through designated branch of bank (List of designated bank's branches is available on admission committee's website http://medadmgujarat.org/ug/home.aspx).

• After payment of tuition fees students has to collect receipt generated from ACPUGMEC portal in 2 copies and copy of challan (2 copies).
• For NRI Candidate: The candidate who has been allotted seat in NRI category, he/she has to pay Rs. 5.00 lakh (as Refundable Deposit) by online payment gateway or cash or Demand Draft in favor of "ACPUGMEC" payable at Gandhinagar in the designated bank's branches approved by ACPUGMEC. After that students have to confirm the admission by submitting Original Documents Help Center. Then candidate has to pay prescribed tuition fees in US Dollar or equivalent amount in any other foreign currency on or before 9th December, 2020. If any candidate fails to deposit this fee at admitted institute in stipulated timeframe, the admission will be considered as cancelled. ACPUGMEC will refund the deposit amount of Rs. 5.00 lakh after the completion of whole admission process.
Instructions for admission confirmation

• Candidate has to take prior appointment for the Document Submission at Help Center. Candidate can select the Date and Help Center for Document Submission at the time of printing the Allotment Letter.
• After payment of tuition fees, the candidates who have been allotted seat, they have to submit their original documents at appointed Help Centre as under:
1. Allotment Letter of ACPUGMEC
2. Receipt of Payment of of Tuition Fee at Bank
3. Tuition Fee Receipt generated thru' Admission Module
4. Print Copy NEET-UG mark-sheet of current academic year
5. Std. 10th Marksheet
6. Std. 12th Marksheet
7. Document showing place of birth & Date of Birth & Indian Citizenship (School leaving Certificate/ Transfer Certificate/ Passport/ Birth Certificate).
8. Domicile Certificate (with signature and stamp of Authority) issued by Competent Authorities (Mamlatdar / Executive Magistrate / Commissioner of Police) of Gujarat State only.
9. For SEBC, ST and SC Category: Caste certificate issued by Competent Authorities of Gujarat State only.
10. For SEBC Category: Non-creamy layer certificate (Parishistha '4' in Gujarati/English) issued by Competent Authorities of Gujarat State only.
11. For EWS (Economically Weaker Sections) Category: EWS certificate issued by Competent Authorities of Gujarat State only.
12. Copy of Passport (if Citizenship is Dual)
14. Any other document as per requirement
To view the official notice, click on the following link:
https://medicaldialogues.in/pdf_upload/pdf_upload-142726.pdf

Guidelines for Choice Filling

• Online allotment of seats is done on the basis of merit cum choice in institutes permitted by concerned council.
• Choice can be decided by candidate on following criteria:
o Course of choice
o Institute/Place of choice
o Government or Self-financed Institute
o Tuition fees
• Candidates are instructed to fill all the available choices irrespective of institute's status (permitted /recognized) so that during the process of allotment if any institute get permission you can get admission in that seat.
• In the choice filling of Second and subsequent round, Allotment of seats will be carried out as per the Closure of first round, irrespective of choices filled in by candidate of first round.
• Closure of present round will be displayed along with allotment result of that round.
• If candidate is failed to confirm the admission on allotted seat due to any reason, such candidate shall not be allotted same type of seats in the same institute in the successive rounds of counseling.
• For Online Choice Filling, visit the website: http://medadmgujarat.org/ .
Steps
• Click on "Medical, Dental, Ayurvedic & Homeopathy" tab under "Undergraduate Admission". New window will appear on the computer screen.
• Click on "Apply for Admission in Medical, Dental, Homeopathy, and Ayurvedic" button. New window will appear on the computer screen.
• Click on "Candidate Registration/Login". New window will appear on the computer screen.
• Enter your USER ID (Sr No. of PIN), Password, 14 Digit PIN, Captcha & Click on Submit button. New window will appear on the computer screen.
• Click on "CHOICE DETAILS". 3 options will be displayed as below.
o Available Choice: you can see all available choices
o Fill Choice: to start your choice filling process .
o Print Filled Choice: after locking your choices you can take printout of your choice list.
• Click on "Available Choice" to start the process for choice filling. New window will appear on the computer screen.
• CHOICE AVAILABLE: You can see all available choices. You can filter out the choice based on options are as under :
o Branch: MEDICAL / DENTAL / AYURVEDA / HOMEOPATHY
o Institute Type: GOV / SFI / GIA
o Seat Type: GOVERNMENT SEAT (GQ) / MANAGEMENT SEAT (MQ) / NRI SEAT (NQ)
• Click on "Fill Choice" to start the process for choice filling. New window will appear on the computer screen.
• Box 1: Filter your choices by Branch, institute, institute type, and seat type.

o Branch: MBBS, BDS, BAMS, BHMS
o Institute type: Blue colour – Govt. and Gant-in-aid Institute; Green colour – Self-financed institute
o Seat type: GQ - Government Seat; MQ: Management Seat; NQ: NRI Seat
o Institute: Name of particular institute
• Box 2: Add your choices, you can add unlimited number of choices .
• Box 3: You can re-arrange your choices by serial number
• Box 4: You can delete all filled choices and can start choosing new choices again
• Click "add" in left side panel ⇒ choice will be shifted to right side panel

• SAVE CHOICE: To save your filled choices
• SAVE & EXIT: To save your filled choices and exit from choice filling page
• After save and exit choices page, you can review your choices. Click on "Modify Choices" to modify your choices. After typing 14-digit PIN no., you can lock your choices after clicking on "Lock Choices".
• Box 1: Candidate must take print-out of locked choices. Whenever any query arises, the committee will consider print-out of your locked choices only.
• Box 2: You can Un-Lock and modify your filled choices after entering 14-digit PIN No. till time and date decided by ACPUGMEC.
• If you fail to lock choices it will be automatically locked on last day of choice filling.
To view the allotted lists and seat matrix, click on the following links