DME Arunachal Pradesh Invites application for MBBS Admissions 2021, Check out details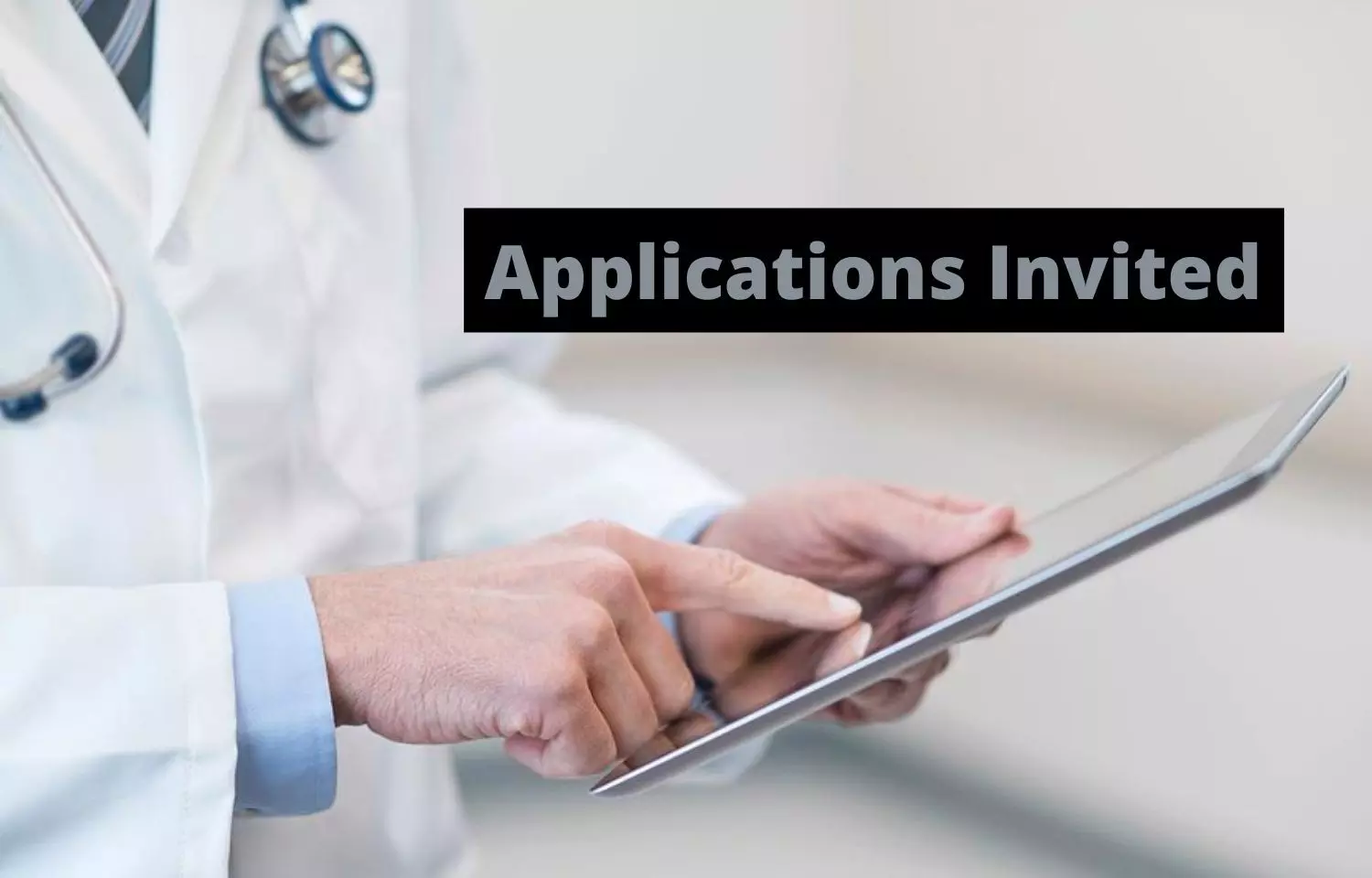 Itanagar: The Directorate of Medical Education, Training & Research (DME Arunachal Pradesh) has invited applications from eligible candidates for admission to the MBBS Degree course in this session 2021-22.
All the interested candidates intending to pursue MBBS at Arunachal Pradesh based medical colleges are hereby advised to take note of the following admission details including eligibility criteria, instructions, application procedure, selection method and fee details mentioned below as released by the DME on its official website.
Prospectus may be obtained on payment of Rs.500.00 for ST/SC and Others Rs. 750.00 and Rs 5000.00 (for NRI and others) from the Directorate of Medical Education, Training & Research, (Government of Arunachal Pradesh) Naharlagun-791110 or downloaded from www.dmetrap.in

The candidates shall ensure that the filled-in application form with the relevant enclosures should reach the DME, within the date and time specified.
All the Demand Drafts should be drawn in favor of "The Director of Medical Education, Payable at Naharlagun".
Reservation for Person with Benchmark Disability (PWBD) may please refer to the MCI Guidelines.
ELIGIBILITY CRITERIA:
(a) In compliance with the amendment to Section 10(D) of the Medical Council of India, 1956 and Hon'ble Supreme Court of India orders, the eligibility for admission to MBBS Degree Courses within the respective categories shall be based solely on marks obtained in the National Eligibility-Cum-Entrance Test (NEET UG – 2021).
(b) Candidates should be a Citizen of India
(c) In order to be eligible for admission to MBBS Degree Course for a particular academic year, it shall be necessary for a candidate to obtain minimum of marks at 50th percentile for general category and those belonging to reserved categories (OBC/SC/ST) are required to get at least 40th percentile in 'National Eligibility cum-Entrance Test to MBBS Degree Course held for the year 2021- 2022., In respect of candidates with locomotors disability of lower limbs terms of Clause 4(a) iv (of regulations), the minimum mark shall be at 45th percentile for UR, and 40th percentile for ST/SC/OBC in National Eligibility cum-Entrance Test to MBBS Degree Courses held for the said academic year. Provided when sufficient number of candidates in the respective categories fail to secure minimum marks as prescribed in National Eligibility-cum-Entrance Test held for any academic year for admission to MBBS Degree Course, the Central Government in consultation with Medical Council of India may at its discretion lower the minimum marks required for admission to MBBS Degree Course for candidates belonging to respective categories and marks so lowered by the Central Government shall be applicable for the said academic year only. If such situation arises, fresh applications will not be entertained.
(d) To be eligible for admission to MBBS Degree Course, a candidate must have passed in the subjects of Physics, Chemistry, Biology/Biotechnology and English individually and must have obtained marks as per the respective category taken together in Physics, Chemistry and Biology/Bio-technology at the qualifying Examination.
ELIGIBILITY CRITERIA FOR NRI:
The guidelines for NRI/ NRI sponsored / PIO/ OCI: admission are as follows:
i. An NRI student is one who has NRI status. Students who have studied their qualifying examination equivalent to 10+2 of India, from schools or colleges abroad (outside India) will also be considered as NRI student.
ii. Candidates should fulfill the minimum eligibility criteria to seek admission under Non-Resident Indians (NRI) Category. The seats under NRI quota should be utilized by the children or wards of Bonafide NRI's only. It may be noted that the admission procedure, application form and fees are different from the domestic students.
iii. An Applicant who depends upon his/her Father/Mother/Brother/Sisters (inclusive of first cousins)/ Husband /Wife/ Brother and Sisters (inclusive of first cousins) of Father or Mother/Half Brother/Half Sister/Adopted Father or Adopted Mother or guardian (declared as the guardian of the candidate by the court as per provisions in 'The Guardian and Wards Act, 1890") who is working abroad, will only be eligible to apply in the NRI category seats. Further, the Candidate should be of Indian origin settled in Foreign (OR) Candidate born in a foreign country and whose parents are of Indian citizendeputed abroad by Public Sector Undertaking (OR) Child of the Official of the Central / State Government on deputation abroad shall fall under the NRI category. This is subject to further orders, if any, from Government, regarding the matter.
iv. The candidate himself/herself should produce the proof of NRI Overseas Citizenship India (OCI) or Person of Indian Origin (PIO) or child of NRI/OCI/PIO with current year NRI certificate issued from the Indian embassy of concerned country along with valid passport and visa copies.
v. The candidate should have completed 17 years of age on or before 31st December of the year of admission.
vi. Candidate seeking admission to MBBS course under NRI Quota should have passed H.SC, Examination (10+2 pattern / equivalent) and must have taken courses in Biology, Physics, Chemistry and English should be one of the subjects in the qualifying examination. And obtained minimum of marks at 50th percentile in 'National Eligibility-cum-Entrance Test to MBBS course' held for the said academic year.
vii. The candidate should have obtained a minimum of 50% marks in Biology or Botany and Zoology taken together and a minimum of 50% marks each in Physics and Chemistry Admissions are done on the basis of marks obtained in the qualifying examination Wherever grades like A, B- C+, etc. are used by the issuing school, appropriate equivalence in terms of percentage like 90%, 75% and 60% should be made available. Rounding off of the percentage of marks to the nearest whole number is not permitted.
viii. Candidates studied in other countries should produce "certificate of equivalence" from the Association of the Indian Universities at New Delhi.
ix. The admissions made are provisional and subject to approval by the Rajiv Gandhi University, Arunachal Pradesh and Medical Council of India, New Delhi. x. NRI sponsorship eligibility: As per the Govt. of India Guidelines.
Process of application and admission:
Download the application form from the website www.dmetrap.in and attach the following documents after filling the required details (whichever applicable):
1. NEET exam 2021 score card.
2. Marks card / transcript of the qualifying examination (English Translated)
3. Birth certificate or Proof of certificate for date of birth. 4. Copy of passport and VISA to enter the Country (Student VISA, PIO or OCI CARD)
5. Proof of NRI status of student / Sponsor
6. Numerical grade (equivalence) certificate of the qualifying examination. 7. Recent passport size colour photograph (Ten Nos.) – same as NEET
8. Sponsor's passport size photograph – one (colour) – same as NEET
9. Certificate showing the proof for blood relationship for NRI sponsored candidate.
AGE LIMIT:
The candidates should have completed seventeen years of age on or before 31st December 2021.
PROCEDURE FOR FILLING AND SUBMISSION OF APPLICATION:-
a. The candidates should submit the filled application along with necessary enclosures, only copies and not originals. DME is not responsible for the security, safety and loss of the originals if submitted. The application is to be sent in an envelope measuring 24 X 12 cm, super scribed as APPLICATION FOR MBBS DEGREE COURSE 2021 – 2022 SESSION" to the Director of Medical Education, Training and Research. A-Sector, Naharlagun-791110. Arunachal Pradesh. Arunachal Pradesh. before the last date along with a Demand Draft for Rs. 500/- for ST/SC, Rs. 750 for Other Categories & Rs. 5000 for NRI [non-refundable] towards the cost of application form drawn in favour of The Directorate of Medical Education, T and R, Govt. of A.P, NLG, and payable at Central Bank of India, Branch Naharlagun. The name of the candidate, Contact Number and the name of Course (MBBS) should be written on the reverse of the Demand Draft and in case of net banking copy of the transfer details/counter folio indicating the candidate's Name on the backside. The application forms will be available from Director of Medical Education, A-Sector, Naharlagun, 791110 or download it from website www.dmetrap.in
b. If a candidate applies for MBBS Course in forms other than the one prescribed by the Selection Committee, then that application will be summarily be rejected.
c. The Government Orders issued and to be issued from time to time pertaining to any of the matters contained in the Prospectus should be read as part and parcel of this Prospectus and such terms and conditions in the Government Order are deemed to have been incorporated in this Prospectus with binding on the candidates.
d. Candidates should affix their recent passport size photographs same as used in NEET examination 2021 - 2022in places provided in the application form.
e. All the entries in the application form should be written legibly by the candidate in his / her own handwriting. The candidate should ensure that all information including the marks in the qualifying examination furnished by him/her in the application and the enclosures are correct.
The candidate is informed that if after proper scrutiny of his / her application, the marks furnished by him / her in the application is not correct or any other information is found to be incorrect, then;
(i) He/ She will forfeit the admission, no matter at what stage of the course, he /she will be at that time;
(ii) He/She will be debarred from pursuing any other course for a period of three years;
(iii) Criminal action will be instituted against him / her for furnishing false Mark Sheet/ false Community Certificate / false Domicile Certificate.
(j) If any original documents are enclosed along with the application form, it is informed that the Selection Committee is in no way responsible for those documents. Candidates are required to enclose only photocopies of the following certificates along with the original application form.
(i) NEET- UG 2021 Hall ticket and Score card.
(ii) Class X Mark Sheet (both sides of Mark Sheet should be photocopied).
(iii) Class XII Mark sheet (both sides of mark sheet should be photocopied) or any other equivalent examination.
(iv) Domicile Certificate/Permanent Residential Certificate issued by District Administration.
(v) Community Certificate Arunachal Pradesh Scheduled Tribe Certificate issued by District Administration.
METHOD OF SELECTION AND ADMISSION: -
The admission shall be made on the basis of National Eligibility–cum-Entrance Test NEET-UG 2021 score for MBBS Degree Course for the year 2021 – 2022 for the State Quota seats in TRIHMS Medical College.
COUNSELLING PROCEDURE: -
The selection will be made based on NEET – UG 2021 score and by counseling through Online system.
(a) ALL INDIA QUOTA SURRENDERED SEATS :
a. 15% of the total seats in every Government Medical College are reserved for All India Quota.
b. If MBBS Degree seats earmarked for All India Quota are surrendered back by the Director General of Health Services, New Delhi, to the State Government, then the vacancies arising thereby will be filled up by the candidates from the rank list adopting the rule of reservation followed by the Government of Arunachal Pradesh
Fee Structure

All India/ State Quota Seat – INR

NRI Quota

A

Admission Fee

Rs. 500

ID Card Fee

Rs. 100

Health Checkup

Rs. 500

Immunization

Rs. 1000

Student Welfare fund

Rs. 5000

B

Refundable Deposit

Caution money

Rs. 10000

Rs. 50,000/-

Laboratory deposit

Rs. 5000

Library deposit

Rs. 2000

Hostel & mess security

Rs. 10000

C

Term fees (Annual / recurring)

Tuition fees

Rs. 20000

Library fees

Rs. 1000

Common room fees

Rs. 1000

College magazine fees

Rs. 1000

Sports & cultural fees

Rs. 5000

Laboratory fees

Rs. 2000

Practical manual fees

Rs. 3000

Hostel & Mess Fees

Hostel fees (yearly)

Rs. 5000

Utility charges (yearly)

Rs. 5000

Mess charges

As applicable

University fees (stipulated by the university)

Registration fees

By university

By university

Examination fees (recurring and per subject & attempt)

By university

By university

Miscellaneous fees

NRI Fees for complete course

$1,00,000/- equivalent in INR from NRI (without interest rate of full payment) or in Three installments : (1) $40,000 (2) $30,000 (3) $30,000 + $15,000 (being the interest rate of installment as approved by Govt. of A.P)

Total (A+B+C)

Rs. 77,100/-
To view the official notice click on the following link:
https://medicaldialogues.in/pdf_upload/trihms-prospectus-2021-22-164944.pdf