FMGE June 2020: NBE waives Requirement of attestation of Primary Degree Certificate by Indian Embassy; clarifies condition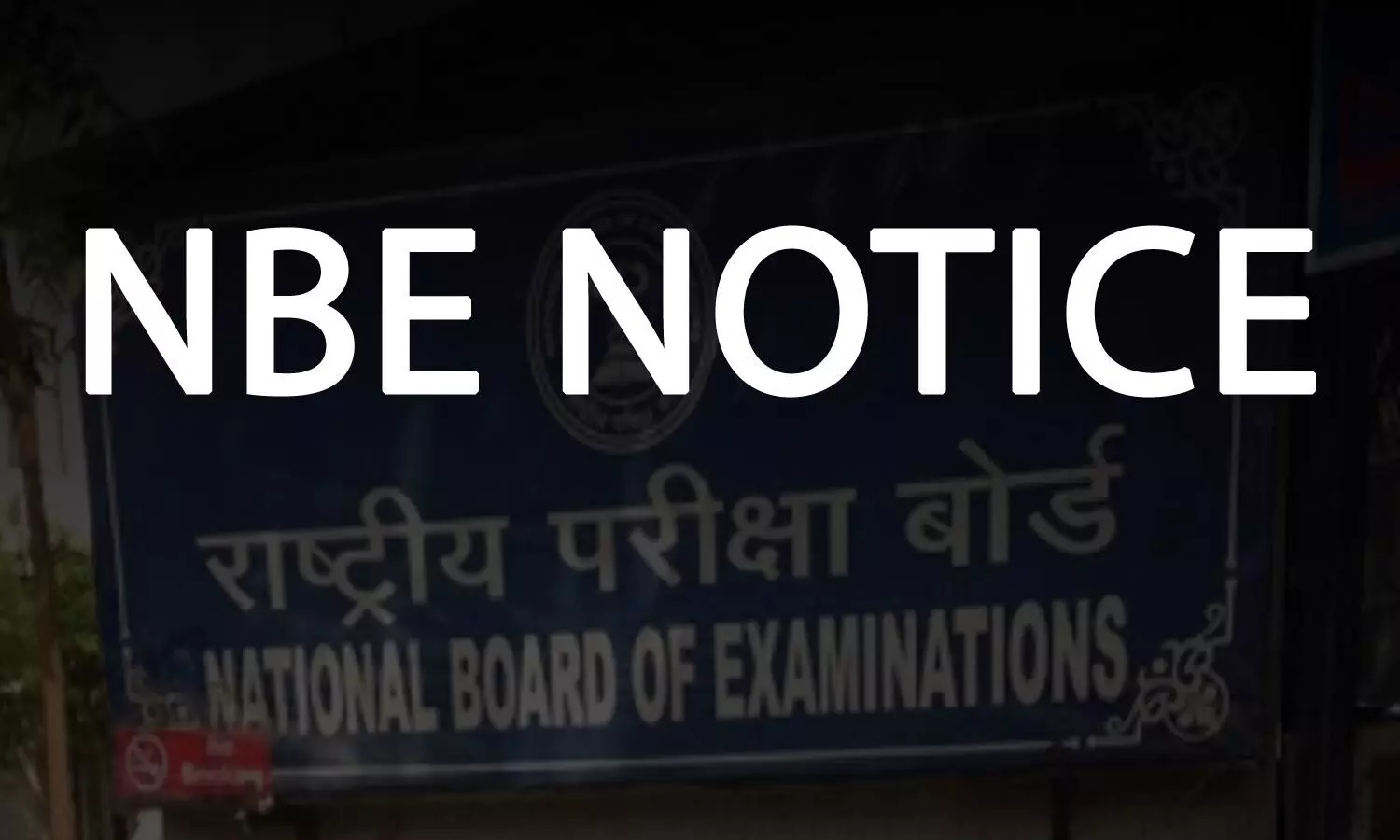 New Delhi: Through a recent notice, the National Board Of Examinations (NBE) has informed about the waiver on the Requirement of attestation of Primary Medical Qualification Degree Certificate by Indian Embassy for candidates in order to appear for FMGE June 2020 session. The waiver has come with the clarification.
As per the notice, the NBE has granted a waiver on the mandatory requirement of attestation of Primary Medical Qualification Degree Certificate by Indian Embassy for FMGE candidates in view of the ongoing COVID outbreak. However, the exam authority has further clarified that it will withhold the results of such students who have been allowed to appear for the FMGE till the attested copies of their concerned degree certificates are submitted to the NBE.
In terms of Clause 2.13 of the Information Bulletin of FMGE June 2020 Session, the foreign medical degrees should be attested either by the Indian Embassy or should be apostilled by the appropriate authority of the foreign country concerned.

In terms of Clause 4.4 of the Information Bulletin of FMGE June 2020, it is mandatory to submit degree certificate of primary medical qualification issued on or before the cut-off date i.e. 31st July 2020
NBE has decided to waive the requirement of attestation of degree certificates by the Indian Embassy concerned, in view of COVID 19 pandemic related travel restriction, to enable the candidates to appear in the FMGE being held on 31st August 2020.
Result of all such candidates granted a waiver from attestation to appear in the FMGE June 2020 session shall be WITHHELD and declared on submission of attested copies of degree certificates only.
For official notice, click on the following link:

https://medicaldialogues.in/pdf_upload/pdf_upload-131569.pdf

The NBE had recently commenced the application process of this year's FMGE June 2020 session while making significant changes in the conduction of the exam including application fees, exam centres and exam day guidelines in view of the ongoing COVID epidemic.

The National Board of Examinations shall conduct the next FMGE on 31st August 2020 on a Computer-Based Platform at various test centres across the country.
All the concerned candidates can apply for Foreign Medical Graduate Examination (FMGE) – June 2020 Session by filling the application form and submitting it only online from 8 th July (3 PM onwards) to 22nd July 2020 (till 11:55 PM).
While releasing the information bulletin for the candidates who are interested to appear for FMGE June 2020, the NBE has made vital changes to this year's exam conduction.
The said changes include:
Hike in the Application fee: The application fee for FMGE last year was Rs 5500 however this year the fee has been hiked by Rs 990 which would be the additional GST amount. So, the registration fee for this year required to be paid by the candidates is Rs 6490.
Examination Fee:
| | | |
| --- | --- | --- |
| EXAMINATION FEE | GST @ 18% | TOTAL AMOUNT PAYABLE* |
| Rs. 5500/- | Rs. 990/- | Rs. 6490/- |
*Excluding charges as may be applicable by various payment gateways.
Test Day guidelines: Keeping in view of COVID outbreak, the NBE has issued special exam day guidelines for candidates which state the following:
TEST DAY PROCEDURES: National Board of Examinations shall be conducting the Social Distanced - Computer Based Test (SD-CBT) in a safe and secure environment using touch-free processes maintaining social distancing norms wherever needed.NBE has also asserted that it reserves its rights to review the test day processes of conduct of CBT in wake of changing scenario of COVID-19 pandemic.
Increase in examination centres: For this year's FMGE exam, the NBE has added 17 more exam centres in the list. See the full list below:
Centres for FMG Examination
The tentative list of cities where FMGE June 2020 session shall be conducted is as follows:
1.Ahmedabad
2. Ajmer
3. Aligarh
4. Bengaluru
5. Bhopal
6. Bhubaneswar
7. Chennai
8. Dehradun
9. Ernakulum
10. Faridabad
11. Gandhinagar
12. Ghaziabad
13.Greater Noida
14. Gurugram
15. Guwahati
16. Hyderabad
17. Jammu
18. Jodhpur
19. Kolkata
20. Kollam
21. Kottayam
22. Kozhikode
23. Lucknow
24. Madurai
25. Meerut
26. Mohali
27. Mumbai
28. Muzaffarnagar
29. Nagpur
30. New Delhi
31. Noida
32. Patiala
33. Patna
34. Pune
35. Ranchi
36. Roorkee
37. Shillong
38. Sikar
39. Thiruvananthapuram
40. Thrissur
41. Truchirappalli
42. Visakhapatnam
IMPORTANT DATES
Availability of Information Bulletin:- 7th July 2020 Onwards
Online Application Submission:- 8th July (3 PM Onwards) to 22nd July 2020 (Till 11:55 PM)
Online Application Submission Process Completes On:- 22nd July 2020 (Till 11:55 PM)
Edit Window for All Applicants:- 23rd July to 25th July 2020
Final Edit Window to rectify Deficient Images:-10th August to 12th August 2020
1. Photograph
2. Signatures
3. Thumb Impression
Last Date for Submission of Deficient Documents:- 20th August 2020 (till 11:55 PM)
1. Proof of possessing Primary Medical Qualification
2. Eligibility Certificate/Admission Letter
3. Identity Proof of Citizenship
Issue of Admit Card:- 24th August 2020
Examination Date:- 31st August 2020
Declaration of Result:- By 20th September 2020
The FMGE-Screening Test has been introduced through Screening Test Regulations 2002.
As per the regulations, "An Indian citizen/Overseas citizen of India possessing a primary medical qualification awarded by any medical institution outside India who is desirous of getting provisional or permanent registration with Medical Council of India or any State Medical Council on or after 15.03.2002 shall have to qualify a screening test conducted by the prescribed authority for that purpose as per the provisions of section 13 of the Act.
National Board of Examinations (NBE) has been entrusted with the responsibility to conduct the Screening Test as per Screening Test Regulations 2002. Role of NBE is limited to conduct of the test, publishing the result and handing over the result to the Medical Council of India & all State Medical Councils.
Payment of exam fee:
Applications forms once submitted cannot be withdrawn. The fee shall neither be carried forward to a future date nor refunded under any circumstances. Any claim for refund, adjustment or carrying forward of Application fee will not be entertained.
How to pay: The prescribed exam fee should be remitted through payment gateway provided using a Credit Card or a Debit Card issued by banks in India or other modes as may be made available and have been provided on the web page. Fee can not be deposited through any mode other than the payment gateway available while submitting online application form submission.
Examination fees in respect of candidates who are absent or have been declared ineligible due to any reason shall be forfeited. Candidates are advised to read the screening test regulations and the information bulletin for FMGE June 2020 session carefully and satisfy the terms and conditions for the fulfilment of eligibility criteria before proceeding for payment of fees.
Please refer to the Information Bulletin attached below for eligibility criteria, fee structure, course curriculum, scheme of examination and other details.
https://drive.google.com/file/d/1aaFOZ9q0jdfhY_hqmCLbf42fQfsUL3sR/view
Application form for FMGE June 2020 session can be submitted only online at www.nbe.edu.in from 8 th July (3 PM onwards) to 22nd July 2020 (till 11:55 PM).
For official notice, click on the following link:
https://medicaldialogues.in/pdf_upload/pdf_upload-131381.pdf