AIIMS to hold Stray vacancy round for MBBS course on 12th January 2021, View all details here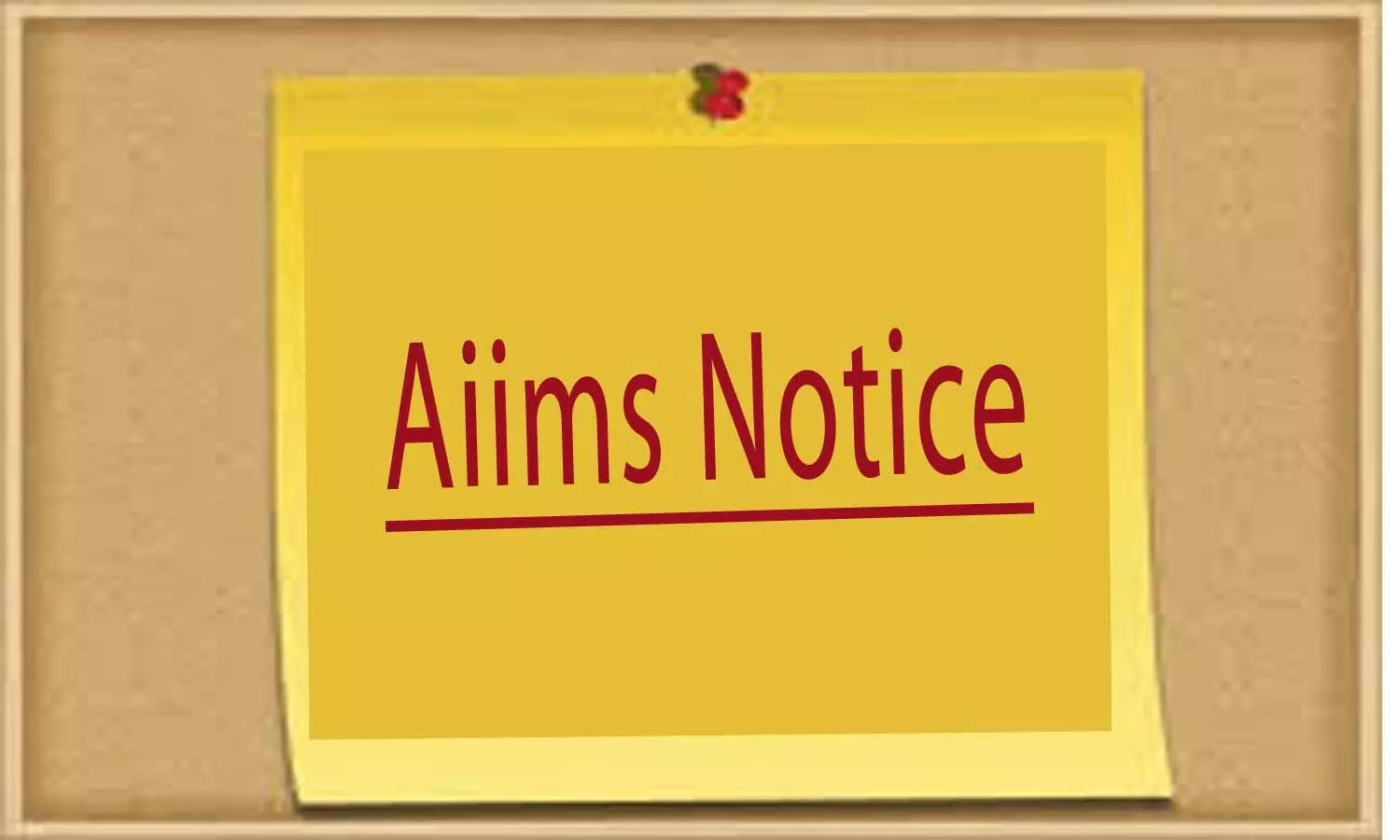 New Delhi: Through a recent notice, the All India Institute of Medical Sciences (AIIMS) has informed about the conduction of Stray vacancy round for MBBS course for all AIIMS institutes for this academic year admissions.
As per directions of the MCC and as approved by Competent Authority of AIIMS, New Delhi the Stray Vacancy Round for filling up the vacant MBBS seats for 2020 session for all Nineteen AIIMS Institutions will be held on 12th January 2021 at 9.00 A.M. at Jawaharlal Auditorium, AIIMS, New Delhi.
Subsequently, the Medical Examination of the selected candidates for all AIIMS shall also be held on 13th January 2021 from 8.45 A.M. onwards.
In view of above, Director's of all AIIMS have also been ordered to depute their nominees to attend the stray vacancy round/open counselling on the above date and time.
Note: The Vacant Seat Position and stray vacancy round guidelines will be displayed on the Institute website i.e. aiimsexams.org in due course of time.
Date: 12th January 2021
Time: 9.00 A.M. onwards.
Venue: Jawaharlal Auditorium, AIIMS, New Delhi
To view the official notice, click on the following link:
https://medicaldialogues.in/pdf_upload/pdf_upload-145395.pdf
An Updated list of vacant seats will be displayed on Website i.e. aiimsexams.org by 11.00 A.M. on 9th January 2021.
1.Age

• Should have attained or will attain the age of 17 (seventeen) years as on the 31st of December of the year of admission (2020)
• Candidates born on or after 2nd January, 2004 are NOT eligible to apply.
2. Essential Academic Qualification
• Candidate Should have passed the 12thClass under the 10+2 Scheme/ Senior School Certificate Examination (CBSE) or Intermediate Science (I.Sc.) or an equivalent Examination of a recognized University/ Board of any Indian State with ENGLISH, PHYSICS, CHEMISTRY and BIOLOGY as subject. The candidates who have passed 10+2 level with Biology as an additional subject will also be eligible for MBBS Stray Vacancy Round (as per Hon'ble High Court Order No.2341/-W/DHC/WRITS/D-1/2019 dated 24/09/2019 in the Writ Petition (C) No. 6773/2019)
• Candidates who have appeared or are appearing at the qualifying Examination with English, Physics, Chemistry and Biology as main subject and expect to pass the Examination with required percentage of marks (as indicated in Sl No. 03 below) are also eligible for appearing in the Stray Vacancy Round. However, their candidature will be considered only if they provide documentary evidence of having passed the qualifying Examination with the required subjects and percentage of marks.
• If the institute has to consider an examination of an Indian university or of a foreign/university to be equivalent to the 12th class under 10+2 scheme/intermediate science examination, the candidates shall have to produce a certificate from the concerned Indian university/Association of Indian Universities to the effect that the examination passed by him/her is considered to be equivalent to the 12th class under 10+2 scheme/intermediate science examination .

3. Minimum marks
• The minimum aggregate of the marks in ENGLISH, PHYSICS, CHEMISTRY and BIOLOGY obtained in the qualifying examination (as in the essential qualification at Sl. No. 2 of this table) required for appearing in this Stray Vacancy Round examination are :
• General and OBC candidates: 60% SC/ST candidates: 50% & PWBD candidates: 45%
• Those with CGPA grades only will have to apply the conversion factor in the application form. The conversion factor should be as approved by their respective examination board.

Process of Counseling :
 Stray Vacancy round will be conducted in Offline mode only as per the schedule.
 On 12th January, 2021 during stray vacancy round for MBBS for Nineteen (19) AIIMS, first UR counseling will be done and after UR counseling is over, OBC counseling will be done followed by SC/ST counseling.
 If any OBC seat remain vacant after counseling for OBC seat, all vacant seats will be transferred to UR category and will be offered to UR candidates on merit.
 In case of SC/ST counseling, if any SC seat(s) remain vacant, these will be transferred to ST seat and vice versa. All SC/ST seats which remain vacant after such transfers will also be transferred to UR category and will be offered to UR candidates strictly on merit.
 Thus, UR candidates will be called again in case any OBC, SC and ST seats remain vacant after stray vacancy round counseling for these categories is over in this round and all UR candidates should, therefore stay, back till it is announced that stray vacancy round counseling is finally over.
 Candidate must produce printout of the registration slip issued to them by the MCC at the time of Stray vacancy round along with all original certificates of qualification viz. Admit Card, Rank letter, result notification, Date of Birth(10th Std.), Proof of belonging to SC/ST/OBC/EWS, 12th passing Mark sheet along with passing certificate and a set of self-attested copies of all certificate on the day of Stray Vacancy round counseling.
 Candidates already holding a seat in Round-I Round-2 and Mop-up round will not be allow to participate in the Stray Vacancy Round.
 Candidates will not be allowed to attend Stray Vacancy round Counseling without the production of registration slip issued by MCC for Stray Vacancy Round Counseling
 The allocation of seats will be made strictly as per rank/merit of candidates.
 The OBC & EWS candidates will be allowed to appear in the counseling subject to production of only valid OBC /EWS certificate issued for Central Govt. Institutions/Job as on last date of counseling. Failure to bring valid caste/EWS certificate shall make the candidates ineligible for the purpose of allotment of seat in OBC/EWS category. No provisional allotment will be made.
 For any queries please send email on aiims.reg.mbbs@gmail.com or contact Academic Section, AIIMS, New Delhi Tel: (011) 26594365 and 26594383 between 10.00 am to 5.00 pm on Monday to Friday and up to 12.00 Noon on Saturday.
To view the official notice, click on the following link:

https://medicaldialogues.in/pdf_upload/pdf_upload-145397.pdf

For more details, log on to the official website of AIIMS: