NBE FNB Counselling: 44 Seats Available For final mop up round, View Detailed Seat Matrix Here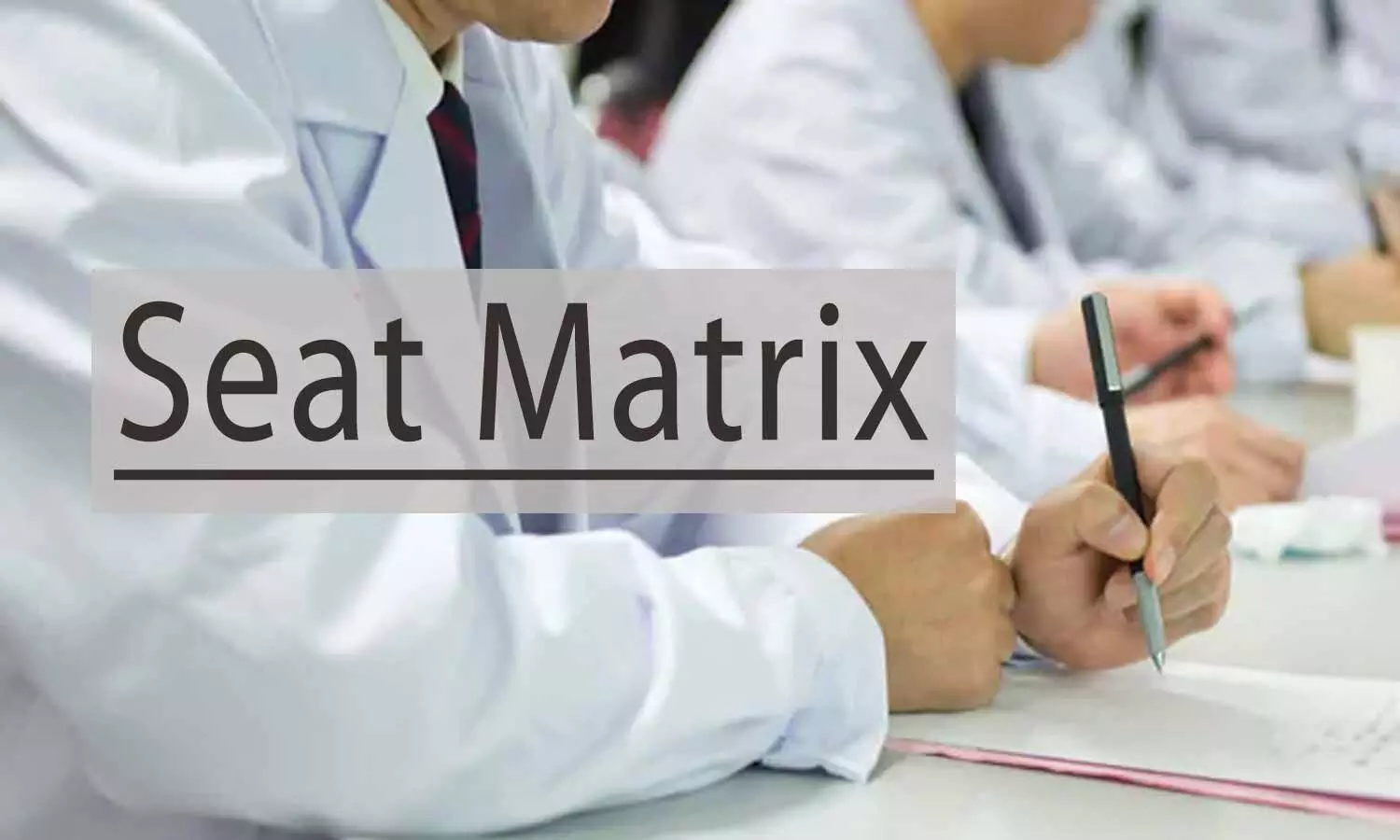 New Delhi: With the completion of Round 2, the National Board of Examinations (NBE) has released the indicative seat matrix for final round mop-up counselling for FNB admissions. According to the seat matrix, 44 FNB seats are up for grabs in the final mop-up round.

All the aspirants vying for FNB admissions are hereby requested to take note of the seats available in their preferred choice of specialities.
The maximum number of seats are available in the speciality of Interventional Cardiology with 11 seats divided between Fortis Escorts Heart Institute, Medical Trust Hospital, Madras Medical Mission Hospital, and B.M. Birla Heart Research Centre.
The list is followed by two specialities in Minimum access surgery and Infectious Diseases with 5 seats each. In the speciality of Minimal Access Surgery, the seats are in Artemis Health Institute, Fortis Hospital, Narayana Hrudayalaya Surgical Hospital and ILS Hospital.
5 seats in the speciality of Infectious Disease in the institutes of Sterling Hospital, P.D. Hinduja National Hospital, and Medical Research Centre, Apollo Hospital (Chennai), and Apollo Hospital (Hyderabad).
Reproductive Medicine has 4 vacant seats at NOVA Pulse IVF Clinic, Edappal Hospital, Bansal Hospital, and Madras Medical Mission Hospital.
Likewise, Sports Medicine has 4 seats available at Artemis Health Institute, Medical Trust Hospital, Deenanath Mangeshkar Hospital and Research Centre, and Ganga Medical Centre and Hospital
Specialities of Hand and Micro Surgery and Sports Medicine have 3 seats each for the final mop-up round of FNB counselling.
2 seats each are available in specialities of Arthroplasty, Paediatric Nephrology, Trauma and Acute Care Surgery and Vitreo Retinal Surgery.
Only 1 seat is vacant in the FNB speciality of Liver Transplantation.
Below is the detailed speciality-wise and institute-wise indicative seat matrix for the Final (mop-up) round FNB online counselling-2020 admission session.
HOSPITAL NAME AND ADDRESS

STATE

SPECIALTY

TOTAL SEATS

Ganga Medical Centre and Hospital 313 Mettupalayam Road Coimbatore-641043 Tamil Nadu

Tamil Nadu


Arthroplasty


2


Sher-I-Kashmir Institute of Medical Sciences Saura Srinagar Jammu Kashmir Jammu and Kashmir

Jammu and Kashmir

Hand and Micro Surgery

2


Ganga Medical Centre and Hospital 313 Mettupalayam Road Coimbatore-641043 Tamil Nadu

Tamil Nadu


Hand and Micro Surgery

1


Sterling Hospital Off. Gurukul Road Behind Drive-In Cinema Ahmedabad-380052 Gujarat

Gujarat


Infectious Diseases

1


P.D. Hinduja National Hospital and Medical Research Centre Veer Savarkar Marg Mahim Mumbai-400016 Maharashtra

Maharashtra


Infectious Diseases


2


Apollo Hospital 21 Greams lane Off Greams Rd Thousand Lights Chennai.-600006 Tamil Nadu

Tamil Nadu


Infectious Diseases

1


Apollo Hospital Room No. 306 Office of the Director of Medical Education Jubilee Hills Hyderabad-500033 Telangana

Telangana


Infectious Diseases

1


Fortis Escorts Heart Institute Okhla Road New Delhi-110025 Delhi

Delhi

Interventional Cardiology

6

Medical Trust Hospital M G Road Kochi-682016 Kerala

Kerala

Interventional Cardiology

1

Madras Medical Mission Hospital 4A Dr Jayalalitha Ngr Mogappair CHENNAI-600037 Tamil Nadu

Tamil Nadu


Interventional Cardiology

2


B.M. Birla Heart Research Centre 1/1 National Library Avenue KOLKATA-27 West Bengal

West Bengal


Interventional Cardiology

2


Indraprastha Apollo Hospital Delhi-Mathura Road Sarita Vihar New Delhi-110076 Delhi

Delhi


Liver Transplantation

1


Artemis Health Institute Sector 51 Gurgaon-122001 Haryana

Haryana

Minimal Access Surgery

1

Fortis Hospital 154/9 Opp. IIMB Bannerghatta Road Bangalore-560076 Karnataka

Karnataka


Minimal Access Surgery

2


Narayana Hrudayalaya Surgical Hospital CAH 1 3rd Phase Devanur Mysuru-570019 Karnataka

Karnataka


Minimal Access Surgery

1


ILS Hospital DD-6 Salt Lake City (Near CityCentre) Kolkata-700064 West Bengal West Bengal

West Bengal


Minimal Access Surgery

1


Chacha Nehru Bal Chiktsalaya Geeta Colony -110031 Delhi

Delhi

Paediatric

Nephrology

1
K.E.M. Hospital 489 Rasta Peth Sardar Moodliar Road Pune-411011 Maharashtra

Maharashtra

Paediatric

Nephrology

1

NOVA Pulse IVF Clinic Ahmedabad Pvt. Ltd. (Formerly Pulse Women's Hospital) 108 Swestik Society Navrangpura Ahmedabad - 380009 Gujarat Gujarat

Gujarat


Reproductive Medicine


1


Edappal Hospital Edappal MALAPURAM- 679576 Kerala

Kerala

Reproductive Medicine

1

Bansal Hospital C Sector Shahpura Bhopal- 462016 Madhya Pradesh

Madhya Pradesh

Reproductive Medicine

1

Madras Medical Mission Hospital 4A Dr Jayalalitha Ngr Mogappair CHENNAI-600037 Tamil Nadu

Tamil Nadu


Reproductive Medicine

1


Sher-I-Kashmir Institute of Medical Sciences Saura Srinagar Jammu Kashmir Jammu and Kashmir

Jammu and Kashmir

Spine Surgery


1


Ganga Medical Centre and Hospital 313 Mettupalayam Road Coimbatore-641043 Tamil Nadu

Tamil Nadu


Spine Surgery


1


M.I.O.T. Hospital 4/112 Mt-Poonamallee Rd Nanapakkam CHENNAI-600089 Tamil Nadu

Tamil Nadu


Spine Surgery


1


S. K. S. Hospital No. 23 SKS Hospital Road Alagapuram SALEM-636004 Tamil Nadu

Tamil Nadu

Spine Surgery

1

Artemis Health Institute Sector 51 Gurgaon-122001 Haryana

Haryana

Sports Medicine

1

Medical Trust Hospital M G Road Kochi-682016 Kerala

Kerala

Sports Medicine

1

Ganga Medical Centre and Hospital 313 Mettupalayam Road Coimbatore-641043 Tamil Nadu

Tamil Nadu


Sports Medicine


1


Pt. B D Sharma PGIMS Rohtak-1244001 Haryana Haryana

Haryana


Trauma and Acute Care Surgery

1


Medical Trust Hospital M G Road Kochi-682016 Kerala

Kerala


Trauma and Acute Care Surgery

1


Ahalia Foundation Eye Hospital Palakkad Kerala Kerala

Kerala

Vitreo Retinal Surgery

1

Chaithanya Eye Hospital Kesavadasapuram TRIVANDRUM -695004 Kerala

Kerala


Vitreo Retinal Surgery

1

To view the official notice, click on the following link:
https://medicaldialogues.in/pdf_upload/seat-matrix-150512.pdf

For more details, log on to the official website of NBE: