6 out of 22 AIIMS sanctioned under PMSSY Fully Functional: Health Minister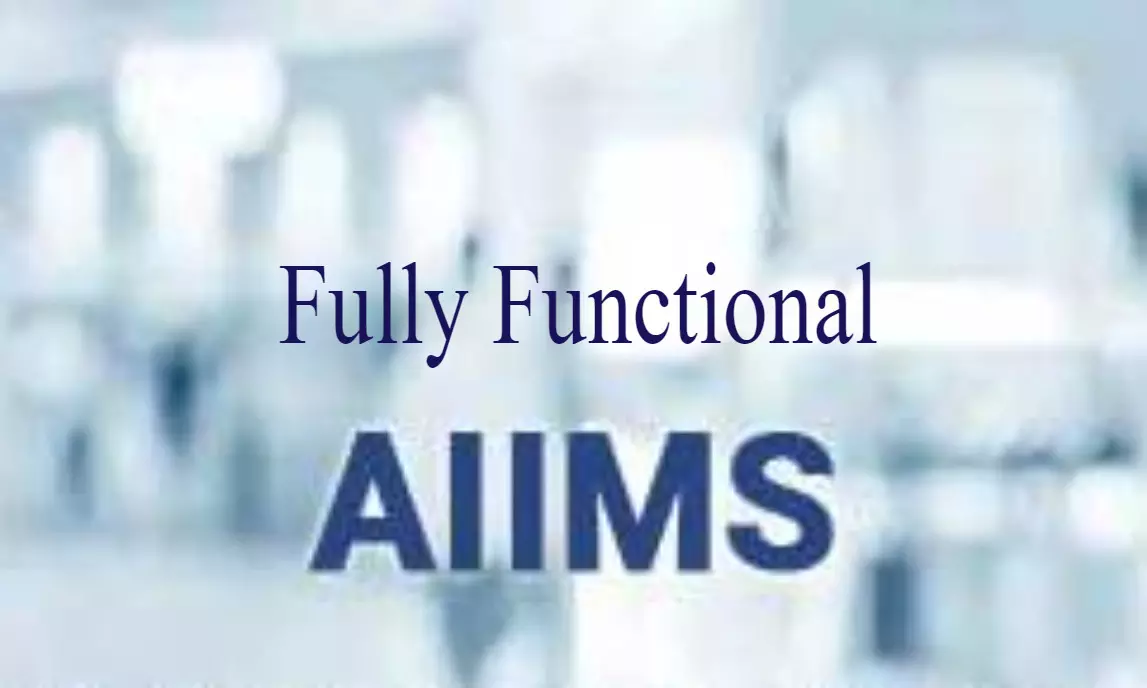 New Delhi: Out of the 22 new AIIMS approved Under Pradhan Mantri Swasthya Suraksha Yojana (PMSSY), 6 institutes at Bhopal, Bhubaneswar, Jodhpur, Patna, Raipur, and Rishikesh are functional and all key hospital facilities and services such as Emergency, Trauma, Blood Bank, ICU, Diagnostic and Pathology are functioning. Dedicated hospital blocks for the treatment of CoVID-19 patients and CoVID test labs are functional in these AIIMS since 2020. The information to this effect was tabled in Rajya Sabha by the Minister of State in the Ministry of Health and Family Welfare, Mr. Ashwini Kumar Choubey.
The Minister was responding to a series of pointed queries regarding the status of the new AIIMS approved under PMSSY.
In his written statement, the Minister informed that at another Seven (07) AIIMS at Raebareli, Gorakhpur, Mangalagiri, Nagpur, Bathinda, Bibinagar, and Kalyani, MBBS classes and OPD services have been started. In five (05) other AIIMS at Deoghar, Bilaspur, Guwahati, Rajkot, and Jammu MBBS classes have been started. Rest four (04) AIIMS are at different stages of construction and allied activities.

Furthermore, the minister also briefed the house about the details of the apex tertiary care departments sanctioned and such departments, which are actually functioning in each of the fully functional AIIMS.
Blaming the non-availability of faculty as the main reason for which some of the Specialities / Super Specialities remain non-functional, the minister added that the incumbency position at various AIIMS is monitored regularly and vacancies are advertised from time to time depending on their requirement.
"However, as high standards have to be maintained in the selection, keeping in view the stature of these Institutes of National Importance, all the advertised positions could not be filled up," added the written reply.
Details of sanctioned Specialities and Super Specialities and their operational status in the six functional AIIMS

SPECIALTIES

BHOPAL

BHUBANESWAR

JODHPUR

PATNA

RAIPUR

RISHIKESH

General Medicine

Functional

Functional

Functional

Functional

Functional

Functional

General Surgery

Functional

Functional

Functional

Functional

Functional

Functional

Obstetrics &Gynecology

Functional

Functional

Functional

Functional

Functional

Functional

Orthopedics and Traumatology

Functional

Functional

Functional

Functional

Functional

Functional

Pediatrics

Functional

Functional

Functional

Functional

Functional

Functional

Dermatology & STD

Functional

Functional

Functional

Functional

Functional

Functional

Oto-Rhinolaryngology (ENT)

Functional

Functional

Functional

Functional

Functional

Functional

Ophthalmology

Functional

Functional

Functional

Functional

Functional

Functional

Rheumatology

Functional

Functional

Functional

Functional

Functional

Functional

Pathology with Central Lab

Functional

Functional

Functional

Functional

Functional

Functional

Microbiology & Infectious diseases

Functional

Functional

Functional

Functional

Functional

Functional

Radio-diagnosis & Imaging

Functional

Functional

Functional

Functional

Functional

Functional

Radiotherapy

Functional

Functional

Functional

Functional

Functional

Functional

Anesthesiology

Functional

Functional

Functional

Functional

Functional

Functional

Transfusion Med. & Blood Bank

Functional

Functional

Functional

Functional

Functional

Functional

Psychiatry

Functional

Functional

Functional

Functional

Functional

Functional

TB & chest

Functional

Functional

Functional

Non-Functional

Non-Functional

Functional

Dentistry

Functional

Functional

Functional

Functional

Functional

Functional

SUPER SPECIALTIES

BHOPAL

BHUBANESWAR

JODHPUR

PATNA

RAIPUR

RISHIKESH

Cardiology

Functional

Functional

Functional

Functional

Functional

Functional

Cardiothoracic and Vascular Surgery

Functional

Functional

Functional

Functional

Functional

Functional

Gastroenterology

Non-Functional

Functional

Functional

Functional

Non-Functional

Functional

Surgical Gastroenterology

Functional

Functional

Functional

Functional

Non-Functional

Functional

Nephrology

Functional

Functional

Functional

Non-Functional

Functional

Functional

Urology

Functional

Functional

Functional

Functional

Functional

Functional

Neurology

Functional

Functional

Functional

Non-Functional

Non-Functional

Functional

Neurosurgery

Functional

Functional

Functional

Functional

Functional

Functional

Medical Oncology

Non-Functional

Functional

Functional

Functional

Functional

Functional

Surgical Oncology

Non-Functional

Functional

Functional

Functional

Non-Functional

Functional

Endocrinology & metabolic diseases

Functional

Functional

Functional

Non-Functional

Functional

Functional

Clinical haematology

Non-Functional

Functional

Functional

Functional

Non-Functional

Functional

Paediatric Surgery

Functional

Functional

Functional

Functional

Functional

Functional

Burns and Plastic Surgery

Functional

Functional

Functional

Functional

Functional

Functional

Pulmonary medicine & critical care

Functional

Functional

Functional

Functional

Functional

Functional

Nuclear Medicine

Functional

Functional

Functional

Functional

Functional

Functional
To view the official notice click on the following link: