80,312 MBBS seats at 541 Medical Colleges in India, Maximum institutes in Karnataka: Health Minister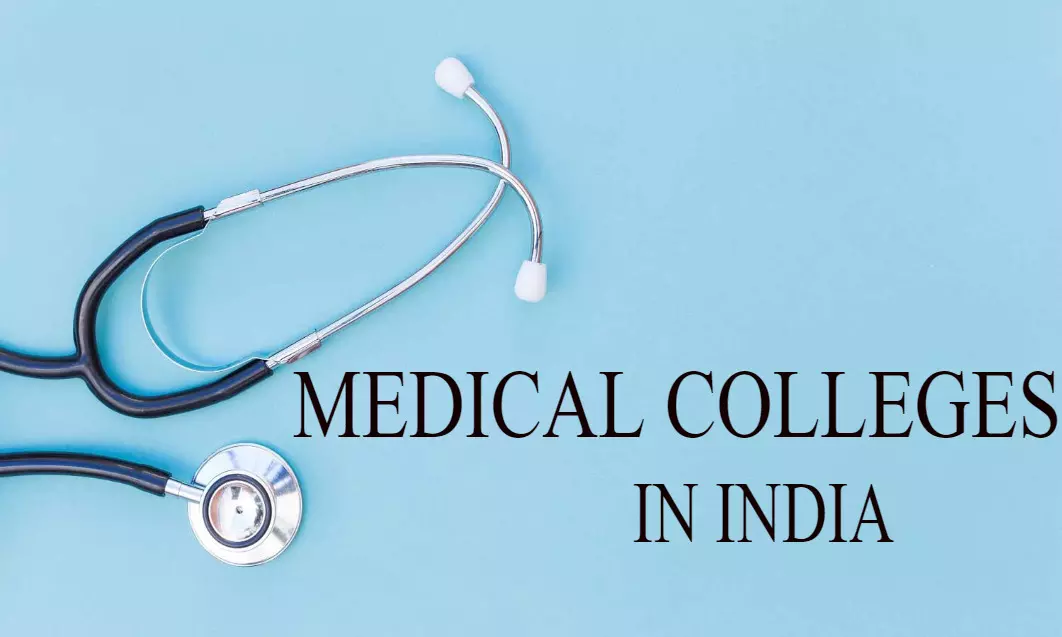 New Delhi: Giving details on the number of Government and private medical colleges for MBBS course in the country and the current intake capacity, the MoS Health recently informed that currently there are 541 medical colleges including 280 government and 261 private institutes having an annual intake capacity of 80,312 MBBS seats.

The information surfaced during a recent Lok Sabha session wherein the Union Minister of State for Health and Family Welfare Ashwini Kumar Choubey presented the data on the availability of medical colleges in India.
According to the figures, the maximum number of medical colleges are in the state of Karnataka with 60 institutes (19 under government and 41 under private) followed by Maharashtra with 56 medical colleges (25 government and 31 private). Third comes Uttar Pradesh with 55 medical colleges (26 under government and 29 under private).
Tamil Nadu is not so far behind with 50 medical colleges including 26 Government medical colleges (GMCs) and 24 self financing. Next comes Telangana with 33 colleges comprising 11 GMCs and 22 private.
Andhra Pradesh and Kerala follow the list with 31 medical colleges each. The states of Gujarat, Rajasthan and West Bengal have 29, 23, 25 medical institutes respectively.
The total number of medical colleges in MP are 22 with 14 GMC and 8 self financing colleges.
Bihar has 16 medical colleges out of which 10 are GMCs. Delhi has a total 10 institutes of which 8 are under government. Chhattisgarh and Punjab also have 10 medical colleges in total for MBBS course.
Haryana has 12 medical colleges in total. Meanwhile, Assam and Jharkhand each have a total 7 medical colleges which all run under government while Jammu and Kashmir has total 8 medical colleges of which 7 are GMCs.
While Uttarakhand has 6 institutes in total, Manipur and Tripura have only 2 medical colleges each.
The states, UTs which are reported to have only 1 medical college all through are Arunachal Pradesh, Andaman & Nicobar Islands, Chandigarh, Dadra and Nagar Haveli, Goa, Meghalaya, Mizoram and Sikkim.
In a written reply in the Lok Sabha, Choubey informed the members that the number of medical colleges have increased by around 45% over the last six years. Number of medical colleges in 2014 was 381.
The number of MBBS seats have also increased by 48% over the last six years from 54,348 in 2014 to 80,312 in 2020.
He further notified that the Government is implementing a Centrally Sponsored Scheme to establish new medical colleges attached with District/Referral hospitals in underserved areas of the Country. 157 new medical colleges have been approved under the scheme of which 43 have already become functional.
On the matter whether Government is planning to fix fee structure for private medical colleges for MBBS course in the country, he said, "As on date, in the case of government medical colleges, the respective State governments are responsible for fixation of fee and in the case of private unaided medical colleges, the fee structure is decided by a Committee set up by the respective State Government under the Chairmanship of a retired High Court Judge in pursuance of the directions of the Hon'ble Supreme Court of India. It is for the Committee to decide whether the fee proposed by an Institute is justified and the fee fixed by the Committee is binding on the Institute."
Further, clause (i) of Sub-section (1) of Section 10 of National Medical Commission Act, 2019 provides for framing of guidelines for determination of fees and all other charges in respect of fifty percent of seats in private medical institutions and deemed to be universities which are governed under the provisions of the Act. he added.
MBBS

State Name

Total Colleges

Govt. Colleges

Private Colleges

Andaman & Nicobar Islands

1

1

0

Andhra Pradesh

31

13

18

Arunachal Pradesh

1

1

0

Assam

7

7

0

Bihar

16

10

6

Chandigarh

1

1

0

Chhattisgarh

10

7

3

Dadra and Nagar Haveli

1

1

0

Delhi

10

8

2

Goa

1

1

0

Gujarat

29

17

12

Haryana

12

5

7




7

6

1

Jammu & Kashmir

8

7

1

Jharkhand

7

7

0

Karnataka

60

19

41

Kerala

31

10

21

Madhya Pradesh

22

14

8

Maharashtra

56

25

31

Manipur

2

2

0

Meghalaya

1

1

0

Mizoram

1

1

0

Odisha

12

8

4

Puducherry

9

2

7

Punjab

10

4

6

Rajasthan

23

15

8

Sikkim

1

0

1

Tamil Nadu

50

26

24

Telangana

33

11

22

Tripura

2

1

1

Uttar Pradesh

55

26

29

Uttarakhand

6

4

2

West Bengal

25

19

6

Total

541

280

261