Caught on Camera: Leopard saunters in Karnataka medical college quarters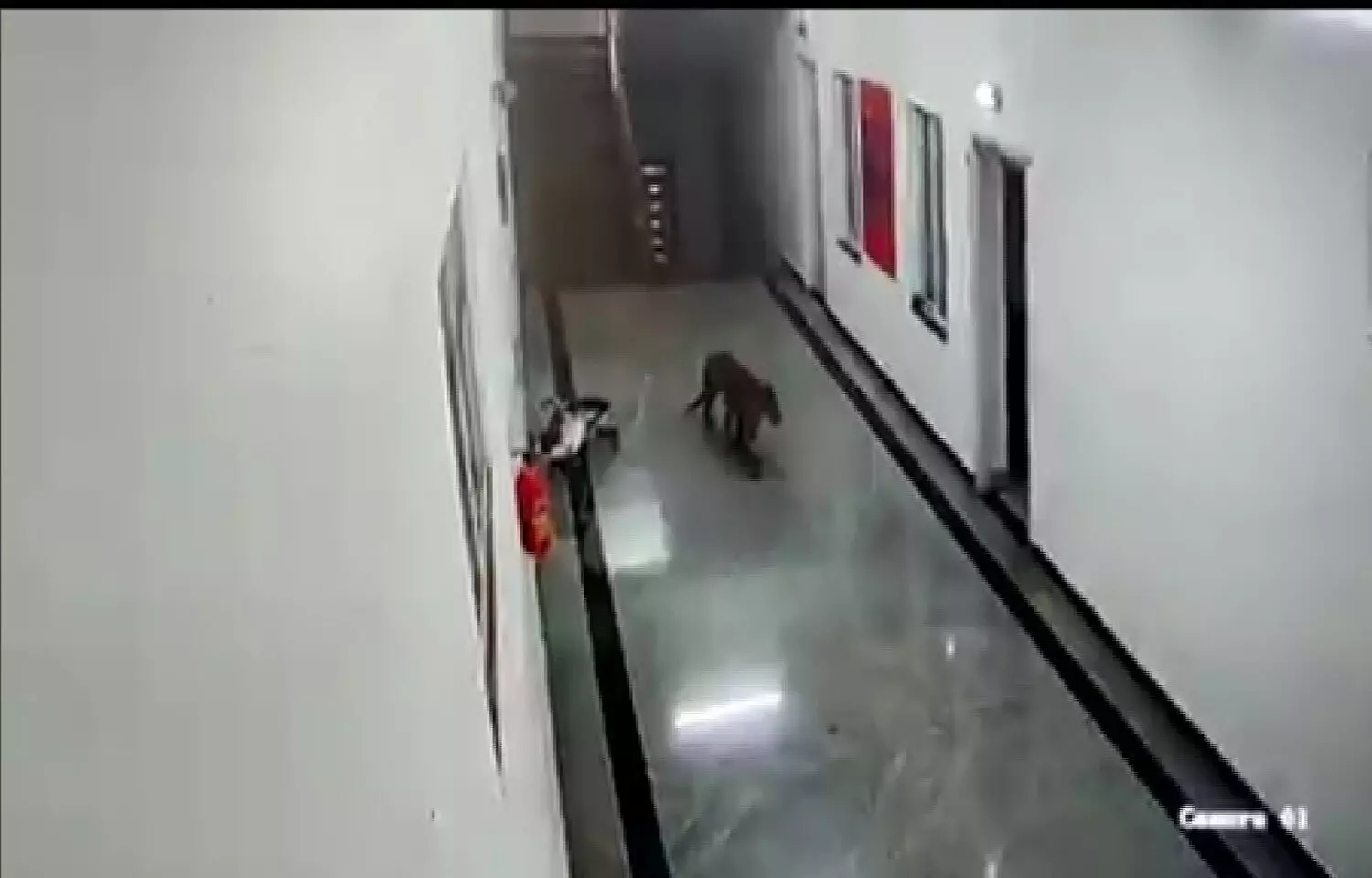 Mysuru: Scaring the inmates of the Rajiv Gandhi University of Health Sciences (RGUHS) affiliated Chamarajanagar Institute of Medical Sciences (CIMS), a wild leopard was seen strolling inside the residential quarters of doctors and professors in Chamarajanagar district of Karnataka on Wednesday.

The leopard that entered the residential quarters located about 7 km from Chamarajanagar town was caught on CCTV.
In the video, the leopard is seen pacing across the corridor at around 9.30 pm. Thereafter, it goes down the stairs and comes back again. This time after a quick look into a room it disappears and goes out of the view.
Read also: Karnataka CM Lays Foundation Stone Of New Medical College In Yadgir

An inmate, after sighting the leopard informed other residents of the building.
To mention, the residential building of the 300-bed district hospital is situated near the area of Yadapura hillock, which is a natural habitat for leopards and other wildlife.
As per a recent media report by The Hindu, following constructions and the development process of civilization, the wildlife including the leopards have been forced to go to the periphery.
Commenting on the same, Deputy Commissioner of Chamarajanagar M.R. Ravi told the daily that the medical quarter abuts the Yadapura hillock and leopards are sighted in the area frequently. However, he could not say clearly whether it is the same leopard or others that live in the vicinity.
As per Dr. GM Sanjeev, Dean and Director of CIMS, the doctors' quarters are very close to Yadapura village. However, denying the presence near the main hospital building he told The News Minute, "The doctors' quarter is located next to forest land and it is common to sight leopards in the area. This time the leopard entered the doctors' quarters briefly for a minute. It was caught on CCTV. There was no issue caused by this."
Manoj Kumar, Chief Conservator of Forests of Chamarajanagar elaborated about the presence of open pits of abandoned quarries in the area surrounding the medical college campus. Mentioning that the leopards from the forests use those pits as hideouts he has said that one of the leopards may have strayed into the residential quarters in search of prey.
Following the forest department's suggestion of reclaiming the open pits by filling them with soil and plantation, Kumar added that his staff is preparing a report identifying the open quarries. They will submit the report to the district administration and the Government.
Meanwhile, the Forest department guards are patrolling the area and have placed a cage with the motif of trapping the leopard inside the campus. On the other hand, the inmates have been issued with a set of instructions by the Forest department as well.
Read more: Karnataka: Doctor Allegedly Knocks Down Pedestrian With Speeding Car
Source : with inputs