Father Muller Medical College holds graduation ceremony 2021, 111 MBBS passouts receive degrees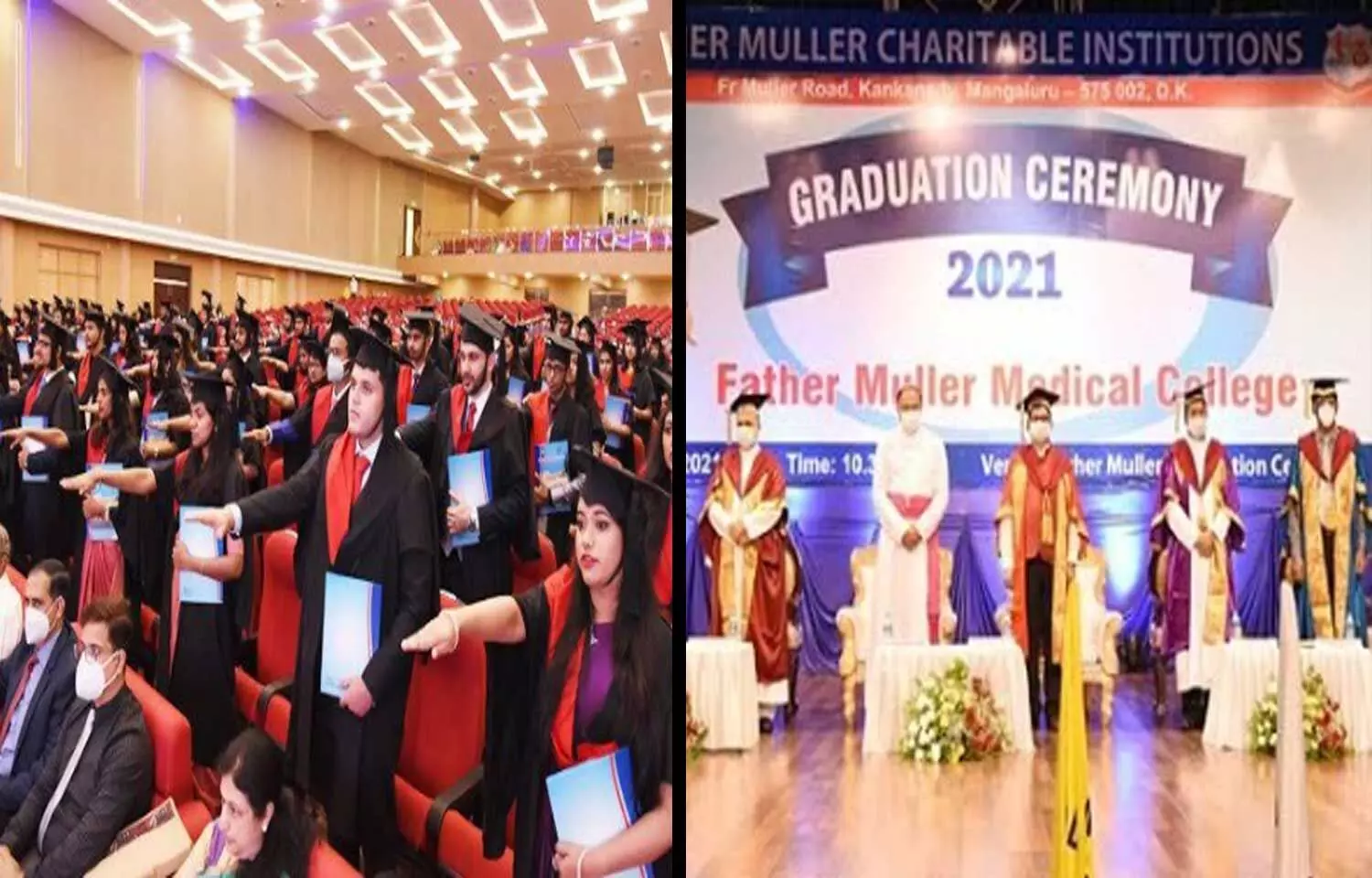 Karnataka: The Graduation Ceremony of Father Muller Medical College took place on Saturday 16 January 2021 in the convention centre of the institute where as many as 111 MBBS medicos received their degrees. Father Muller Charitable Institutions is in its 140th year of service in the area of Healthcare.

Dr. Ramesh Bhat, Vice Principal FMMC, read out the medal winners of the RGUHS, and Dr. Sandeep Kordcal, was conferred the FMCI Presidential medal for the best outgoing student of the Father Muller Medical College. He received a Gold Coin and the president's merit certificate.
The Chief Guest of the graduation was the honourable Vice-Chancellor of the Mangalore University Shri Dr. P. Subrahmanya Yadapadithaya. The VC addressed the students and while lauding the medical profession, he reasserted the importance of having respect for the profession and an ethical view. He saluted the efforts of the COVID warriors for the efforts during this pandemic. Concluding he said there 3 things to respect a job is, to have the responsibility - to others and all things living, to give back - to loved ones and society and the world, and to earn a living.

The Director of the Father Muller Charitable Institutions Rev Fr Richard Aloysius Coelho welcomed the dignitaries on the dais and the grandaunts and their families. While addressing the students, he concluded by saying that "we know you can make it, with the education and vocational training given and the ethics and ethos instilled at every level".
Dr Peter Paul Saldanha, Bishop of Mangalore Diocese and President of Father Muller Charitable Institutions, presided over the ceremony and in his presidential address, he stated that " Doctors have been seen during this pandemic to have saved lives at the cost of one's self. Selflessness and dedication were the prominent attributes of the doctor seen during the pandemic. The other most important lesson we learnt was that "we need one another", human nearness was more valuable than gold."
The Dean of the Father Muller Medical College presented the annual report 2020-21. He mentioned the various staff that brought accolades to the institutions through their higher degree. Students who received grants and had accepted papers/posters were mentioned; the research grants too got by the staff were announced. Adrenaline (a national level event) and the workshops conducted to benefit the students, the bioethics deliberations, various workshops, CME and conferences held in the previous year were elaborated upon. Various students were selected by the Rajiv Gandhi University of Health Sciences for various events. He also acknowledged the support of the management, faculty, staff, students, and guardians of the students.