NBE releases schedule, eligibility criteria for Formative Assessment Test, FAT 2021, Details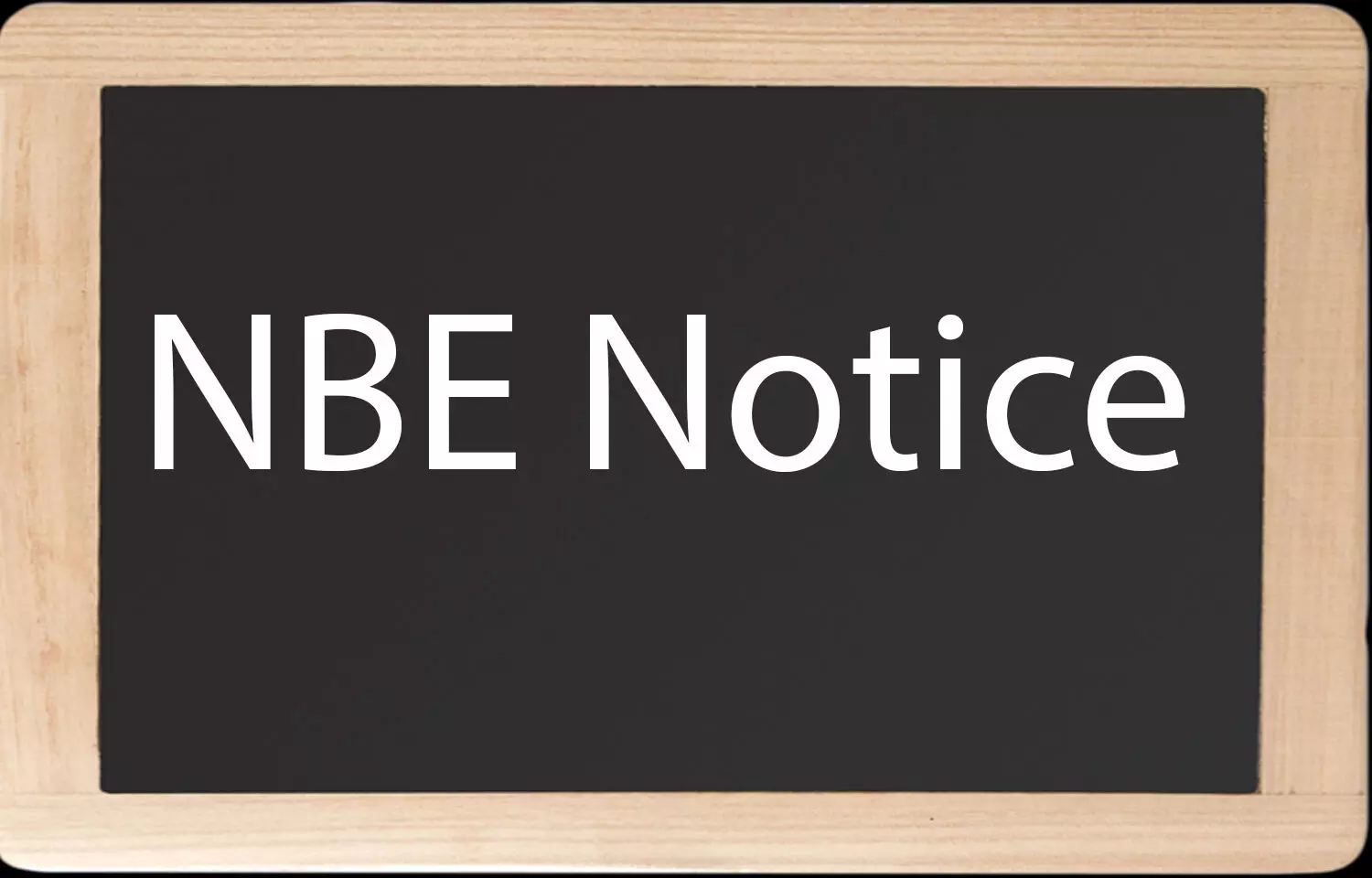 New Delhi: Through a recent notification, the National Board of Examinations (NBE) has released the conduct of the Formative Assessment Test of 2021, FAT 2021 academic session for or DNB and FNB trainees.
NBE conducts the Formative Assessment Test for DNB, FNB trainees on an annual basis. Appearance in minimum required numbers of Formative Assessment Tests is mandatory towards eligibility for appearing in DNB/DrNB/ FNB Final Examinations.
The FAT Theory Examination will be conducted in pen and paper mode on 19th February, 2022.
The candidates fulfilling the below-mentioned eligibility criteria would be able to appear for the FAT 2021.
Eligibility criteria for FAT 2021

Course: Trainees (Admission Session)
Post MBBS 3 year DNB Courses: 2nd year trainees (2020)
DrNB Super Specialty Courses: 2nd year trainees (2020)
Direct 6 years Super Speciality Courses: 2nd & 4th year trainees (2018, 2020)
Fellowship Courses: 1st year trainees (2020)
NBEMS shall be conducting Formative Assessment Test 2021 (FAT-2021), as per the schedule mentioned below:

Sr.

No.

Activity

Details

a)

FAT Theory Examination, 2021

19th February, 2022

b)

Mode of Examination

Descriptive (Paper & Pen) ; Two sessions

c)

Centres for FAT (Theory), 2021

FAT Centre nearest available to the Training Institution;

d)

Application Portal to be live on

December, 2021 (Tentative); Details to be notified in due course

e)

Form & Fees for conduct of FAT 2021

To be filled & paid by Training Institutions

f)

Examination Fees

Rs.6000/- per candidate

(to be paid by Training Institutions only through NBEMS Online Portal for FAT-2021)

g)

Admit Cards for FAT (Theory), 2021

Shall be issued to Training Institutions by 12th February, 2022 (Tentative)

h)

Work Place Based Clinical Assessment

Shall be conducted in April / May, 2022

i)

Eligibility for FAT 2021

Course

Trainees (Admission

Session)

Post MBBS 3 year DNB Courses

2nd year trainees (2020)

DrNB Super Specialty Courses

2nd year trainees (2020)

Direct 6 years Super Speciality Courses

2nd & 4th year trainees (2018, 2020)

Fellowship Courses

1st year trainees (2020)
For any query, please contact NBEMS at 011-45593000 or write to NBEMS at its Communication Web Portal https://exam.natboard.edu.in/communication.php?page=main
To view the official notice, click on the following link:
https://medicaldialogues.in/pdf_upload/natboard-datapublicnoticenotice202112073035-165621.pdf