No Irregularities in Admissions in Medical Colleges: Health Minister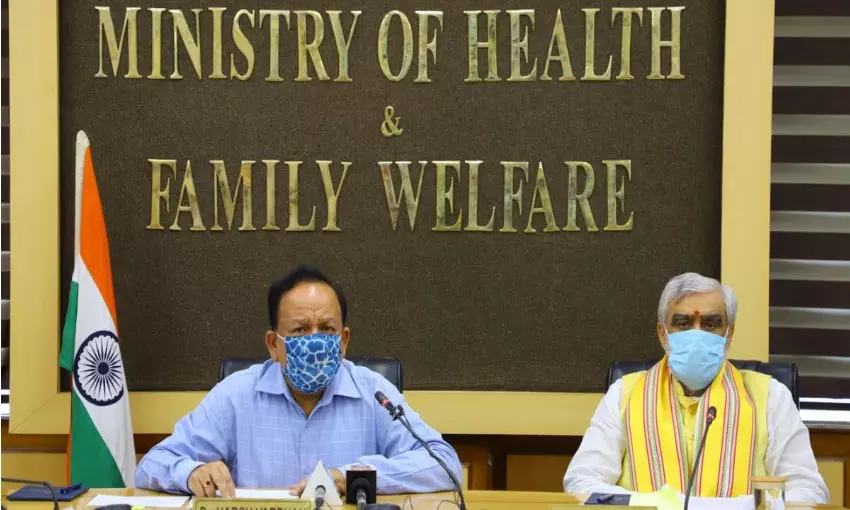 New Delhi: Stating that the online counselling process ensures that there is no merit violation in Admissions to medical colleges, the Union Health Minister Harsh Vardhan informed Rajya Sabha recently that the Medical Counseling Committee (MCC) has received no such complaints on the matter as well.

Noting that the admission system is centralized by Medical Counselling Committee (MCC) at the Centre and the State Governments at the State-level, another question included whether in spite of this centralized system there are still irregularities related to medical admissions in the country.

The Health Minister in reply laid a statement, on the Table of the house, which referred to all the questions asked by Prabhakar. The Statement given by Health Minister Harsh Vardhan on 16.03.2021, discussed in detail the process of admitting students to medical courses in the country.
"The Regulations on Graduate Medical Education and Post Graduate Medical Education provide for conducting common counseling through the merit of National Eligibility cum Entrance Test (NEET). The Common Counseling for admission to All India Quota seats, Central Institutions and Deemed Universities is conducted by the Medical Counselling Committee (MCC) of Directorate General of Health Services at Centre level. The common counselling for all the seats of Super-Specialty courses is also conducted by the MCC," mentioned the Statement.
The Health Minister in his reply further added, "The Common Counseling for admission to State Quota seats, Private Medical Colleges including those run by Religious and Linguistic Minorities affiliated to State Universities is conducted by the concerned State Government or its designated authority."
Mentioning that the allocation of medical seats gets done via online medium, Harsh Vardhan further stated in his reply, "The medical seats are allotted to candidates on the basis of merit and as per the choices exercised by the candidate through an Online Counseling Software. The whole allotment process is online without any human interference. Hence, there are no irregularities in terms of merit violation and no such specific complaints have been received from candidates by the MCC."
Finally, to reply to another question raised by Shri Prabhakar, who inquired about the Government's plan to take over all medical admissions in the country, the Health Minister informed that no such formal decision has been taken yet.
"A common counseling system is desirable to further enhance transparency and merit-based admission, and to reduce inconvenience to candidates. However, no such formal decision in this regard has been taken," stated the Health Minister.
Also Read:16 AIIMS in different stages of implementation since last 7 years: Dr Harsh Vardhan