Angry mob assaults 2 senior doctors at Delhi hospital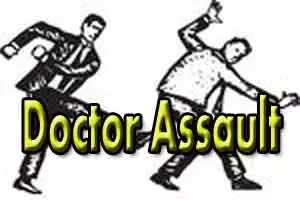 Delhi: An angry group of a patient's kin inside Kuber Hospital and Urology Centre in Northwest Delhi's Pitampura allegedly harassed and assaulted two senior doctors, and even attacked woman doctors on Wednesday following the death of a newborn baby when an emergency C-section was performed on the patient.

The incident took place on October 13, when the attendants of a patient admitted to the hospital, allegedly abused the two doctors both physically and verbally following the death of the newborn baby.
Speaking to the Medical Dialogues, the Secretary of the Indian Medical Association (IMA) North Zone, Dr Girish Tiwari said, "A newborn baby died post lscs. The baby's heartbeat was weak. It was no fault of the doctors. The attendants of the patient assaulted the doctors badly, including women doctors. The police took the culprits to custody at night. An FIR has also been registered."
Also Read: Govt doctor gets thrashed for advising man not to ride bike with one hand

According to the police statement, the assaulters were family members of the woman who came to visit her. They were enraged by the death of the baby and attacked the doctors present, reports
The Indian Express
.
Doctors on social media posted CCTV footage and other videos where groups of men and women were seen abusing the doctors, and it also showed them physically and verbally assaulting doctors who were coming out of the rooms, pushing and fighting.
A case was registered under IPC Sections 307, 208, 7-51 A and under the new law of Prevention against Assaults on Medical Personnel and their establishments. The police detained the accused. Meanwhile, the injured doctors were taken for treatment.
Also Read: Doctor beaten up by patient kin over signing consent form, IMA demands action
Source : with inputs