Demanding Rs 50000 COVID allowance, 350 Intern doctors on strike in Nagpur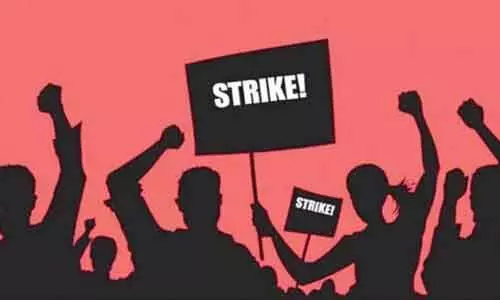 Nagpur: Demanding Rs 50,000 COVID allowance, quarantine facility for Covid-19 duty and insurance cover, around 350 intern doctors of the Government Medical College and Hospital (GMCH) Nagpur and the Indira Gandhi Government Medical College and Hospital (IGGMCH) in Maharashtra have gone on a strike beginning Tuesday.

Speaking on behalf of the intern doctors, Dr Sumit of Nagpur GMC informed that 200 intern doctors at the GMCH and 150 others at the IGGMCH have decided not to join internship duties until their demands are given due importance and they get a written assurance from authorities.
However, the state government has asked the protesting doctors, who are roughly getting Rs 12,000 per month stipend to join the COVID-19 duty by 28th April.
The doctor informed that the intern doctors on Monday have also submitted petitions to the respective deans of the GMCH and the IGGMCH demanding a COVID-19 allowance of Rs 50,000 which was given to the intern doctors posted in government hospitals in Mumbai and Pune last year also. The doctors also demanded a quarantine facility for COVID-19 duty and insurance cover.
Talking to Medical Dialogues Dr, Sumit stated, " If we are serving COVID duties, we should get COVID Health insurances also because we are working under the constant risk of getting infected. We also have families and many of us are the sole earners of their families so, in case if we get COVID, we want to ensure that our families don't suffer. The resident doctors also have this health insurance and we are working no way less than them."

The doctor further added, " The basic quarantine facilities to ensure the safety of interns should be provided by the authorities. This is also essential for the safety of others because even if an asymptomatic medico stays in the hostel, others are at constant risk of exposure to infection. We were supposed to join from 28th April but we will be on strike until our demands are heard. We also want to join at the earliest to serve our country; however, since last September we are fighting for allowance but there is no response from the authorities. Hence, even under this critical situation, we are forced to stage a strike. If authorities will take us for granted like this, then we will have to take strict measures to air our grievances. "

Commenting on the issue another doctor, Dr Prasad informed, " The interns are demanding COVID allowance and insurance for themselves. The interns already had a conversation with the divisional commissioner's office but the issues have not been resolved yet."