Doctors SK Sarin, Suresh Kumar, Sandeep Budhiraja nominated by Delhi for Padma Awards 2021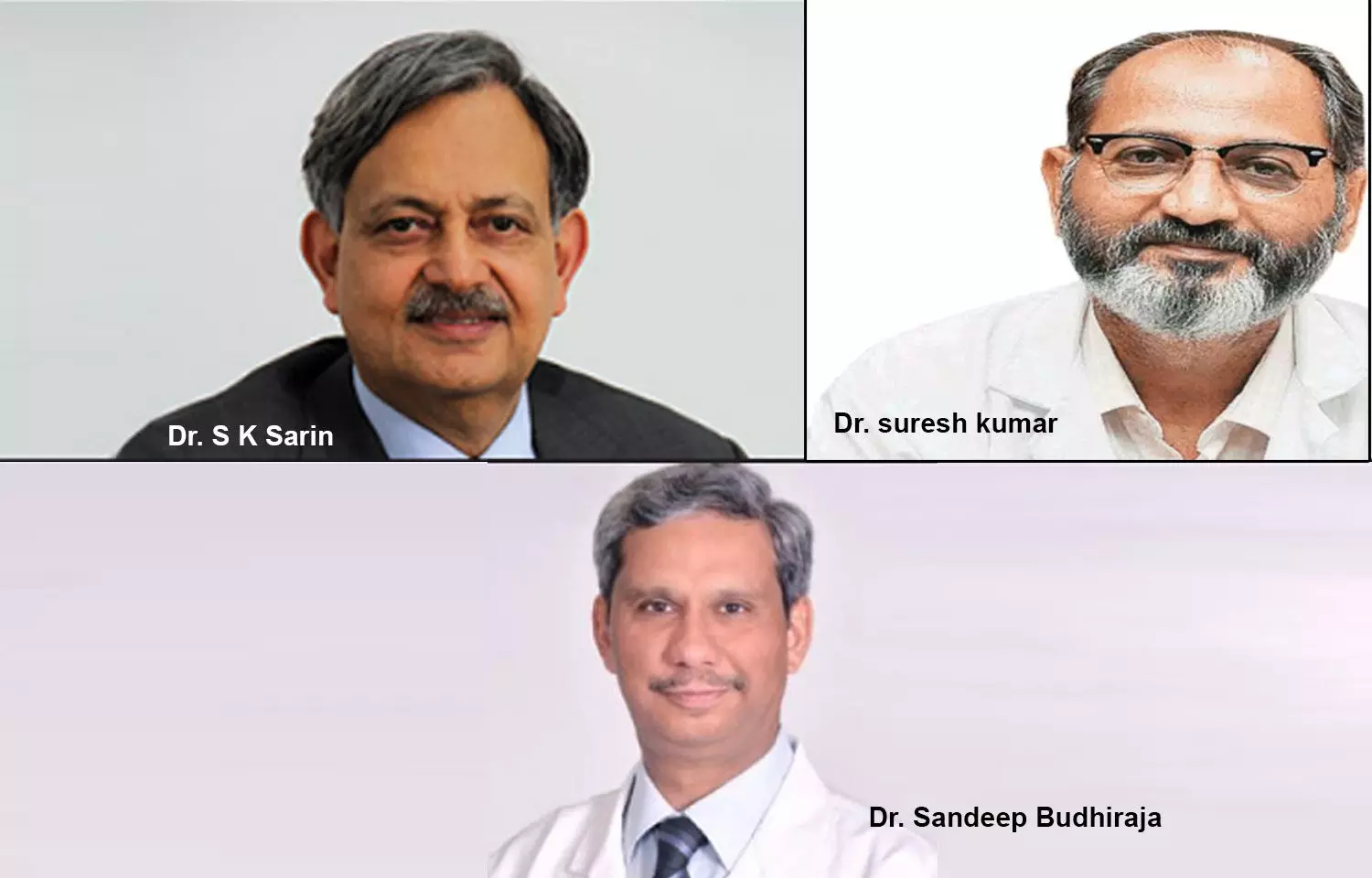 New Delhi: The Delhi Government has recommended names of three doctors, Dr Shiv Kumar Sarin of Institute of Liver and Biliary Sciences (ILBS), Dr Suresh Kumar of Lok Nayak Hospital and Dr Sandeep Budhiraja of Max Healthcare for the Padma Awards primarily for their contribution in fighting Covid-19.

Chief Minister Arvind Kejriwal announced the names of the 3 doctors as Padma Awards nominees on Saturday.
"It was extremely difficult to narrow down the list as all people whose names were considered have done an exemplary job in fighting the pandemic. The rest should not feel their contribution is any less," Kejriwal said during a virtual press conference announcing the Padma nominees, as quoted by PTI.
"During the COVID-19 pandemic, our frontline and medical workers, especially our doctors and paramedics, saved our lives by putting their own lives at risk. They served all of us. It is now the time to show them that the entire country is grateful to them. We respect them for their services and for saving the lives of people," he added.
As per a recent media report in The Hindu, the recommendation came after screening through around 10,000 suggestions received from the citizens.
Medical Dialogues team had earlier reported that the Delhi Government had decided to send the names of doctors and healthcare workers for this year's Padma awards. During a press conference, Delhi Chief Minister had said, "Delhi government has decided to send the names of doctors and healthcare workers for this year's Padma awards. We want to tell them that we are thankful to them and we want to honour them."
For this, the Government had asked for suggestions from the public and the CM had confirmed that a committee of the Delhi Government would screen through the names and send the recommendations to the Delhi Government.
Also Read: Delhi Govt to nominate doctors, healthcare workers for Padma awards: CM Arvind Kejriwal
A total of 740 names of doctors and paramedics and other healthcare professionals were recommended by 9,427 people for this year's Padma awards, out of which three names were shortlisted by a committee comprising Delhi chief secretary, additional chief secretary (health), divisional commissioner and headed by deputy chief minister Manish Sisodia.
Speaking to The Hindu, Kejriwal said, "These suggestions were received in respect of 740 healthcare professionals. A committed headed by Mr Sisodia scrutinised the suggestions and selected three names."
Among the three nominees, Shiv Kumar Sarin, the Institute of Liver and Biliary Sciences (ILBS) is known for launching India's first plasma bank, from where more than 8,000 plasma units were issued. He also actively participated for constituting the world's first fully dedicated deemed-to-be liver university in 2010. CM Kejriwal also mentioned how Dr Sarin initiated Delhi's first COVID genome sequencing facility.
Dr Suresh Kumar, who assumed the charge of the medical director of Lok Nayak Jai Prakash Narayan (LNJP) in May last year, did not take a single leave as the city grappled with the first wave of coronavirus. The state-run hospital is the largest Covid-19 facility in the national capital and also treated the highest numbers (a record number of 20,500) of COVID-19 patients in the country. Besides, under the leadership of Dr Suresh Kumar, the hospital also constituted India's second plasma bank and its director initiated a unique video-calling facility so that COVID positive patients could interact with their families.

Dr Budhiraja was the foremost physician in India for using convalescent plasma therapy for treating COVID patients. Apart from this, Dr Budhiraja was very much active in providing care to the COVID-19 patients in Delhi and after getting infected with the virus, he provided virtual consultancy to the patients. The Chief Minister mentioned how Dr Budhiraja also played a vital role for spreading awareness and knowledge regarding COVID-19 through media.

The Padma awards are one of the highest civilian honours of India announced annually on the eve of Republic Day. The awards are given in three categories: Padma Vibhushan (for exceptional and distinguished service), Padma Bhushan (distinguished service of higher-order) and Padma Shri (distinguished service).
The awards seek to recognize the achievements in all fields of activities or disciplines where an element of public service is involved. Instituted in 1954, these awards are announced on the occasion of Republic Day every year and seek to recognize 'work of distinction' and is given for distinguished and exceptional achievements/service in all fields/disciplines, such as Art, Literature and Education, Sports, Medicine, Social Work, Science and Engineering, Public Affairs, Civil Service, Trade and Industry etc.
Responding to the news of getting nominated for Padma awards, LNJP Hospital medical director Suresh Kumar and Group Medical Director of Max Healthcare Sandeep Budhiraja on Saturday said the Delhi government's decision to shortlist their names for Padma awards was an honour for all the doctors of the national capital who have been working tirelessly to fight the COVID-19 pandemic.

"I am thankful to the honourable chief minister and the Delhi government for giving me this respect and for honouring my hard work. This is an honour for the doctors of Delhi who worked tirelessly during the pandemic without caring for their health and families. We have treated highest number of cases in the country," Kumar told PTI.

Delhi government-run LNJP Hospital has played a critical role in the city's fight against the pandemic since March 2020, treating over 21,000 coronavirus patients till date, which the chief minister said was the highest number of such patients treated at any hospital in the country.
"The initial days were very challenging, but we took it in our stride. The spirit of human service guided us, and the whole team, doctors, nurses, paramedics, gave their best. It is humbling to find one's name among the nominees for the Padma awards, and I extend my gratitude to the Delhi government for all their support," Kumar said.
A COVID-19 survivor himself, the 57-year-old medical director of Delhi government's largest hospital said, "We are not resting at all and gearing up for the anticipated third wave of the pandemic".
Group Medical Director of Max Healthcare group Budhiraja, whose name has also been shortlisted for the honour said, "I want to sincerely thank the Delhi government for recognising the great service and sacrifices made by healthcare workers during the last 18 months of the pandemic".
"The only way to emerge strong in these difficult times is to work and stand together, whether in government or private sector. Max Healthcare has been at the forefront in fighting this pandemic and we have treated almost 35,000 patients as a network," he said.
All doctors and other healthcare workers have done yeoman service during the pandemic, and many among them have lost their lives in the line of duty.
Jaipur-born Kumar, who joined LNJP Hospital in 1998, recalled the tough time he had faced after assuming charge as the medical director, saying his wife had suffered a heart attack and underwent angioplasty.
"Three stents were inserted in her heart. I went and met her for a day and told her ''now that you have been operated upon and are better, I will return to my hospital''. This year, my wife and some other family members tested positive for the coronavirus infection and we faced a difficult time," he said.
The senior doctor said he did not take a single day off as 2,000 patients needed him at the hospital.
Also Read: Bharat Ratna for Doctors: Delhi Assembly passes unanimous resolution
Source : with agency inputs