Grant Leaves to Final Year DNB Doctors: FORDA to NBE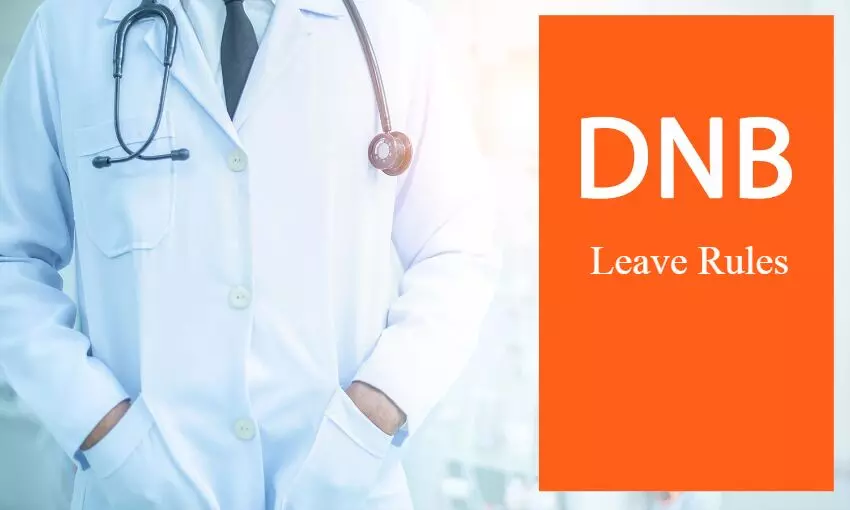 New Delhi: Taking up the issue of leave denial to DNB medicos, the doctors under the umbrella of the Federation of Resident Doctors' Association (FORDA) have knocked on the doors of the National Board of Examinations in Medical Sciences (NBEMS) once again.

Pointing out that the Final year DNB doctors serving the mandatory extension period are being denied any leaves, FORDA in a letter directed to the Executive Director of NBEMS has referred to the fact that the doctors appointed even on Ad-hoc basis are entitled to leaves.
The association pointed out that how the resident doctors, who constitute the major group of healthcare workforce, are working at the ground level and how they have been fighting the COVID-19 pandemic from the front row.
"Due to the ongoing Pandemic, the Entrance Examination for admission to various DNB courses was delayed & the tenure of Final year DNB Resident Doctors was extended for a period of 3 months, via Notification dated 18.01.2021. As per the existing Leave Rules for courses offered by NBEMS, a total of 30 days' Leave can be availed by a Resident Doctor in a year. However, there was no clarification from NBEMS regarding the Leave Rules of Final year DNB Resident Doctors during their mandatory extension period following Tenure completion. As a result, many of these Resident Doctors are being forced to work continuously for 90 days without any leave, adding to their physical as well as mental fatigue," FORDA stated in the letter.
Also Read: 18 percent GST on DNB course fee: Doctors told to move Delhi HC

"It is worthy to mention that Doctors appointed even on Ad hoc basis (either as Junior Resident or Senior Resident) for a period of 89 days, are entitled to 8 days' Leave. We would hereby like to request you to kindly note the issue mentioned above & take necessary measures in this regard, so that DNB Resident Doctors serving tenure extension can provide their services with the same zeal & dedication as earlier," the letter further added.
Speaking to Medical Dialogues regarding the issue, Dr. Manish, the president of FORDA said, "Even those who join on ad-hoc basis get leaves during their term. So the DNB doctors too, shouldn't be denied leaves. Also, even after being promoted as SRs, they have to do the works of the PG students."
"We have already written to the NBE and we will continue our efforts till the issue gets addressed," he added.
Previously, the Federation of Resident Doctors Association (FORDA) had approached the National Board of Examinations regarding NBE's stand for denial of maternity leaves to the DNB doctors. At that time, the doctors under the umbrella of FORDA had pointed out that even though the "Maternity Amendment Bill" was passed in 2018 and it had extended the Maternity Leaves of female employees to 26 weeks, the same benefits were denied to the DNB doctors by NBE.
Also Read: NO Maternity Leave for DNB: Doctors reach NHRC against NBE