Junior doctors go on indefinite strike demanding stipend hike, healthcare services hit in Bihar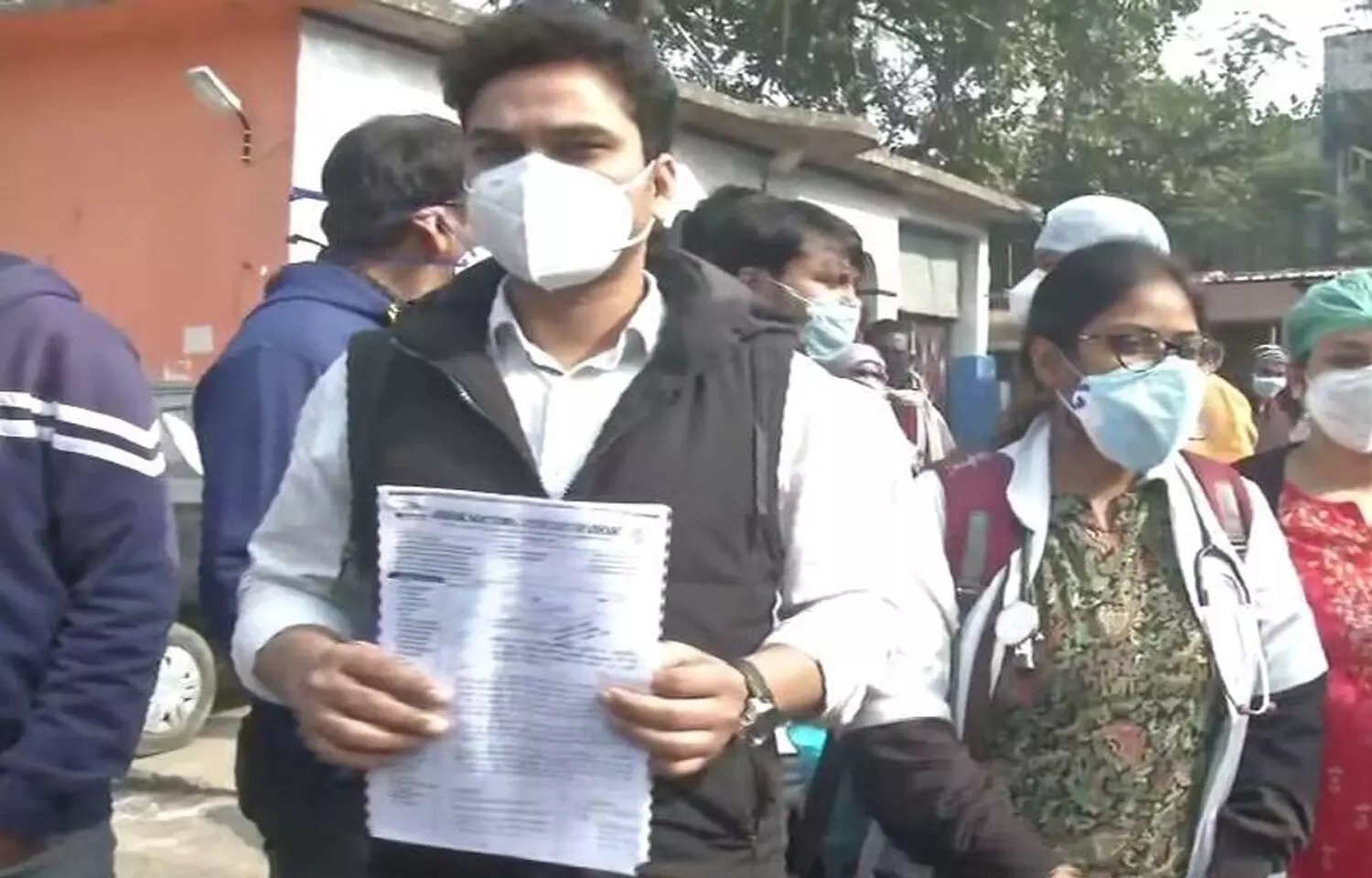 Patna: Not given a hike in stipend for the past three years, over 1000 Junior doctors of government-run medical colleges and hospitals in Bihar called for an indefinite strike from Wednesday morning onwards, seeking a hike in the stipend amount.

A total of nine medical colleges and hospitals including Patna Medical College and Hospital (PMCH) were seen boycotting work that resultantly hit the healthcare services across the State.
The hospitals affected by the strike include PMCH, NMCH (both in Patna), Darbhanga Medical College Hospital (in Darbhanga), Jawaharlal Nehru Medical College (Bhagalpur), Sri Krishna Medical College Hospital (Muzaffarpur), Anugrah Narayan Magadh Medical College (Gaya), Vardhaman Institute of Medical Sciences (Pawapuri in Nalanda district) and the government medical colleges in Bettiah (West Champaran district) and in Madhepura.
The protesting junior doctors, who are postgraduate (PG) medical students and MBBS interns have refrained from attending other duties, including outdoor, in-patient, and emergency, which were now being managed by senior residents and faculty members.
ANI reports that the Junior Doctors Association (JDA), Bihar had given prior informed the Principal and Superintendent of Medical Colleges regarding the strike.
According to the Association, the stipend of junior doctors in Bihar has not been revised since 2017. At present, the junior doctors have been getting Rs 50,000, Rs 55,000 and Rs 60,000, respectively. However, they are demanding that the monthly stipend for PG courses be increased to Rs 80,000, Rs 85,000 and Rs 90,000 in the first, second and third year respectively.
Also Read: MAMC Doctors Hold Sit In Dharna Demanding To Restart Non-COVID Services In Lok Nayak Hospital
Dr. Hatendar Kumar, president of PMCH junior doctors association claimed that the state government had assured junior doctors three years ago that it would increase their stipend once every three years. "The year is almost over but our stipend has not been increased so far," he highlighted.

The striking junior doctors association has warned that it will not end the strike till their demands were fulfilled by the government. "We will withdraw the strike if we are provided with a written assurance by the government," he told News Click.
"We are at the frontline of the war against coronavirus. The government takes credit for successfully controlling the pandemic in the state but is apathetic when it comes to increasing our remuneration. The revision of our stipend is due since January this year. We have given several representations to the health department during this period, but barring verbal assurance, we have got nothing," Dr Ramchandra Kumar, JDA president of the Nalanda Medical College Hospital (NMCH) told HT.
Extending its support, the Resident Doctors' Association has also shown solidarity with the junior doctors, who are reportedly annoyed with senior officers in the health department as they were reportedly not meeting them anymore.
Junior Doctors Association Sec. Kundan Suman told ANI, "Our stipend was to be raised in Jan but it didn't happen. We tried to meet Health Secretary & wrote to officials but they've been ignoring us."
Meanwhile, medical colleges have asked senior residents and faculty members, including senior doctors in the rank of assistant professor, associate professor and professor from the clinical and non-clinical disciplines, while also deputing some medical officers from peripheries, to manage hospital services at medical colleges.
Source : with agency inputs