Nationwide doctors gear up to shut Healthcare service pan India for 12 hours against 'Mixopathy'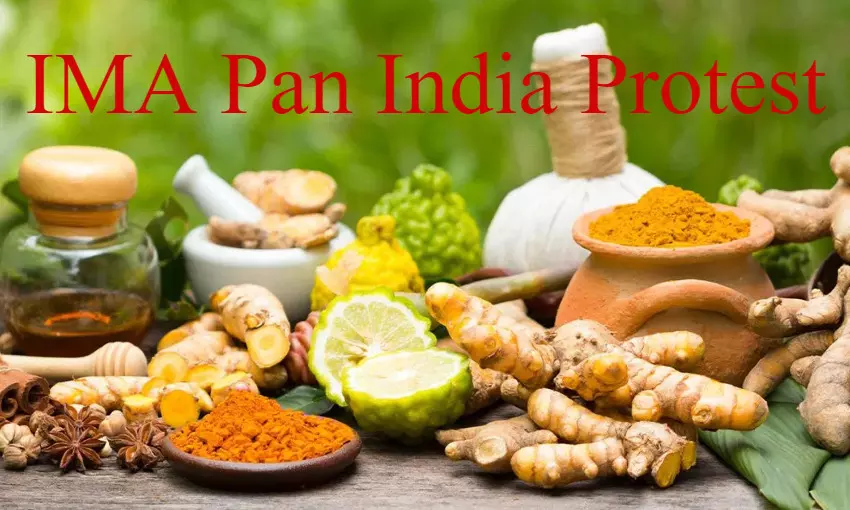 New Delhi: Demanding immediate rollback of Central Council of Indian Medicine (CCIM) to train and allow the legal practice of surgeries by Ayurveda practitioners and the formation of 4 committees by NITI Aayog for the integration of all systems of medicine, the Indian Medical Association (IMA) has called for a nationwide shut down on December 11 against 'Mixopathy'.

The stir is likely to hit healthcare services as doctors across the nation will withdraw all non-essential and non-COVID services tomorrow from 6 am to 6 pm. OPD services will not be available and elective surgeries will not be posted. However, all emergency services including casualty, emergency room, critical care, ICUs, COVID care, emergency services, and labor room will continue to function.
On November 20, amending the Indian Medicine Central Council (Post Graduate Ayurveda Education) Regulations, 2016, the Central Council of Indian Medicine (CCIM) issued a gazette notification allowing postgraduate Ayurveda students to undergo training for 58 surgical procedures in general surgery, ENT, ophthalmology, and dentistry.

Condemning the same, IMA has termed the move of clubbing Ayurveda with modern medicine as "Mixopathy."
Meanwhile, the regional chapters of IMA were seen joining the massive protest. Doctors from medical colleges, government services, general practitioners, specialists, resident doctors, and medical students have planned for a peaceful public demonstration called by IMA.
Also Read: AIIMS Resident Doctors Support IMA Protest Against Govt's Medical Reforms, Policy Decisions
Officials from IMA Uttarakhand alleged that the move would endanger the lives of patients as there can be different side-effects of Ayurveda and allopathy being mixed. Opposing the move, over 2000 doctors from Uttarakhand will keep OPDs shut tomorrow.

"The courts in the country say that those practicing modern medicine cannot practice Ayurveda, then why is it not the same vice-versa. Using Ayurvedic medicines during modern medicine treatment can become fatal for the patient, and who would be responsible then?"Dr DD Choudhury, national vice-president and state secretary of IMA told HT.
Joining the stir, Dr Sanjeev Singh Yadav, the Telangana secretary of the IMA, told the News Minute, "All the hospitals would remain closed from 6 am- 6pm. The National Medical Commission, which is supposed to work in the interest of the medical community, is working against the basic ethics of medicine. World over, modern medicine is growing leaps and bounds, so what is the necessity to train ayurvedic students to treat people? India has a good medical tourism economy - our doctors are globally recognized and the cost here is less compared to other countries providing the same treatment. And if ayurvedic practitioners are allowed to perform surgeries, which is a result of modern medicine, will this industry grow or decline?"
He added, "We have taken the step to close down the establishments asking the government to revoke the notification. If the government does not heed our demands, our national body will take further drastic steps."
A similar wave was seen in the Odisha Chapter of IMA, wherein, president of IMA state branch Dr Kamalakanta Panigrahy and secretary Braja Kishore Dash has asked the doctors to refrain from performing non-essential and non-Covid services on December 11 across the nation.
Further, IMA, Mysuru chapter will also stay away from work in support of the nationwide protest.
As a part of the agitation, on December 8, in Maharashtra, more than 45,000 IMA members from 219 branches had staged demonstrations while, 5,000 MBBS students from 36 medical colleges and 10,000 postgraduate students and junior doctors participated in the demonstration in the state. The agitation was supported by 34 specialist organizations comprising eye specialists, nose and throat surgeons, gastrointestinal surgeons, the state physicians' association, pediatricians and the Federation of Obstetric and Gynaecological Societies of India, reports Mumbai Live.
Source : with inputs