On eve of Doctors Day, AIIMS Junior Doctors brutally assaulted by mob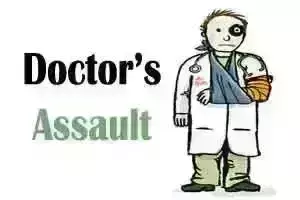 Delhi: An angry mob brutally assaulted two junior resident doctors of the All India Institute of Medical Sciences (AIIMS) with iron rods on the eve of Doctor's Day in Gautam Buddh Nagar of Uttar Pradesh, alleging that doctors are infecting the locality with Coronavirus.

As per ANI report, both the doctors were admitted to the AIIMS Trauma Centre on Thursday after sustaining several head injuries.
Strongly condemning the act of violence against the residents, the Resident Doctors Association (RDA) AIIMS has lodged a complaint against the accused.
The incident took place at an eatery shop called Verma Paranthe Walla in South Delhi's Gautam Nagar where the doctors went to eat at night after their duty yesterday. Describing the incident, the Secretary of AIIMS RDA, Dr. Jaswant Jangra told Medical dialogues that usually the residents of many hospitals who live at Gautam Nagar go to the shop late at night after their duty or after studying for their PG entrance. Similarly, the two doctors went to visit the shop. However, a heated conversation took place between the shop owner, his son, and the doctors.
The doctor further added, "What the doctors told me is that the shop owner and his son started alleging that the doctors are responsible for carrying COVID in the area. We assume that either from their appearance or conversations, the shop owner could affirm their identity as doctors. When the doctors opposed, a heated argument broke out between the two parties which soon escalated into a brawl, and the owner resorted to violence. Other 15 to 20 people also attacked the doctors with lathis. The doctors were brutally beaten. One of them fell to the ground and lost consciousness. Soon someone informed the association and the association members rescued the doctors and rushed them to the hospital."
" They received serious injuries on their heads and ears and received stitches also. We have lodged a complaint against the offenders and the investigation is going on. We arranged a blood donation camp as a symbolic protest against such incidents of violence against doctors. By blood donation, we want to uphold our view that Hum apna khun apke liye bahayenge, apko bahaneki zaroorat nahi hai ( We will voluntarily give our blood for the sake of our countrymen, they must not use violence against us to shed our blood)", added the doctor.
The doctors have received treatment and they are stable now, he further added.
Meanwhile, the shop owner alleged that the doctors were intoxicated and had some argument with the owner. However, Dr. Jaswant Jangra clarified that the doctors were there just for food but the mob attacked them claiming that they are infecting the locality with Coronavirus, hence, they should not be allowed there.
Police said the statements of both parties are being recorded and legal action will be taken soon, reports
The Indian Express.
Source : with agency inputs