Rajasthan: Resident doctors allege discrimination in assigning COVID duties, threaten to quit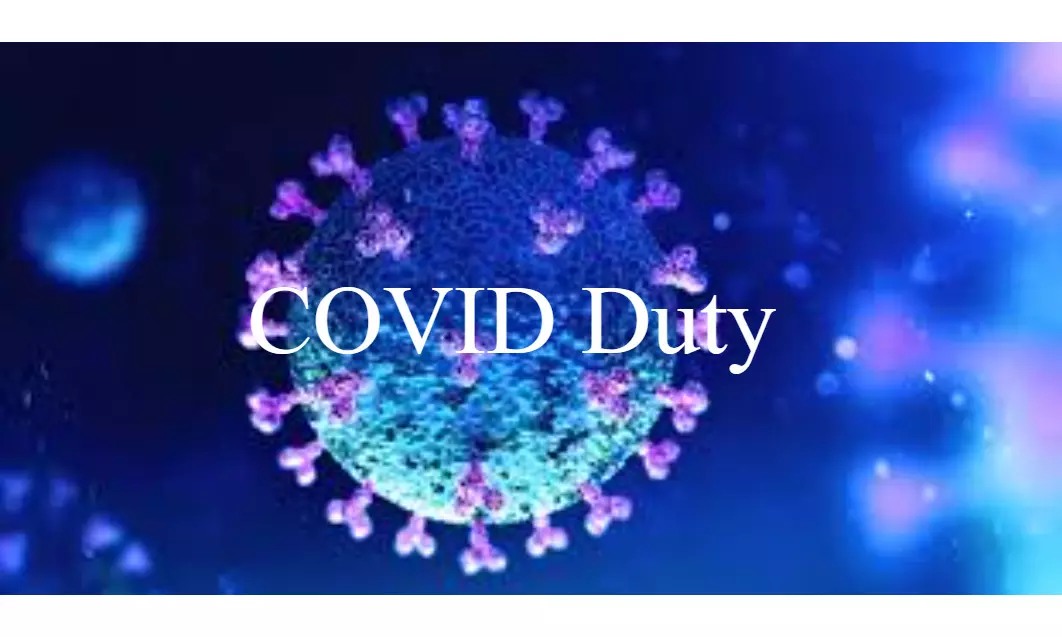 Jaipur: Overburdened with COVID duty, night duty, and routine work, the doctors of the anaesthesia department of SMS Medical College in Jaipur have approached the administration requesting them not to discriminate in terms of distribution of duties and to provide some relaxation to them.

The resident doctors pointed out that as per government order, residents of all departments are to be engaged in COVID-related duty, but residents of the anaesthesia department are repeatedly being given duty. The anaesthesia department residents demanded that the residents from other departments should also be given suitable duty.
The residents who have been currently deployed on COVID duty in the RUHS hospital for coronavirus patients have threatened to resign if their issues were not addressed, reports PTI.
Anaesthesia department resident doctors have written a letter to the Sawai Man Singh (SMS) Medical College principal alleging discrimination with them. In the letter, they said that after duty in COVID wards, they are also given duties in routine hospital works, and day and night duty, which is causing immense stress.
On the condition of anonymity, one of the resident doctors of SMS Medical College told the Medical Dialogues, "The COVID broke out in Rajasthan last year April, and RUHS was converted into a COVID dedicated facility. We, the resident doctors of anaesthesia along with the doctors of medicine have been working in the COVID ICUs ever since then. Almost 42 to 50 anaesthesia residents are posted in the facility. I can understand that we are specialists in intensive care and are capable of handling ICU better than many other departments. However, other departments like surgery and neurosurgery are capable of incubating patients and looking after ICUs. Hence, we are demanding that doctors of those departments should also be deployed in COVID duties."
The doctor further informed, " now authorities are also considering converting SMS into a COVID facility. Thus, we will have to work in RUHS as well as in SMS Medical College ICUs. There is also a scarcity of workforce and under such circumstances, we are requesting the authorities to employ the doctors of the other departments also to redeem our work burden. With residents coming positive while handling the extreme burden of patients in the wake of the second wave of COVID, this is high time that authorities should take note of our perils. We are demanding relaxation of duty for anaesthesia department residents to reduce exposure to the infection and we have also submitted a letter to the principal of the institution addressing the issue."
"There should not be any discrimination against a particular department or two, each department should contribute equally. In most cases, we are responsible for handling the ICU duties but the general public has no idea about what our department is. Many doctors themselves contracted disease while serving people in my department, in fact, last year in April I was one of the first doctors of SMS to contract COVID myself. At least the authorities who are aware of our sacrifices and dedication should take steps to improve the situation for us", added the doctor.
Commenting on the issue, another female Junior Doctor of the anaesthesia departments stated, " As patients with
different degrees of respiratory distress are to be check constaantly
, anaesthesia residents have to be employed in ICUs. We are not denying it. But, the point is, on one hand, we are serving at COVID ICUs which is now overburdened with patients, on the other hand, we are also serving in emergency cases. Now that SMS is going to be a COVID dedicated facility, our workload will only increase tremendously. Hence, authorities must employ doctors from other departments also."
Source : with agency inputs