Save PGDCC: Hundreds of doctors take to streets of Delhi opposing MCI de-recognition of Degrees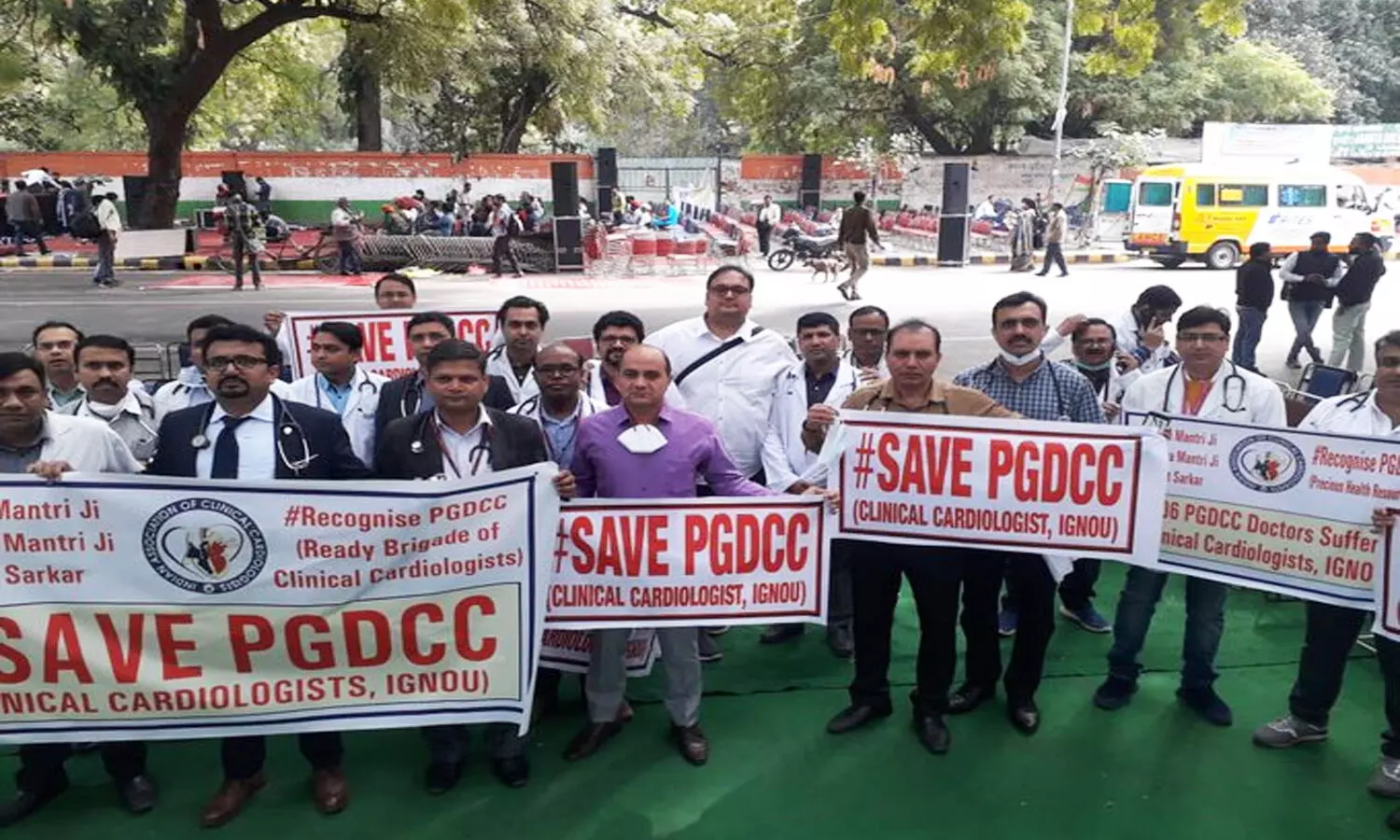 New Delhi: Facing de-recognition of their degrees and stripped of the specialist tags, hundreds of Post-graduate Diploma holders in Clinical Cardiology (PGDCC) doctors were seen marching on the streets of Delhi, yesterday.
The doctors, under the aegis of Indian Association of Clinical Cardiologists (IACC) had organised a peaceful protest march from Jantar Mantar towards Parliament, but due to police barricading held their protest at Jantar Mantar itself.
Hundreds of doctors were seen participating and demanding relief from the Prime Minister and the Health Ministry, in the light of the recent decision of the Medical Council of India of refusing to give recognition to the PGDCC degrees of IGNOU. The slogans of SAVE PGDCC was prominent at the march.
Medical Dialogues had earlier reported about the major setback to these doctors, with the recent MCI Board of Governors decision that refused to include PGDCC degree from IGNOU as a recognised PG Medical qualification. With this move around 1700 PGDCC graduates who had attained their degrees from IGNOU lost their specialist tag.
Seeking Relief he doctors under the umbrella of Indian Association of Clinical Cardiologists then wrote to Union Minister of Health and Family Welfare for help.
With no response on their demands, the doctors recently took out a protest march, demanding relief and recognition of their degrees
"It is an irony that MCI is snatching the tag of specialist from PGDCC cardiologist on extremely bizarre grounds. The government of India along with IGNOU launched this diploma course. The then Union Health Minister Dr Anbumoni Ramdoss inaugurated this course. Now they say that this course is not recognized. University Grant Commission in a notification in 1992 says that the certificates, diplomas, and degrees awarded by IGNOU are to be treated equivalent to the corresponding awards of the universities in the country", said Dr Rajesh Rajan, Chairman, IACC Board of Governors.
Read Also: Stripped of specialist tag, 1700 PGDCC Doctors write to Health Minister Dr Harsh Vardhan