Telangana; Gandhi Hospital Doctor tries to set himself on fire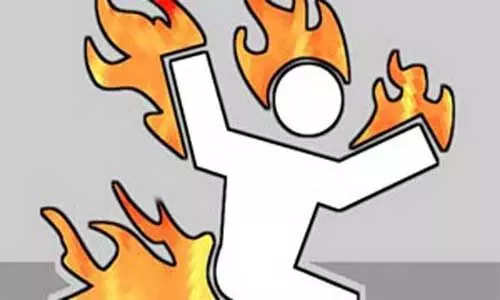 Hyderabad: In a rescue effort, a doctor's life was recently saved by the police personnel after he tried to commit suicide by self immolation at Gandhi Hospital premises. The doctor was depressed over disciplinary action taken against him on account of misconduct and allegedly spreading rumours on Coronavirus.

The docto- Civil Assistant Surgeon (CAS), who is employed under Director of Public Health (Telangana), was posted as a Casualty Medical Officer (CMO) with the General Medicine Department at Gandhi Hospital, Hyderabad. He was elected as General Secretary to the Telangana Government Doctors Association.
As per recent media reports he was recently suspended by the authorities over two reasons. First- for allegedly barging into the Hospital superintendent's chamber during a meeting on Coronavirus on February 7, and using harsh words against Resident Medical Officer (RMO) and others. Second- for allegedly spreading fake news that Telangana recorded two coronavirus positive cases.
Upset over suspension, the doctor reached the hospital on February 11th; with petrol bottles tucked under his shirt and a lighter in hand. He threatened self-immolation and demanded that action be taken against the officials responsible for his suspension. However, his suicide attempt was averted.
Read Also: Doctor Pursing PG Neurosurgery At SMS Jaipur Allegedly Attempts Suicide At Hospital By Injecting Sedatives
The police foiled his attempt by overpowering him and snatching the petrol bottle from him. Police personnel sprinkled water on him and removed his shirt as a precautionary measure. He was later bundled into a police vehicle and was carried away.
Reasoning his bid, the doctor alleged that he was being targeted by the hospital administration was allegedly questioning corruption, favouritism and lack of medicines at the facility.
While speaking to TNIE to allege that injustice was done to him by the higher-ups by suspending him; the doctor stated, Superintendent of Gandhi Hospital, and Director of Medical Education had been targeting him for exposing administrative and treatment-related irregularities that have been taking place at the hospital. He also levelled allegations of corruption against the hospital authorities.
The doctor alleged that there were no emergency medicines and the hospital was not maintaining proper sanitation. "Action has been taken against me since I raised questions about these issues. The scam in sanitation and security is larger than the ESI scam (related to purchasing of medicines)," he alleged. He pulled out a bunch of papers and said that some house surgeons were absconding during duty hours, reports the Hindu
On the other hand, the DME Dr Reddy stated there are allegations of corruption against the doctor as well. They will conduct an inquiry into those.
"He collected money from medical shops and other establishments. We warned him to mend his ways when it came to our notice," Dr Reddy said.
The DME asked why the doctor did not lodge a complaint regarding the alleged corruption at the hospital with the superintendent, DME or any other higher officials. "Why did he keep all documents with him?," he asked.
The authority has also written to the government to punish the CAS for his bid to end life.
Read Also: 30-Year-Old Doctor- Hospital MD Commits Suicide Alleging Harassment; 7 Booked
The rescue
Informing about the rescue operation, a police inspector told TNIE, "We requested the mediapersons to surround him and ask him questions. Two mics were at a distance and two mics were in close proximity so that I could reach with the mics as camouflage, while the other two mics would distract him. Two ASIs were placed on his left side, while a constable and I were on the right side. The moment we saw a chance, we pounced on him and moved away his hand taped to a lighter from his body. We used the buckets of water and foam spray as a precaution".
The police team who rescued the doctor has been rewarded for the bravery they showed while saving Vasanth from burning.