Third year MBBS student dead, 1 critical after speeding MUV mows down bike-borne medicos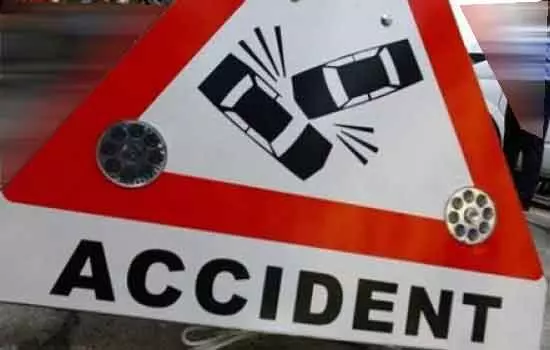 Thiruvananthapuram: In a fatal road accident, a third-year MBBS student of Sree Gokulam Medical College, Venjarammood, who was riding on a two-wheeler died after the bike was crushed down by a speeding MUV driven by a drunk driver, near Chantavila, in Pothencode on early Sunday morning.
The 22-year-old medico has been identified as Nithin Hari, who, along with his friend Vishnu Suresh, a student of the same college, was traveling to the Thiruvananthapuram central railway station when the incident took place around 4:30 am The latter has been admitted to Ananthapuri hospital in a critical condition.

Also Read: Unfortunate: Doctor, patient among 3 dead after ambulance rams moving truck

The police stated that Nithin, a native of Kothamangalam, Ernakulam was going to the railway station along with his friend to board a train to go home. However, they crashed with a MUV which was coming from the opposite direction, driven by a 31-year-old intoxicated Pratheesh, a resident of Kilimanoor.
There were reportedly around six men in the MUV, all of them heavily drunk. They were coming back after dropping their friend off at the Trivandrum International Airport.

According to a recent media report in the Times of India, the speeding MUV crashed with the motorcycle when the former entered the opposite lane after negotiating a sharp curve. The MUV further crashed into the compound of a nearby house after hitting the bike.
The medico's body was brought from Thiruvananthapuram Medical College to Gokulam Medical College and the campus was seen mourning. The body was kept in the college hall for paying homage. MD, Dr. K K Manojan, placed the wreath on his body as a representative of the college.
Mathrubhumi reports that the medico was a polite person who had good relations with all his friends. He was a badminton star, part of the college shuttle badminton team, and a good student. He was an active member of various clubs at his native place in Ernakulam.
Many of his friends apparently broke down while paying homage. His body was taken to his native place at Kothamangalam, Ernakulam from the college by 3.30 PM.
The police have arrested the person who drove the MUV and booked him for culpable homicide not amounting to murder.
Also Read: MD Gynaecology student death case: Minister orders probe after family allege foul play
Source : with inputs