Unfortunate: Doctor, patient among 3 dead after ambulance rams moving truck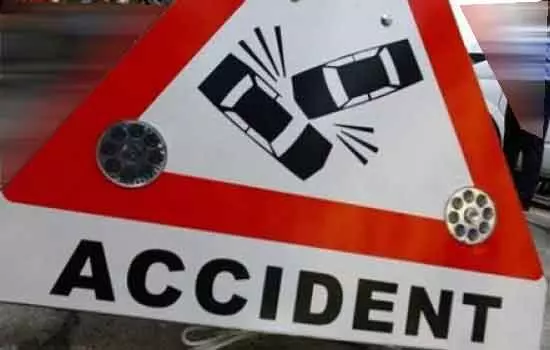 Bengaluru: A doctor and a patient among 3 died on the spot in a nasty road accident after an ambulance they were travelling in rammed a moving truck at Neralur Gate near Attibele during the early hours of Thursday.

The deceased doctor has been identified as a 40-year-old native of Igatpuri, Nasik district in Maharashtra.

On Wednesday, a patient suffering from paralysis was being transported from Mumbai Kalyan to Chennai for further treatment in the ambulance. There were seven persons, including two doctors and a patient, in the ambulance.
However, on Thursday morning around 5:30 when they reached Neralur near Attebele, the ambulance driver, while trying to overtake a truck at Neralur Gate, lost control of his vehicle and rammed it, which resulted in the front portion of the ambulance suffering complete damage.
Also Read: Unfortunate: Woman Doctor Dead, Other Injured In Road Accident In Chennai
Three of them including the doctor, the patient (68) and Tukaram Namdev Jamnade, 38, the driver of the ambulance, a native of Mumbai died on the spot. People around rushed the victims to a nearby hospital.
The injured were identified as Dr Jithendra Biradar, 30, a native of Navi Mumbai, Yousuf Khan, 58, brother of the deceased patient, ambulance drivers Ashkhan Shamir Memon, 27 and Ahmed Raja, both from Mumbai.
Attibele police visited the site and conducted an inquiry.
According to the preliminary investigation, the road at the spot of the accident has an immediate uphill slope after a downhill slope where the truck was moving slowly. Based on a preliminary probe, Attibele police registered a case and also collected CCTV footage as part of the investigation.
Meanwhile, the truck driver managed to escape fearing public outrage, the police told The New Indian Express.
Source : with inputs