Urgent need to promote Family Medicine Speciality says Govt appointed Health Panel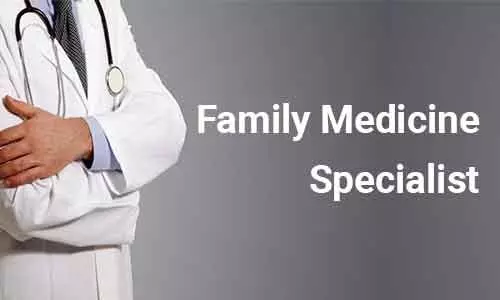 MOHFW may be requested to create a suitable ecosystem for family medicine specialists, the panel said
New Delhi: The high-level health group appointed by the 15th Finance Commission to review the health sector and suggest an improved framework has stressed heavily on the need for family medicine specialists in the country. The panel further highlighted that the Health ministry needs to create a suitable ecosystem and opportunities for such specialists, adding that there should be proper family medicine department in medical colleges.
Recommendations to this effect were recently submitted by the high-level health group to the 15th Finance Commission recently.
With the rising significance of specialization and super-specialization in the field of medicine, the role of family physicians who were once considered the backbone of the field of medicine has indeed gone down. So much so that in 2018 a group of family physicians had even moved the Supreme Court seeking due recognition and opportunities in hospitals across the country.
"A family physician's scope of practice covers all organ systems, genders and age groups. A family doctor provides primary and continuing care to the entire family within the communities; addresses physical, psychological and social problems; and coordinates comprehensive health care services with other specialists, as needed," their plea stated.
However, the apex court stating it to be a policy matter, directed the doctors to approach the MCI and the Health Ministry in the matter
Read also: Family physicians seek recognition; SC Directs them to Medical Council of India, Govt
The issue of proper opportunities for the practitioners of family medicine was recently also brought up when the high-level group delved on the matter and highlighted the need for Family Medicine Specialists in the country
"Family medicine physicians are required in India; however, there are not enough opportunities for family medicine specialists. There is a need for good family medicine programme at the district level and proper cadre need to be in place," the panel stated
The panel further pointed out to the role of health ministry for creating an eco-system for such specialists
"MOHFW may be requested to create a suitable ecosystem for family medicine specialists. There should be proper family medicine department in medical colleges with full-time faculty and efforts should be made to increase the opportunities after pursuing family medicine," it stated
" A Model Cenre for Family Medicine needs to be Created at AIIMS, New Delhi to guide the other healthcare institutions in developing the speciality." it further added
Read Also: MCI needs to restore PG Diplomas in some areas: Govt appointed high-level group