Violation of Medical Ethics: Kerala Medical Council issues censure notice to 11 doctors for advertisements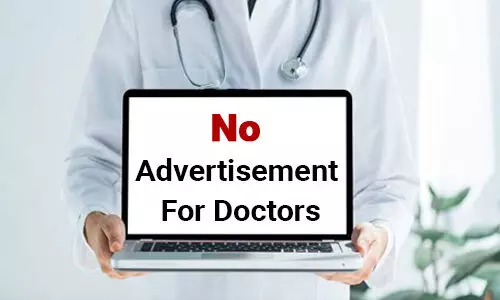 Thiruvananthapuram: Finding 11 doctors to be violating the Indian Medical Council (Professional Conduct, Etiquette and Ethics) Regulations, 2002; the Travancore Cochin Council of Modern Medicine (Kerala Medical Council) has issued censure notices to the erring medical professionals.

There are constant allegations of violations of medical ethics as doctors appear into media advertisements with their photographs. Such advertisements also draw strong backlashes that the corporate organisations using their doctors as a product for sale and the same act has been repeated claimed as unethical in various decisions of the medical councils and associations.
The advertising norm (clause 6.1 of the code of ethics) in Indian Medical Council (Professional Conduct, Etiquette and Ethics) Regulations, 2002 clearly states:
Soliciting of patients directly or indirectly, by a physician, by a group of physicians or by institutions or organisations is unethical. A physician shall not make use of him / her (or his / her name) as subject of any form or manner of advertising or publicity through any mode either alone or in conjunction with others which is of such a character as to invite attention to him or to his professional position, skill, qualification, achievements, attainments, specialities, appointments, associations, affiliations or honours and/or of such character as would ordinarily result in his self aggrandizement. A physician shall not give to any person, whether for compensation or otherwise, any approval, recommendation, endorsement, certificate, report or statement with respect of any drug, medicine, nostrum remedy, surgical, or therapeutic article, apparatus or appliance or any commercial product or article with respect of any property, quality or use thereof or any test, demonstration or trial thereof, for use in connection with his name, signature, or photograph in any form or manner of advertising through any mode nor shall he boast of cases, operations, cures or remedies or permit the publication of report thereof through any mode. A medical practitioner is however permitted to make a formal announcement in press regarding the following:
(1) On starting practice.
(2) On change of type of practice.
(3) On changing address.
(4) On temporary absence from duty.
(5) On resumption of another practice.
(6) On succeeding to another practice.
(7) Public declaration of charges.
In the year 2018, the state medical council had brought out a circular that the council will be forced to take suo motu action against doctors if in violation of the Code of Ethics. The council had then issued a warning that unless doctors removed their names and photographs from advertisements, there would be punitive action, including removal of their names from the State Medical Register.
The recent case had come to light in May 2019, when Aster MIMS, Kozhikode, brought out a newspaper advertisement prominently featuring some of its doctors, along with their photographs and details on their specialties. The matter had been brought to the attention of the Registrar of the state medical council seeking "appropriate action" by Dr KV Babu, a Kerala-based physician and public health activist.
The doctor activist had pointed out that while corporate hospitals were free to advertise their facilities and services, they could not advertise their services making use of the photographs and details of the doctors under their employment. Doctors should be aware of these provisions in the Code of Ethics, he contended.
Following the recommendation of the ethics committee, Kerala Medical Council has now closed the matter after issuing a censure notice to all 11 doctors and warning them that such a mistake should not happen again, reports The Hindu.
Taking cognizance of the issue, the Indian Medical Association Kerala, last year, had redirected and re-emphasised with a warning to prohibit from featuring there photographs and details while advertising in the state. The IMA dictum came to reiterate the earlier warnings of the Travancore Cochin Council of Modern Medicine to the doctors that directed them to prohibit from featuring there photographs and details while advertising.
Read Also: Violation Of Medical Ethics: Doctors Warned For Getting Featured In Unethical Advertisements In Kerala
Moreover, recently, n the wake of the rampant circulation of fake news all over the internet, the IMA urged all the doctors to spend at least 10 minutes daily on social media to impart authentic medical information to increase awareness within the public.
The association had recently conducted a "health parliament" in the state capital Thiruvananthapuram in which doctors were asked to be active on social media to impart the right medical knowledge. This decision has been taken in an effort to make people aware about medical fake news regarding all the misleading advertisements promising magical cures to chronic diseases.
Read Also: Fake Medical News: IMA Asks Doctors To Spend 10 Minutes Daily On Social Media To Spread Awareness
Source : with inputs