Violence Against Doctors: Over 3.5 lakh medical professionals observe National Protest Day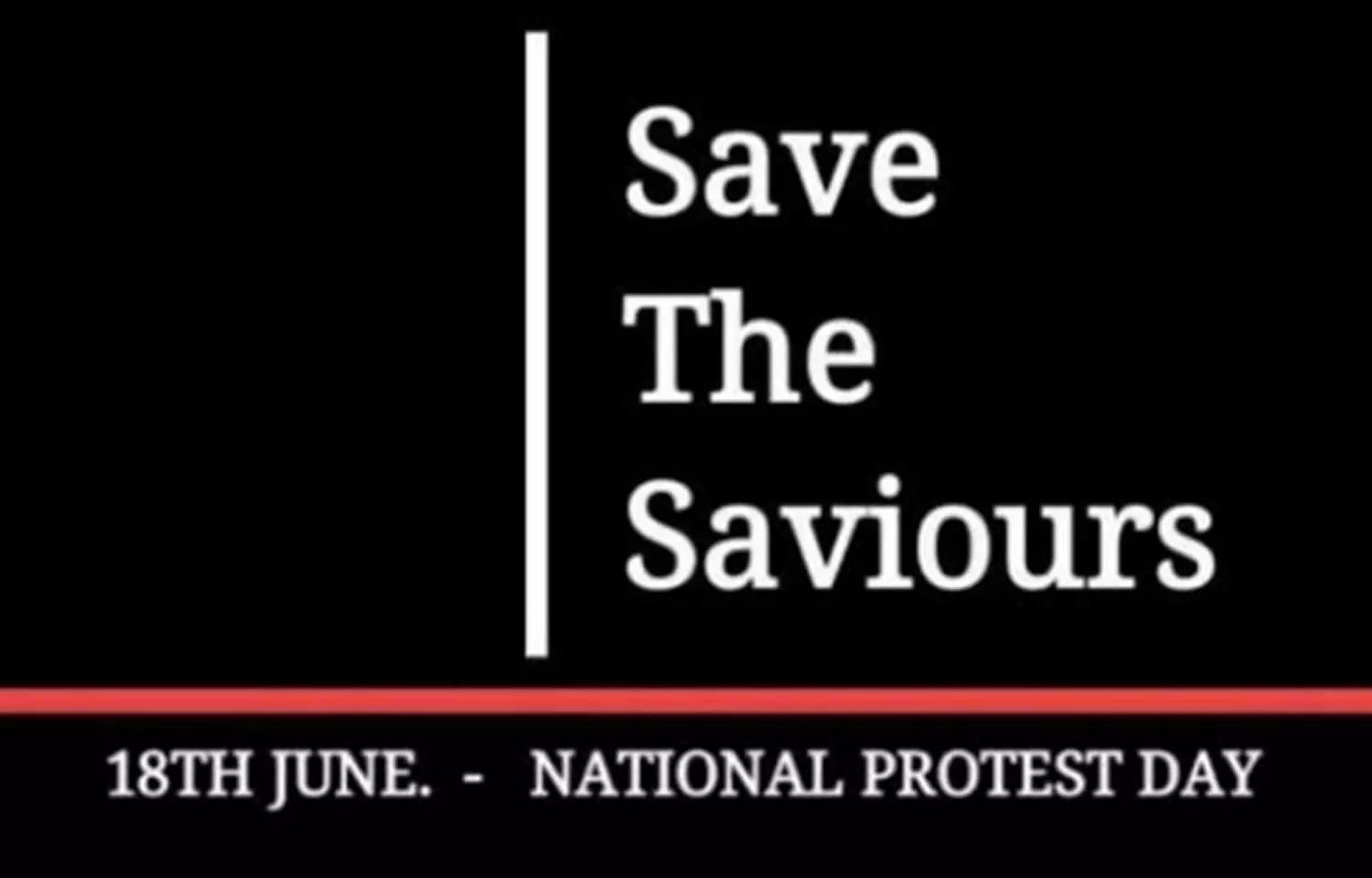 Delhi: In demand of stringent laws against those who attack healthcare professionals, over 3.5 lakh doctors across the country have come together to observe the day as National Protest Day with the slogan "SAVE THE SAVIOURS", in compliance with the call for nationwide protest by the National Indian Medical Association (IMA).
Major national associations such as Federation of All India Medical Association (FAIMA), IMA JDN, Junior Doctors Associations (JDAs), the Association of Surgeons of India, Medical Students Networks (MSN), Junior Doctors Network (JDN) and IMAs of various states joined the protest called by IMA following the "extremely disturbing" cases of violence against doctors in the last few weeks in Assam, Bihar, West Bengal, Delhi, Uttar Pradesh, Karnataka, and other places that cropped up amid the pandemic.
Telangana Junior Doctors Association have even expressed alarm over the instances stating, " If these continuous attacks persists, there will be a day that most of students in our country hesitate to take medical profession and the most of the medical professionals will be insecure to work in this country."
Miffed at the assault on medical practitioners, President of Delhi Medical Council (DMC), Dr Arun Kumar Gupta also tweeted;
Taking strict note of the incidents, IMA announced a nationwide protest seeking a uniform non-bailable central law to put an end to such attacks as it disturbs the morale of healthcare workers across the country.

It demanded implementation of the Central Hospital and Health Care Professionals Protection Act with IPC and Code of Criminal Procedure (CrPC), standardization, and augmentation of security in each hospital, and declaring hospitals as protected zones among others. The Act seeks to punish people who assault doctors on duty and other healthcare professionals by imposing jail for up to 10 years.
"Currently, 21 states have their local laws, but what we need is a strong central law to protect doctors from violence - In one instance, 11 years have passed and a doctor in Nashik has died of head injury, but the person is still not caught, there was a change introduced in Epidemics Act due to Covid-19, but even then about 300 small instances of violence were reported in 2020 alone- Doctors are laying their lives on the line — 750 had died in 2020 and about 700 more have died during the second wave," IMA said in the statement.
IMA asked all its State and local branches across the country to observe the protest by wearing black badges, masks, ribbons, shirts and running awareness campaigns against violence targeting healthcare professionals.
Also Read: Save The Saviours: IMA To Hold Nationwide Protest On June 18 Against Assault On Doctors
Up in arms for the cause, more than 350,000 doctors across the country participated in the protest while strictly adhering to COVID protocols.

Various medical organizations including the Association of Physicians of India, Federation of All India Medical Association (FAIMA), the Association of Surgeons of India, Medical Students Networks (MSN), Junior Doctors Network (JDN) came in solidarity and started their agitation at 9am onwards.
The State IMAs also extended their support and the doctors of different medical colleges across the nation participated in the protest.
Standing in solidarity with the National IMA, FAIMA too joined the protest with the primary objective to stop assaults on medical professionals with the slogan "Save the Saviours."

Members of IMA and FAIMA and Junior Doctors' Network (JDN) of AIIMS Delhi are leading the protest in front of AIIMS Gate no 1 as well and decided to hold a protest at RML Delhi at 1pm near the Doctors' Hostel of RML.
Though the routine work of the doctors will remain suspended, patient care will not be hampered, ensured one of the protesting doctors of AIIMS.
Dr Karan Juneja, National JDN President told Medical Dialogues, " We Junior doctors have spent 15 months wearing PPE kits and working in Covid duty when even patients own family members would not look after their patients. Nurses, cleaners, technicians, ambulance workers, and junior doctors looked after patients till their last breath. Whenever one doctor gets hit, it impacts the mental health of doctors all over the country."

Junior Doctors' Association MP, Surat, Telangana (JUDA) also extended their support and condemned attack on doctors.
"It is extremely anguishing to see continuous attempts of physical and mental assaults by the society on doctors. Medical professionals who faced violence have been known to develop psychological issues such as depression, insomnia, fear and anxiety. Many have lost their clinics, injured themselves and also tarnished their reputation as a professional due to these incidents,' they expressed.
"As there are certain responsibilities of doctors towards the society, similarly responsibilities also have to be borne by patients and their relatives, political parties, hospital authorities, law-making machinery, government, and media to see that health care improves and safe working environment is provided for healthcare workers and violence against doctors is strongly dealt with," the bodies added.

"As the saying goes "health is wealth", policy makers need to understand that the overall health of the people contribute to the efficiency of the workforce in turn contributing to the growth of the economy. More health budget spending would translate to better facilities and increased doctor patient ratio, leading to decrease in violence related to these factors. Also this practice of assault against doctors needs to be discouraged by making strict legal provisions," the associations further stated while extending its full support.
Meanwhile, the IMA State chapter of Kerala is holding Satyagraha in front of the Govt Secretariat, Kerala as part of the protest. The state president, National action committee Chairman of IMA, and Chairman IMA Medical Student Network also participated in the Satyagraha.

IMA Bihar, under the leadership of the President-Elect, Dr. SNP Singh is also observing National Protest Day at Patna.