Deputy Health Minister inspects Lucknow's Civil Hospital, calls for improvement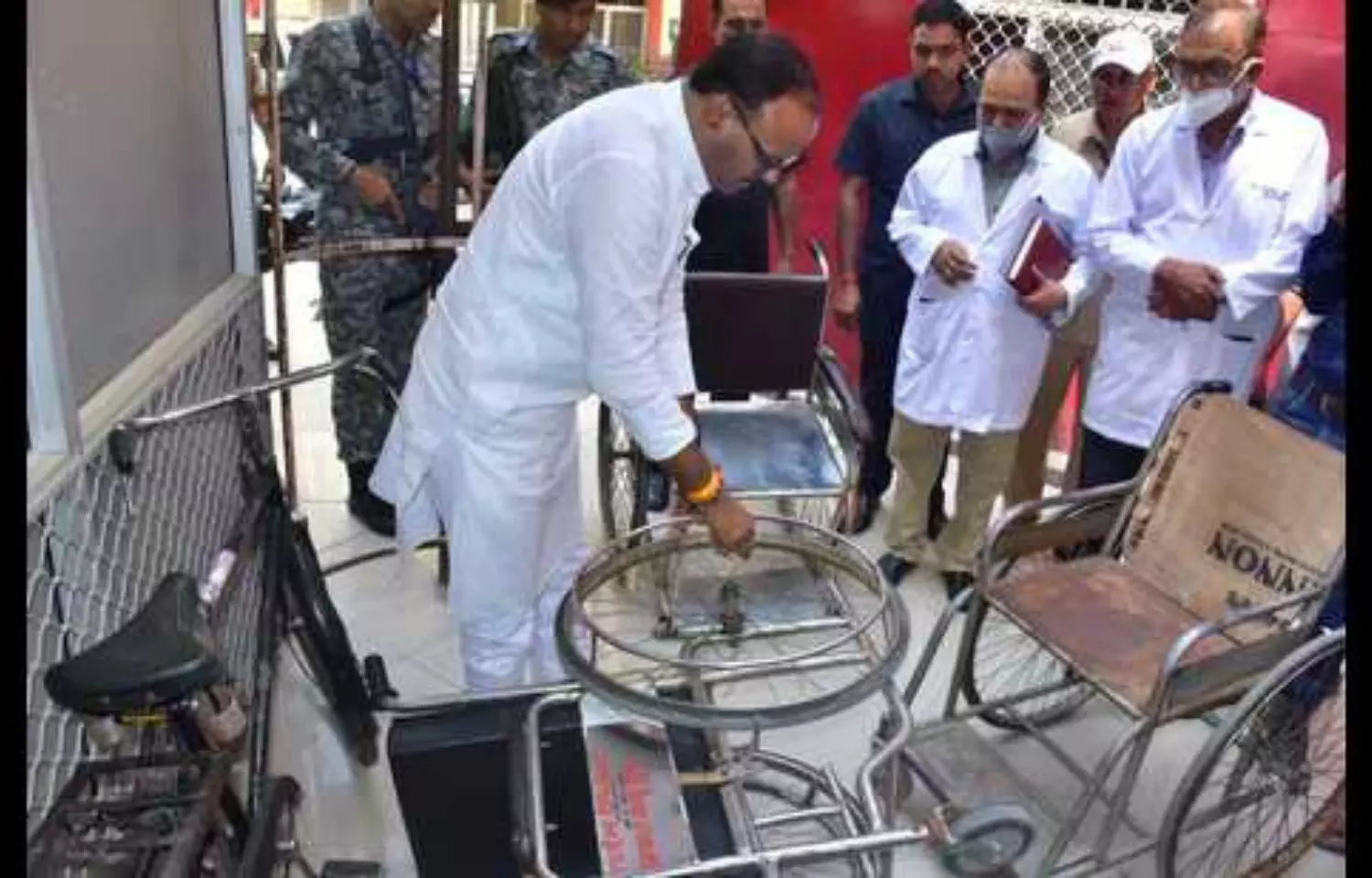 Lucknow: During a surprise inspection at Dr. Shyama Prasad Mukherjee (Civil) Hospital on Thursday, newly appointed Deputy Chief Minister and Health Minister of Uttar Pradesh, Brajesh Pathak points out the limitations in wheelchair and stretcher facilities and says "Have you seen these wheelchairs? With minor repairs, this one can be used."
This was his first inspection of a hospital after he has been appointed on March 25. While he was inspecting the hospital, he scolded the management about the wheelchair being in a poor condition and asked the hospital about its hygiene. He gave the hospital management one week to improve the facilities.

Then he went to the patients to ask them about the hospital services they get, the availability of doctors at the OPD. The inspection took place only after a photo of a girl carrying her father in the absence of a stretcher or a wheelchair at the hospital gate, went viral on Wednesday.

Also read- Health Minister Anil Vij Conducts Surprise Inspection Of Fatehabad Civil Hospital
While speaking with TOI, Dr. Anand Ojha, Director of the hospital said, "We have set aside the broken wheelchairs and on the deputy CM's instructions have placed 15 wheelchairs and stretchers each at the emergency gate. We have also placed 10 wheelchairs at the Park Road situated gate and also moved the help-desk closer to the gate."

"We are being helped in the service by Dhanvantri who has their help desk near the OPD. It is from here that the patient gets access to wheelchairs and stretchers so there is some distance to be travelled between the gate and the help desk. If we are allowed some more manpower, we will be more self-reliant and perform better," he added.

Dr. Ojha told HT, "The health minister has been kind enough to call us with proposals regarding improving facilities further."

Also read- Inspection Finds Hospital Staff Sleeping On Duty, Authorities Take Action
Source : With Inputs