Punjab Govt's denial to supply oxygen to PGIMER leaves doctors baffled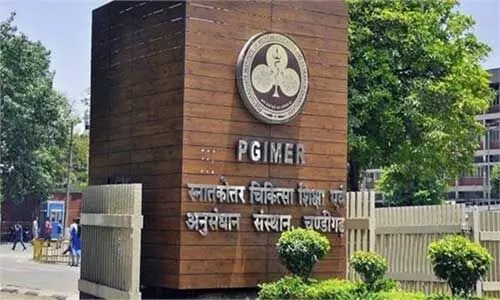 Chandigarh: Tension erupted at the Post Graduate Institute of Medical Education and Research (PGIMER) after the premiere medical institute was denied additional supply of oxygen outside its daily quota on Saturday.
Although the Union Administration softened its stand and filled up the cylinders from the UT quota later, the medical facility is still struggling against the shortage of oxygen.
As per the latest media report by the Times of India, the issue began on Saturday, when Anesthetic Gases Pvt Ltd, Derabassi —PGIMER's vendor for supply of Mo2 'B' type cylinders — told the institute about the direction of not supplying additional 'B' type medical oxygen cylinders to PGI till further instructions. Following the directions, a truck sent by PGIMER was refused for oxygen refilling at Mandi Gobindgarh.

"This was directed to the firm by a team from Chandigarh administration headed by Yashpal Garg, nodal officer, Jasjit Singh, director of industries, Chandigarh, Manjit Singh, medical officer, and other senior officials during their visit to Anesthetic Gases Pvt Ltd" said a release from the PGI.
"Considering the Covid-19 patient load at PGI and the incessantly increasing demand of medical oxygen, this kind of directive can lead to further panic in the already catastrophic situation. Therefore, PGI leadership immediately flagged the issue to the higher authorities and expects an immediate redressal to avoid turning the already pressing situation into a crisis," the release added.
Speaking to ANI regarding the issue, Garg said, "On Saturday, when a team of senior officials visited the plant, despite clear instructions to the vendor that the quota provided is to be used for specific hospitals, it was observed that some cylinders of the PGIMER were also being filled... This was in gross violation of directions of the UT administration," adding that consequently directions were issued to fill PGIMER cylinders only from its quota of 20MT to avoid any disruption of supply to other hospitals.
Explaining about the oxygen distribution to hospitals amid the COVID-19, Yashpal Garg, nodal officer for oxygen supplies in Chandigarh on Saturday said the administration has been assigned a total quota of 40 MT oxygen, which includes 20 MT exclusively for the PGIMER.
Of the remaining 20 MT quota, 17 MT oxygen is given directly to GMCH-32, GMSH-16, and the dedicated hospital in Sector 48 while 3 MT is given to a private vendor in Dera Bassi to refill oxygen cylinders of all government and private hospitals.
Also Read: SC directs Center to Supply 700 MT oxygen to Delhi daily

Times of India, in a recent media report has mentioned that after softening their stand, the 62 b type cylinders of PGI were filled up by UT administration out of its own oxygen quota on Sunday. However, as the bed capacity of the institute has been increased from 200 to 447, crisis for Oxygen is still a constant at the hospital.

Blaming the recent surge of moderate to Severe Covid-19 cases for the situation, a doctor from PGIMER, told TOI, "We have almost been begging for oxygen cylinders for our patients from Chandigarh and Punjab. It is almost like a crisis, as faced in Delhi."
"We have maximum patients of Covid from Punjab, yet we were refused for refilling at Mandi Gobindgarh. However, the issue was resolved with the intervention of authorities," said a faculty member.
Further explaining the situation in detail, a senior doctor associated with the hospital told the daily, "Also, with an increase in the number of patients on ventilators and nasal hydrocannula— a device used to deliver an increased oxygen airflow to a patient in need of respiratory help,— there is a slight dip in pressure gradient in those areas where oxygen pipes are fitted. To decrease this load, oxygen cylinders are required in addition to the liquid medical oxygen coming from the pipes."
Unable to anticipate that the institute which previously required 13 MT oxygen would now need more than 22MT, a faculty member added, "There are over 400 patients admitted and majority under high flow oxygen, while some are on ventilators. With more than 250 ventilators both for non-Covid and Covid patients, there is a high demand for medical gases in the institute now."
Meanwhile, ANI has added that after PGIMER flagged the issue of shortage of oxygen, UT adviser Manoj Parida said the administration is already giving 20 MT oxygen to the PGIMER out of "our quota of 40 MT".
"No more oxygen or cylinders can be given without disrupting the functioning of our government and private hospitals assigned to us. The PGIMER has requested the Government of India to enhance their quota from 20MT to 40MT. The UT administration has forwarded and strongly supported this," he said.
Exploring the possibility of a solution, PGI spokesperson Dr Ashok told TOI, "The process for the installation of one more oxygen storage tank is under way. The possibilities to have an independent oxygen plant for the institute are being explored."
Also Read: PGIMER starts correction window for PhD, Fellowship, Post Doctoral Fellowship, MSc Nursing Applications July 2021 session
Source : with agency inputs