How much punishment?- MCI formulates sentencing guidelines for cases of medical negligence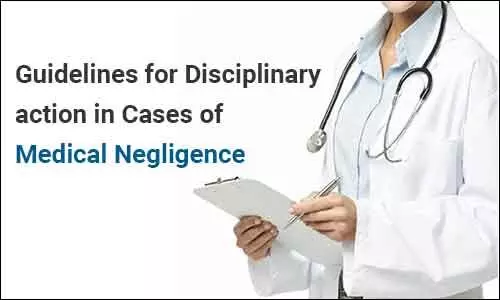 New Delhi : The apex medical regulator, Medical Council of India (MCI) is likely to soon release a sentencing policy guideline for the medical profession that is going to lay down certain standards to determine the guilt and punishment to be accorded to a delinquent doctor in cases of medical negligence.
The move comes in response to the High Court directions in a alleged medical negligence case. The case which dates back to 2016, was extensively covered in the media, when surgeons at Fortis Hospital, Shalimar Bagh allegedly operated on the left foot of the patient instead of the right foot. Two doctors, one senior and one junior were implicated in the case.
The MCI, after going through the entire matter, found that the senior doctor was not present in the OT on the day of the operation and absolved him of negligence, while the the MCI upheld the Delhi Medical Council order on suspension of the junior doctor, who operated on the patient, for a period of 30 days

Challenging the exoneration of the senior doctor and alleging that the quantum of punishment accorded to the junior doctor was "too low" , the patient filed an appeal with the Delhi High Court .
While going through the matter, the court questioned the council for the MCI as to whether any policy had been formulated by the MCI, with regard to punishments to be accorded to delinquent doctors for infractions committed by them, to which the council replied that till now no such policy had been formulated.
The bench then directed the MCI to urgently look into the matter and come up with recommendations
......this aspect needs to be looked at, urgently, by MCI. MCI must have a sentencing policy in place for guidance of its Committees which are tasked with job of returning recommendations both, on the guilt and punishment to be accorded to a delinquent doctor. The sentencing guidelines should take into account the aggravating and mitigating circumstances, including but not limited to whether or not the delinquent doctor is a first time offender or a repeat offender. MCI, is directed to report on this aspect of the matter within the next three months......
Based on the directions of the court, the MCI Ethics committee has prepared a draft guideline document for the same, which was placed before the BOG in the last month's meeting. The Board of Governors, Medical Council of India (MCI BOG) gave their in principle approval to the draft guidelines for handling of alleged medical negligence .
Given the fact, that the guidelines have been prepared following a court order, the guidelines are first going to be submitted to the to the Hon'ble High Court of Delhi and thereafter based on the outcome of the said medico-legal case, they would be placed on the website of the MCI for information of all concerned.
Read Also: MCI issues clarification on fixation of MBBS, PG Medical fee at private medical colleges